I've wanted to build a workshop for about the last 5 years now. Well, the time has finally come to make that happen. I'm not this guy,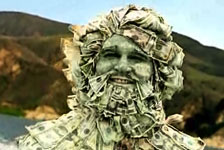 and my house only sits on just shy of 1/4 acre so this can't be some monster 40×60 shop. Instead, it will be a 12×16 gable shed. I don't have a shop to speak of right now and this is bigger than an I was expecting my wife to approve so while this isn't a dream shop for most, it's a dream come true for me. But I digress…
My backyard slopes about 2 feet or so over the length of the site so it needed to be leveled. I opted to rent a skid steer with a toothed bucket and dig out the site. I had about 5 yards of 3/4" crushed stone delivered the same day, too. The skid steer made quick work of both. I originally had visions of digging that site out by hand and shoveling, hauling and dumping loads of gravel the same way. When it was all completed I wondered what the hell I was thinking. All in all, the wife and I had a ton of fun operating that mini skid steer. I'll try to get some pictures of the site up soon.
So, I've got the spot leveled with a bunch of gravel spread all over. I need to level the gravel and spend some time cutting some steps into the slope. Once that's done, some Amish guys are going to show up and build and paint the shed. After that comes power, insulation, some sort of interior paneling and finally tools, benches and other shop fixtures so stay tuned for more updates.
-- Billy
---