I have all the parts cut for 10 of these, each a different size in order to fit between the brackets that are holding up my wood storage shelves. I had some cherry plywood pieces that were the right size for cutting the sliding doors out of, and I used some Lacewood scraps I had to cover the plywood edge.
I used 1/2 inch plywood because I didn't want to have to deal with the weight of 3/4 inch and I thought I could get away with it. I still don't regret that but didn't get away with it as well as I thought. It turns out that 4 gallons of paint need a stiffer board to hold them up, so even though I used a french cleat the length of the cabinet, I also had to anchor it to the shelf board above it, and use a shelf bracket (not shown) underneath it in the middle in order to keep the bottom from sagging.
The thing I don't like about the french cleat is that I ended up with a small amount of dead space above the cabinet in order to get it in there above the cleat and drop it down onto the cleat. I'm not really sure how much strength the french cleat is adding, but I am thinking about changing the mounting by just screwing a piece to the wall and then to the cabinet without the cleat. Anyone have an opinion on how this will change the stability of the mounting?
Natalie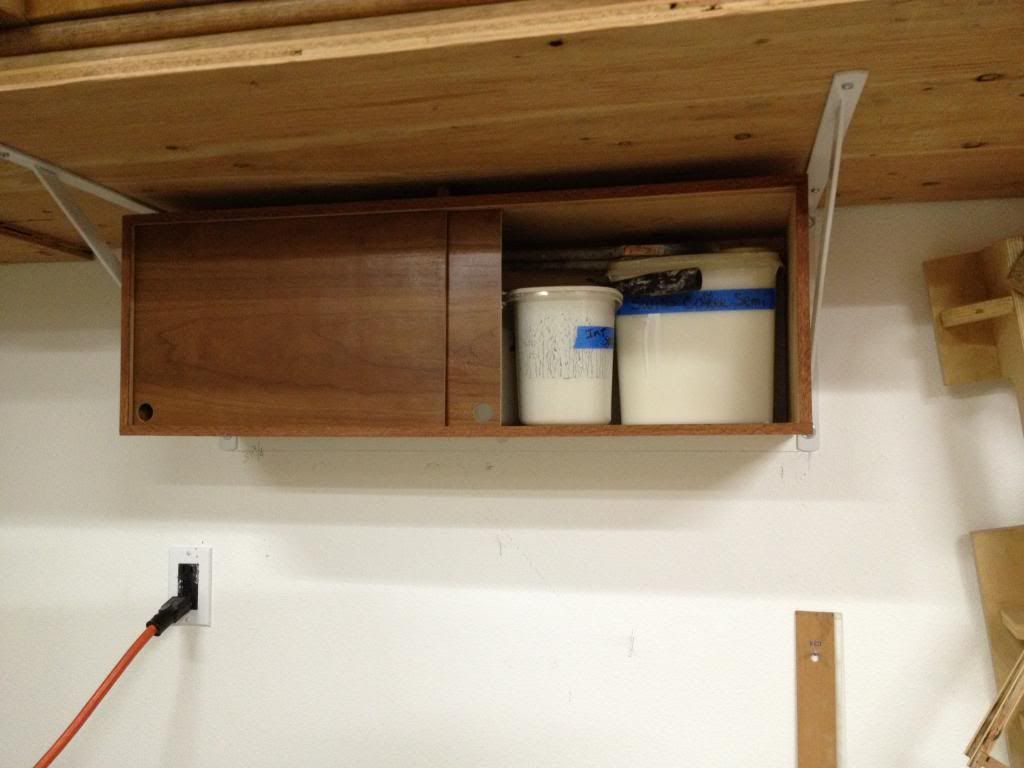 -- Natalie - My mind is like a bad neighborhood, I don't like to go there alone.
---