June 16/09
Yes, indeed, our revised "gazebo" is getting closer to being completed!
More than 4 years ago we began with something like this, as sold by Canadian Tire?

The year after the frame was destroyed (within a month of purchase, due to high winds) our journey began for a replacement gazebo. First step: we built a deck floor and built a wooden frame on which we hung the screens, walls, and roof.
The next year, the roof tore to shreds and we put up a tarp roof.
That hung on for a while but the winter winds wreaked havoc on the walls…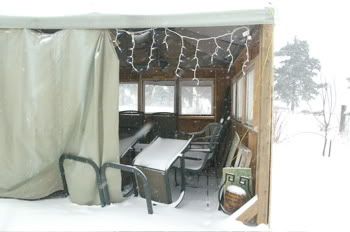 ... and we had to replace them, one wall at a time, with wood. All the windows are found treasures – some were found in a ditch and a couple are old glass table tops.
. ...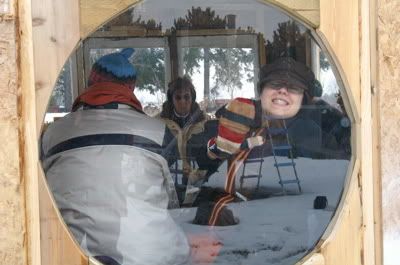 ...
It was at this point that my son named the structure "a shanty"
The following year, we got tired of having to fix the tarps for every rain, wind, or snow storm and so that was replaced with a wooden roof, again covered with tarps.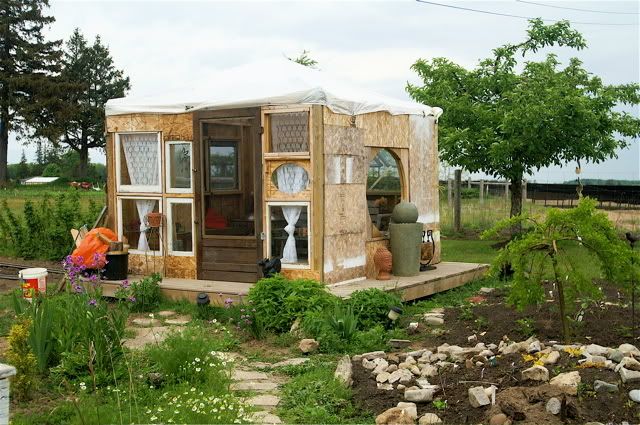 This spring we added a metal roof—yippee—no more tarps!
And now… here we are at one step closer to being finished.
For the past three days, Rick spent much of his time putting old barnboards on the outside. These boards are from my great-grandfather's barn, which makes it very special.
We still have to paint the 2×4's and the underside of the roof that overhangs the edges.

And now, my son says that it is no longer a shanty and it can't be called a shack or a gazebo either. He has declared that it is now "The Club House" :)
-- ~ Debbie, Canada (https://www.facebook.com/DebbiePribele, Young Living Wellness )
---