Feb 28, 2009
Rick and I headed to the Canadian Home Workshop Show in Toronto this morning.
First we headed to say hi to Ryan and check out the tool chest and draw prize that he spoke about in his blog. What a wonderful guy. Always nice to see you, Ryan!
(I thought it would be fun to have my picture taken, showing what I will look like when I win the prize).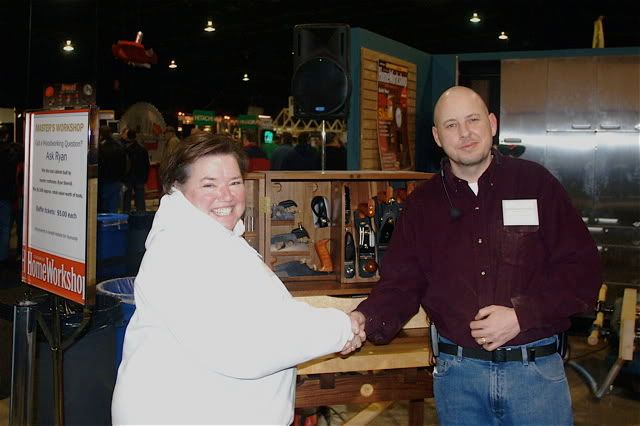 And here is the chest filled with tools.

Next, we wandered around all the exhibits. One display that I had not seen before at any show was that of Moxie Trades, a site for women tradespeople.
(All you tradeswomen out there, check out the directory listing at the bottom of their site).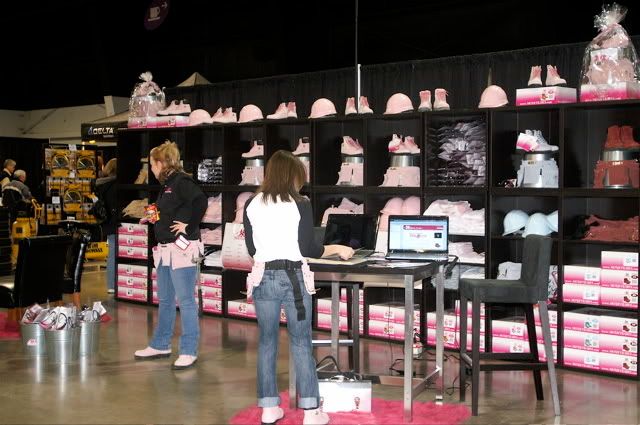 What I really like about the Canadian Home Workshop Show, besides the opportunity to meet Ryan, of course, is the workshops that they offer.
Here, men and women get to try their hand at using some tools and then take a project home.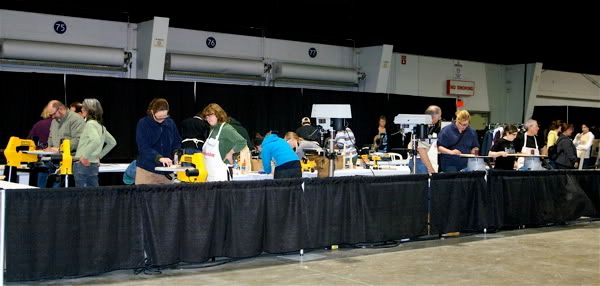 And here is the "Kids' Workshop". It is so fun to watch the young faces as they create their own project.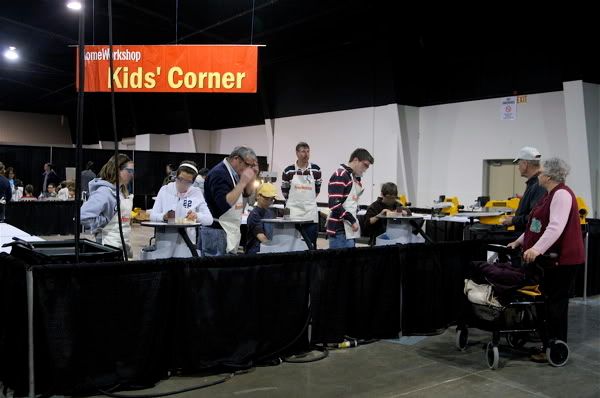 Of course there are also the craftsman demonstrating their crafts. I particularly enjoyed watching this gentleman from the Marquetry Society of Canada. After taking his photo we talked a little bit about his scrollsaw. I'm not sure if you can see it well but it is hand operated and he pulls the blade up and down through the wood. He says that this gives him greater control, especially when he is using a blade so fine that I regretted not having my glasses with me! Because the blade is being directed by his hand he can feel it catch and can stop it instantly. Quite fascinating.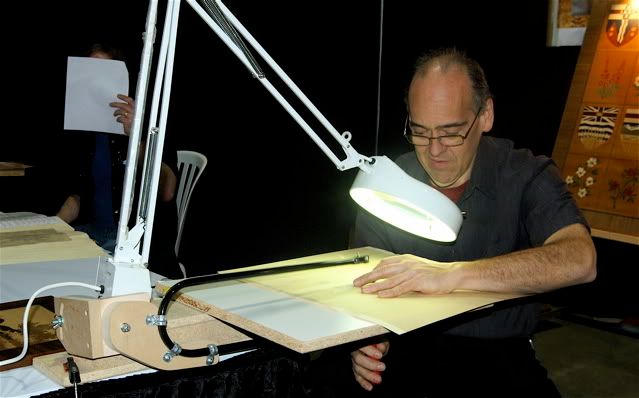 We, of course, also stopped by to chat with the guys from Steel City. We had a chuckle about the Winter Awards 2008 and the possibility that their grand prize might end up having to go to England. I think Jim, the GM for company, had a panic attack when I showed him this 2×4 entry!

All in all it was a worthwhile trip and I look forward to going back next year.
~Debbie
-- ~ Debbie, Canada (https://www.facebook.com/DebbiePribele, Young Living Wellness )
---