Dec. 7/08
Our gazebo continues to transform. Rick and I laugh when we sit inside our "cloth gazebo" that we purchased for a great price. What a deal we got. Yes, we used the cloth gazebo twice, before it's twisted fate. The resurrection went from an added wooden floor, to a wooden frame, to wood/glass walls, and now to a wood roof. Our cheap gazebo has transformed in appearance as well as cost! Sheesh.
Anyway, here is our latest version of our gazebo.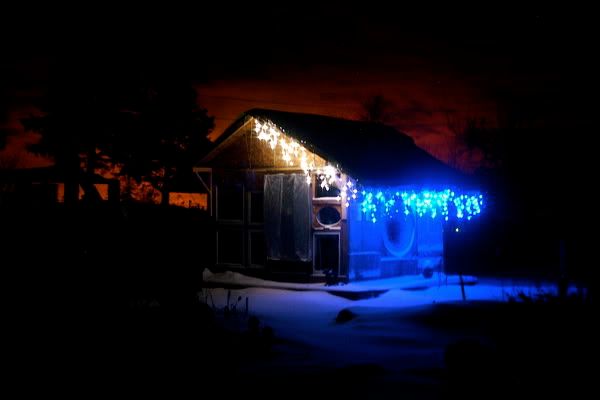 (and yes, I know that only half of the front roof has lights on it…. another expense waiting for us. Just one more string of lights)
Next step will be to add shingles (or something) to the roof and barnboards to the outside walls.
-- ~ Debbie, Canada (https://www.facebook.com/DebbiePribele, Young Living Wellness )
---