October 3, 2008
NOTE: Martin wanted a series. So the sections are for him. He is the boss, remember.
PART I: Arrival
This morning, Rick and I attended the Woodstock Wood Show. With approximately 100 exhibitors there was lots to take in and many opportunities for a good deal.
Arriving early, we made it near the front of "parking lot line" that was forming on the street, waiting to get in when it opened.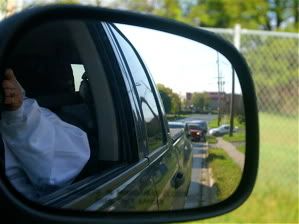 PART II: LJ Meetings
Inside, we made a quick stop at the Steel City Tool Works tent to say hello to Jim and the gang. Jim wasn't there yet. Seems "the boss" was late arriving. We did get a look at a cool laser gadget that you attach to the bandsaw. "X" marks the spot, regardless of whether you raise or lower the table.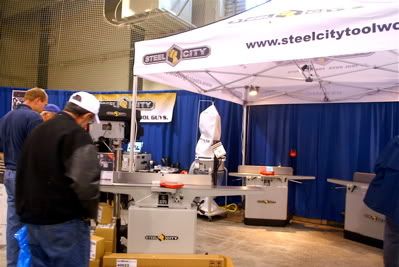 After a brief conversation here, we moved on to the food court where we were to meet CanadianWoodchuck. Now, the plan was to meet by the Lion's food booth at 11:00 AM. Whose idea was this? Ah, Bruce's!!!! Actually, the last message was that they'd be there between 10:30 and 11:00 so at 10:30 Rick and I headed to the designated area. And we waited. While we waited, Rick went to check out the display of sheds—hmm giant birdhouses??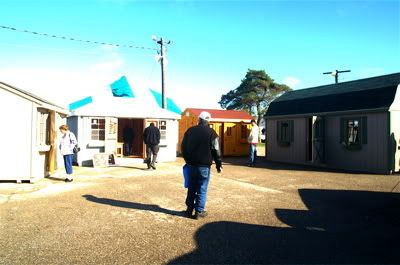 ...And we waited. And waited. Finally 11:00 arrived and we waited some more. Luckily it wasn't raining but that wind sure was chilly!!! Rick left me a few times to head inside to warm up.
... And we waited. And we waited. Finally at about 11:20 I hear "wow, those white hats sure do stand out". Turns out Bruce thought that "I" had said the Shriner's food booth. Whose plan was this?? Right – Bruce's!! :) What better way to meet someone then with a chuckle over a miscommunication. We had a great chat about LumberJocks, woodworking and the deals found at a woodshow. It seems the crew from Bruce's neck of the woods came in two trucks – just in case!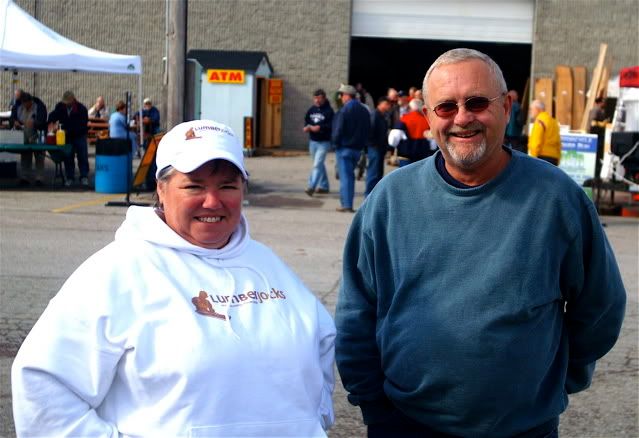 Next stop was at the Canadian Woodworking Magazine booth and a chat with Paul Fulcher, Editor and Publisher of this great magazine. If you missed my interview with Paul and his wife (and co-editor/publisher) here's the link.

PART III: The Toys
I stopped at Grex tools because they had a cute little pin gun that I thought would be great for making birdhouses and fairy doors. I think I'll hold out for a battery operated one, which they said is in the works.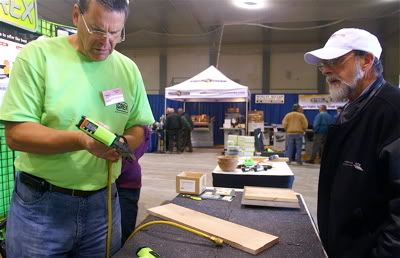 Next we stopped to speak with the guy that we have ordered bandsaw blades from in the past. We had also purchased our Little Ripper (see my project pix) from him. He talked to us about a … something or other… that isn't metal so when the blade rides along beside it, it doesn't dull the blade but it does clean the blade while it is moving.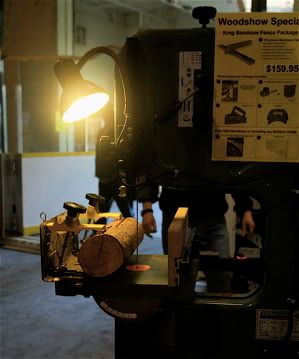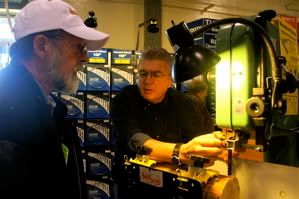 I couldn't resist stopping at this booth, even though I haven't ever used a lathe. A "Penturner's Paradise" just couldn't be passed by.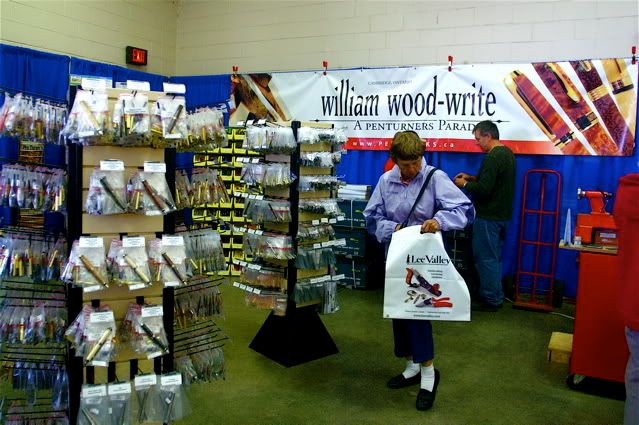 PART IV: The Displays
The woodworking displays were filled with magnificent pieces. Although I wanted to take photos to share I didn't know if it was appropriate or not. However, I did take one photo. The quality isn't that great (people kept moving in front of me) but I think you can see why I took the photo

PART V: A GREAT REMINDER
In-between two of the three buildings was the OPP's "rollover car". (OPP = Ontario Provincial Police). A brief demonstration of the rollover WITH seatbelts …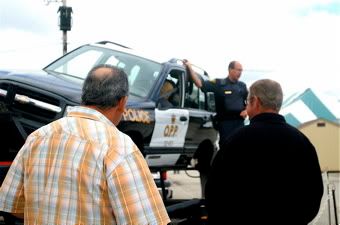 and WITHOUT seatbelts…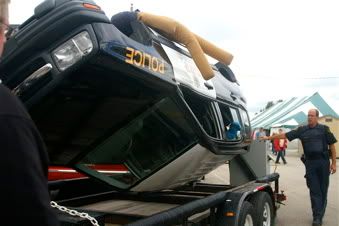 PART VI: The Sweet Tooth
Anyone who knows Rick knows that he has a really big sweet tooth. And so, of course, we had to stop for a bit of fudge. Have you ever had the pleasure of having a bite of "Pumpkin Fudge"? Oh my!! Yummy. Now that's only part of the story. Just a few minutes later, as I stepped to the side to check out some magazines on sale, I turned around to find Rick licking his lips. Then, guiltily, he chuckled and said "Just a little nibble". Can you believe it? Sneaking a bite of fudge while I'm not looking. Unbelievable!! haha
PART VII: The Hats
These beautiful pieces of apparel come in really handy. First, they are great for helping LumberJocks meet at a Woodworking Show and second, they are super if you get lost in a crowd!
At one point in our journey through the buildings, Rick and I got separated. Through the crowd I saw a glimpse of white and I strained to watch and wait for Rick to turn around and face me. After a brief moment, he turned and I held my hat in the air. (Remember that I am just 5' tall and am pretty hard to find in a crowd, underneath everyone's elbows. But, with the hat, it was instant recognition and Rick and I were soon reconnected and on our way to the next display.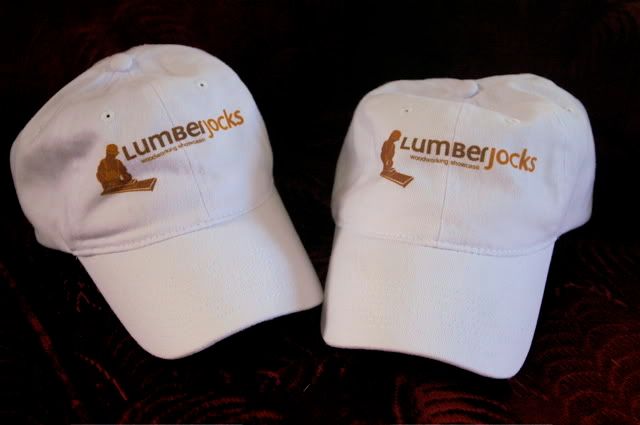 And that, my friends, is that. We are back home, hats in hand and fudge in bellies.
-- ~ Debbie, Canada (https://www.facebook.com/DebbiePribele, Young Living Wellness )
---