April 15, 2008
In March of this year I attended a wood show in Toronto and had the privilege of not only speaking with Rob Cosman but creating a ribbon of wood.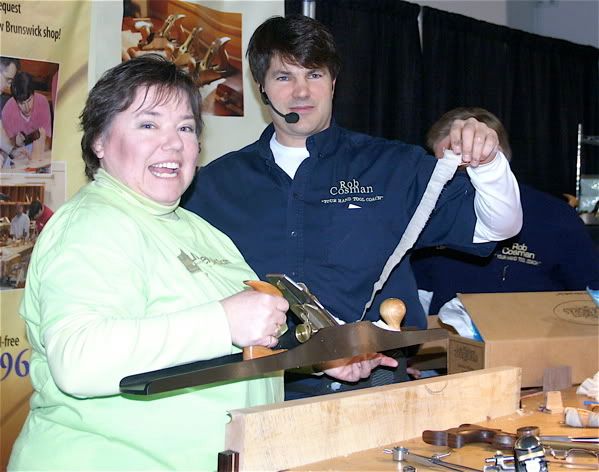 Today I had the honour of interviewing Rob and learning about his woodworking history and plans for the future.
The History
Rob was born and raised into the woodworking world. His father, a shop teacher at the time of Rob's birth, became a contractor when Rob was about two years of age. Rob's earliest memory is woodworking-related and tells of making paddle boats at the age of 3 1/2.
In Grade 1, he built a boat that he could sit in and it floated although there is more to this story. The boat wasn't quite water tight and his father wrapped it in plastic for the maiden voyage. Rob sat in his boat and (this part he just recently learned) Grandpa gave it a kick for the official launch. The "gentle kick" flipped the boat and sent Rob into the river.
By the age of 12, Rob had built many boats, forts, and carved gun handles. Rob says that he was obsessed with precision and remembers a pair of handgrips that took three tries to get right. He still has them to this day and says that he could not make them any better now than he did then.
Rob says that he was raised in a family that taught the children to seek and develop their talents and he says that he has been working on developing his talent ever since.
In 1987 Rob worked at an Arts Centre and had the privilege of being an assistant to some of the best woodworkers in the world. Rob says that this was a big advantage over a traditional apprenticeship. Rather than simply learning one way of doing things, he has been able to combine the best of each to create his own style and techniques. For example, many people are taught to make the pins first when creating dovetail joints. Why? Because that is how they, themselves, were taught and the tradition is passed along. Making the tails first, says Rob, is much easier.
In his recent years, with a family of eleven and a half (his tenth child is due in July), the financial needs were not being met by building and he needed to rethink his career. He realized that the only people who would truly appreciate his skills and talents were fellow woodworkers. The old masters used to take their secrets to the grave but Rob decided that there was potential in sharing his skills and so his recent journey is in "working on developing" his teaching talents.
On a leap of faith, Rob made a major investment in developing a DVD. One week before it was to be release he spoke with a company representative who said that with their experience they only sell about 100 copies of an instructional video each year. I can only imagine the panic that must have set in at that point. However, in just seven days after the release of his DVD the demand covered his investment and the rest is history!
His entire family is actively involved in the business. The younger children help put stickers on the products and clean the shop and office. All are paid for their work. Rob hopes that some day the business will be passed down to at least one of his children who will have an interest to continue the path.
The Future
At this point in time, Rob is focusing on the DVD's, with two new ones coming out in May and three more in September. He also has his first book of a series published, with nine more planned and one currently in the works.
Rob also conducts workshops and store demonstrations as well as appearances at wood shows. He currently has a teaching engagement booked for every week between June 30 and August 15.
Also, in the works is a "Rob Cosman" signature line of tools. He has been actively involved with the development of the tools, which include saws, marking tools, and chisels, because he doesn't want to put his name on anything that he wouldn't use himself.
Rob says that his formula for woodworking "success" is 70% the tools, 20% information, and 10% practice. Only 10% practice, you say? From his experience, he says that with a typical group of twelve people in a four hour workshop, three of four students are able to make dovetails as good as his so the practice part isn't they key to the ability. If you have the knowledge and put the time and effort into something, you can do anything.
What Makes His Business Unique
When asked what makes his business unique, Rob replied that customers deal with him personally. So if you bought a DVD, for example, and had a question, you find his contact information and email or call. Who helps you? Rob Cosman, not someone who has interpreted his work and his techniques, but the woodworker himself.
Tips for the LumberJocks
Education; education; education. Rob advises that woodworkers take a class, read a book, watch a DVD—educate themselves on tools and on techniques. This is the most important part of the process.
Testing the Dovetail Joint
Now, for those of you who were not LumberJocks yet, last year, our very own Bob#2 and Mot also had the honour of meeting Rob Cosman at a wood show. During the presentation Rob asked for a volunteer to come up and step on the dovetail joint. Our Bob volunteered, misinterpreted the instructions, and "jumped" on the wood. Yes, the result was a resounding crack as the wood broke. Without pause, according to Mot's rendition of the event, Rob picked up the two pieces of wood and said something to the effect of, "See folks? The joint did not fail. The wood failed."
I asked Rob if he remembered this and with a chuckle and a sigh (I'm sure I could feel him shaking his head in disbelief) he replied, "Oh yes. I remember.. I remember. The bull in the china shop." And then he said that Bob is not the only one who has ever challenged the presentation but it turned out well as it proved his point. The dovetail joint is very strong!
Thank you
I'd like to thank Rob for taking the time to speak with me (and for helping me create a ribbon of wood at the wood show.)
I truly enjoyed our conversation and look forward to seeing you at a wood show in the future!
~MsDebbieP
-- ~ Debbie, Canada (https://www.facebook.com/DebbiePribele, Young Living Wellness )
---