Saturday, March 1, 2008
Today, Rick and I went to the Canadian Home Workshop Show in Toronto.
When we first arrived we were allowed to go in early because I had the Awards Winners poster to be put on display at the Steel City Tool Works booth.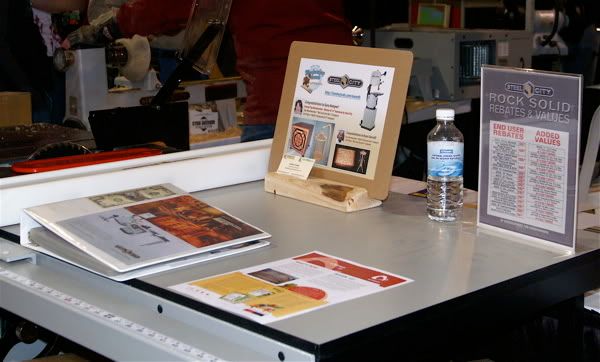 Next, we made our way to the Master's Workshop where I found Ryan Servill preparing for his day.

Ryan, over the duration of the show was building a duplicate to this cabinet.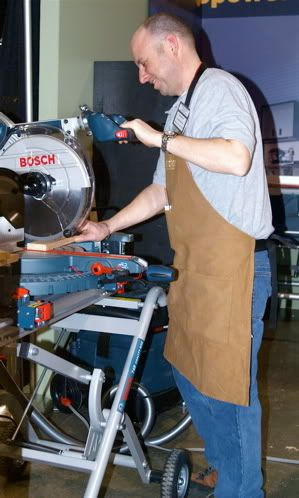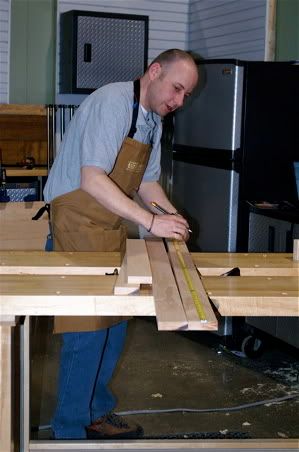 The quote from the Show Magazine says, " Watch a master craftsman at work! Canadian Home Workshop magazine
showcases the knowledge and passion of top Canadian woodworkers. Come watch custom-furniture desiger and builder Ryan Shervill at work. Drop by the master's Workshop and watch as Shervill transforms rough stock into a stunning project over the course of the three-day show."
After chatting briefly, Rick and I went on our way to check out the rest of the show.
Our first stop was at Logosol where they were slicing up a log with one of their portable milling machines. This was really fascinating and we watched him square up the log and then take his first plank. Later on in the morning we talked to one of the representatives about their company and about LumberJocks.com. The gentleman was quite excited to hear that Martin is in Slovakia and, with his noticeable accent, asked which city Martin was from… a small world!
Most of the displays were the same as seen at other shows. We did see one new display: Proxxon Now this was interesting to me since I could see the usefulness for small boxes etc. There products include a small table saw, router table, plunge router, drill press, bandsaw, scroll saw, lathe… and more. All of the products were small.. small as in "let's make some doll furniture small". I did try out the little router table and it made a great little edging on the piece of wood I had. Unlike my Dremel in a router table base, this seemed to have enough power to do some serious work. I hinted that it was my birthday next week (ok, it wasn't really a hint – I just said that this would be a perfect gift") but it didn't happen. I'm am left to dream about my little workspace.. Maybe someday I'll add one of these pieces to my tool bench.
Next we stopped by Rob Cosman's display and watched him sweep his block of wood creating ribbons of wood that flew out of his plane like pieces of silk. He overheard me say something about trying that and next thing you know I'm up there with this GIANT plane in my hands. And, unlike Mr. Cosman, I didn't make it look like running a hot knife through butter!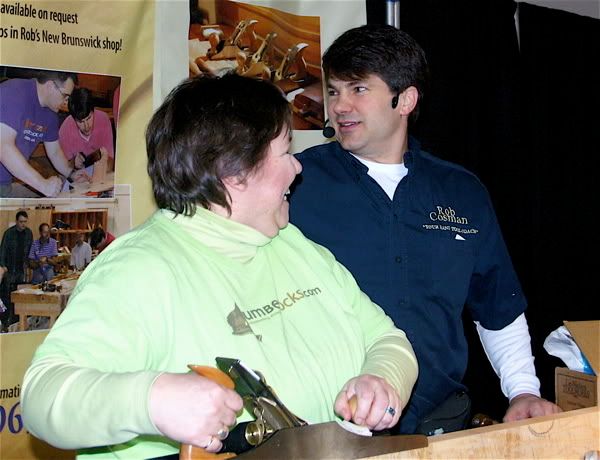 But… I did make a ribbon of wood, with a little help from the expert.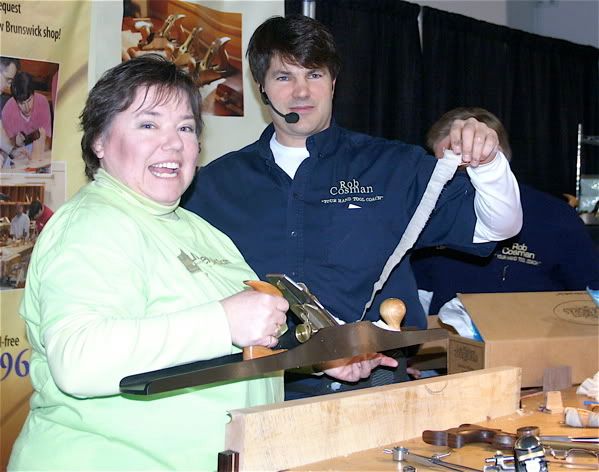 He gave me my creation to take home but it didn't survive the trip very well. Ha.

We spoke briefly about what he's up to. Did you know that he has 10 children?? And his wife home schools them? She's my hero!! As for woodworking, this is Mr. Cosman's last show with Lie Nielson and he will be focusing on his DVD's etc. I hope to have a more formal interview with him to learn more about his new focus.
Somewhere in our travels, as i was heading to the washroom, I heard a voice say, "Now that's a nice t-shirt". I turned around and there was Gord Graff. (Thank goodness I knew he was going to be there or I would have been stuck in the position of him knowing who I was and me not knowing which LumberJock he was! Ha.)
Anyway, we had a wonderful conversation that was cut short because I wasn't the only one who was on the way to the washroom :) Oh, did this fall into "too much information"????
(Unfortunately, the camera didn't get the lighting right on this photo.)
Although in many ways was similar to all the other wood shows, what made this show special was the number of demonstrations and hands-on opportunities. This, in my opinion, set it apart from other shows we've attended.
Another jaunt around a couple of displays and then we headed home. A great day – I got to meet two famous LumberJocks!!!
-- ~ Debbie, Canada (https://www.facebook.com/DebbiePribele, Young Living Wellness )
---