Jan. 22, 2008
With our new "Reviews" Feature at LJ.com being only a week old, the Wixey products have already received five reviews. I just had to do an interview to find out what made this company so special. And so, this morning, I was given the privilege of speaking with Barry Wixey, the man behind the Wixey tools.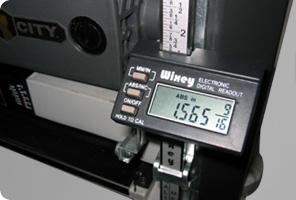 (photo from www.wixey.com)
The Company History
Prior to starting the Wixey company, Mr. Wixey designed woodworking machinery for Delta and Dewalt tools. Then, in the year 2000, he and his wife Cora were going to have to move to a new city due to some restructuring in the company. (Now, as all LumberJocks know, behind every good man is a great woman, and this case is no different. Barry's wife, Cora, suggested that he become a consultant and do what he does well but under his own business.) And so Barry Wixey Development was born.
During the next few years Barry had the opportunity to ask many woodworkers what features they would like to see on their tools. The most common response was digital readouts. In the spring of 2005, according to Mr. Wixey, "we put up a web site selling our WR500 Planer Digital Readout and sent some samples out to Woodcraft Supply. Remarkably Woodcraft placed an order and our web sales took off. Neither Cora nor I had ever wanted to sell anything for a living but we soon found this was fun and exciting and we have never looked back or thought again about selling our patents to the big guys."
He continues to say, "The two of us run the entire business ourselves. Cora runs the web site, internet sales, and sales service; I design the products, handle technical service, and the wholesale accounts. We work together shipping and receiving the product. We have a small privately owned factory in China that manufactures everything for us and we travel there several times a year to work with them. Although we are a very small business, we are this factories largest customer so we get great quality and support from them."
The Products
Wixey currently has 5 products for sale and they have two more on the way. By March of this year we will be seeing a small and a larger version of a digital protractor. These products will be like the angle gauge except that they can be placed on any surface. This means that, for example, they can be used to ensure mitre saws are set precisely.
The Vision For The Future
Prior to 2007 the Barry Wixey Production company was 95% consulting and 5% Wixey products. As of last year that had switched to 5% consulting and 95% products. The company goal is to strengthen the brand name recognition and continue to introduce innovative new products. They now have a product development wish list that can keep them busy for a number of years. They also plan to keep the business organized in such a way that Barry and Cora can continue to operate it by themselves. This allows them not only keep on top of the business as it is but also allows them to provide customer support directly and efficiently.
As for customer support, Barry says that with the business being conducted primarily online, they can respond to customer questions within 12 hours and often within minutes! They take their laptops when they travel to China, where their products are manufactured, and don't miss a beat. Barry says, "I personally handle every single technical service issue and can email photos, instruction manuals, or sketches to help people understand how to use our products. Many times some one will send me a digital photo of their machine and I can sketch right on the photo and send it back to them. The biggest benefit we get from this type of communication with our customers is the ideas for our new products. By personally " talking" to each and every one we get a real feel for product improvement and new products. That's where our Height Gauge and upgraded Planer Readout came from."
Favourite Product
When asked what his favourite product was Barry said, "I guess I have a favorite product "feature" that we incorporate in our all our linear measuring tools. We call it "Precise Fraction Technology" For years the woodworkers were telling the engineers that they really wanted fractions on their digital readouts and the engineers were telling the woodworkers that a digital readout with fractions could not be accurate enough. We have resolved that conflict with our technology and have a very precise and easy to understand method of displaying our fractions."
Misconceptions
I asked Barry if there were any misconceptions that he'd like to clarify. His response was, "When most people first think about adding a digital readout of some kind in their wood shop they think " Why would I need that much accuracy for working with wood?" As it turns out increased accuracy is just a side benefit of using digital readouts. The biggest benefit is that they are easier to read than a standard scale or tape measure and this eliminates a lot of errors especially for us middle agers whose eye sight isn't what it used to be. The other benefit is repeatability. If you set your readout on a number and make a cut, you can come back a year later and set it on the same number and make the exact same cut."
During our conversation the topic of "China" was discussed. At this time in our history many North Americans have a negative impression of products manufactured in China. Barry's response was that this is HIS product, with HIS name on it and whatever happens with his products is his responsibility. He and his wife visit China several times a year to ensure that the production process is going as planned. He also says that because the company that he is working with is a small company such as his, they too have their reputation lying on their products. Barry says that they bend over backwards to support his needs and to ensure the product is quality.
Advice for LumberJocks
Measure once. Cut once.
-- ~ Debbie, Canada (https://www.facebook.com/DebbiePribele, Young Living Wellness )
---