Jan. 10/08 My Lee Valley Gift Card
My daughter and son-in-law gave us a gift certificate for Lee Valley Tools.
Two items that went directly on the list were a metal detector (the Little Wizard) and a digital angle indicator (not in picture. Should be here next week.)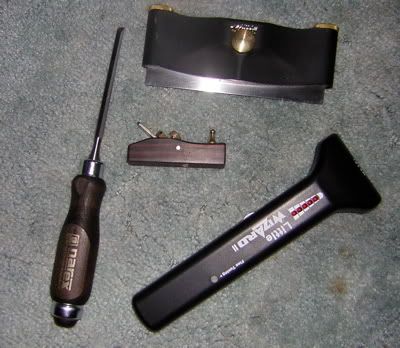 I added the 1/4" chisel to the list because I use my $1 store one so much and it won't last much longer, I'm sure.
I also bought a scraper – because, lately, the LumberJocks have said that it is the way to go. Also, because it was a Christmas present and I could invest in a luxury item without feeling guilty, I bought the scraper holder to keep my thumbs from being fried, a drawback according to the LJ reports.
The final luxury – ok, this was just for fun, was a "miniature block plane". I've checked it out on the edge of a board. Sweet… rounded it right over just like running a hot knife through butter.
Merry Christmas Debbie & Rick :)
-- ~ Debbie, Canada (https://www.facebook.com/DebbiePribele, Young Living Wellness )
---