January 7, 2008
When Rick and I went to the wood show in Toronto last fall, we stopped at a booth that had a variety of veneers on display. When I picked up the written information I discovered that they were located in Cambridge, not too far away from me. Rick, who had lived in that area his entire life didn't know the store. Well, it turns out, after we tracked it down on the weekend, that it's "that blue building by the river". He had passed it a zillion times in his life – always seeing it but never knowing what it was.
They are open on Saturdays until noon, so we made it our first stop of the day as we did the "to do" rounds. What a surprise; what a treasure – and it had been sitting under our noses all this time. First, we went upstairs and found rows and rows of wood. There were hardwoods, soft woods, exotic woods; there were spalted woods and burl woods; there were blocks of wood, chunks of wood, planks of wood; there were woods for pen blanks, and intarsia; they had a room specifically for musical instruments (but we forgot to go there). They had several HUGE wood slices of tree that were about oh… 10 feet high and 8 feet wide.. it seemed that big anyway.. HUGE. I am pretty sure the one was a "burl" and it said "sold" and if I read the writing correctly it said that the down payment of $4000 had been received.
There were also some small pieces of burl …. something really heavy… the pieces were about 2×2x8" and they were $49. (I think… the cost made my eyes water and I couldn't see straight after that so I'm not sure exactly.)
The rest of the wood, the "plain ol' wood" was quite reasonably priced, I think. Then, we went downstairs and they entire floor was dedicated to veneer. That was fascinating. There was also another building that held even more wood, but we didn't go out there.
oh.. AND
AND
.. wait for it..
wait for it..
AND
they had willow! Ha. beautiful pieces of willow.
Yes, Tom, I took a picture.. just for you. Here's what I brought home to play with.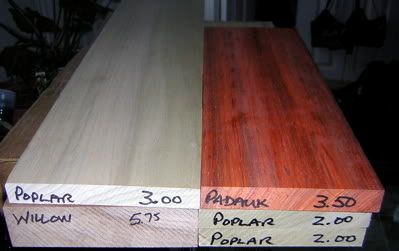 And then, this morning, I checked Freecycle and this little baby was posted to give away. Lucky me, I got it; drove to town and picked it up and it's now sitting waiting to hung up in my living room. It's a 26" square antique tin ceiling tile (which was from "the Right House", a store I frequented as a young girl with my Mom). The frame is 100+ year old barn board, from a barn in Elmira, Ontario.

Don't you think it is going to look awesome along with my TV frame that Rick and I made a few weeks ago??
-- ~ Debbie, Canada (https://www.facebook.com/DebbiePribele, Young Living Wellness )
---