Somewhere on here I'd started a blog about our gazebo. I'll have to go back and find the other blog entries.
We started out with a 10×10 tent gazebo purchased from Rona, and after the wind destroyed the frame, it became a wooden framed gazebo with the tarps for walls and roof.
The weather has been rough on the tarps and we have had to start replacing the tarps with wood.
Other than the 2×4's, we have used scrap pieces of everything and anything we could find to make it work.
The west and north walls were the first to go up, each with three windows in each. The windows are from the porch of my great-grandfather's home.
The east wall, installed last weekend contains one window: a 4' round table top that Rick saved from the garbage at his work. Rick cut some grooves in a couple 2×4''s to create the frame and then cut some 2×6 pieces to fill in the corners. We then went through our scrap pile of plywood to fill in the wall.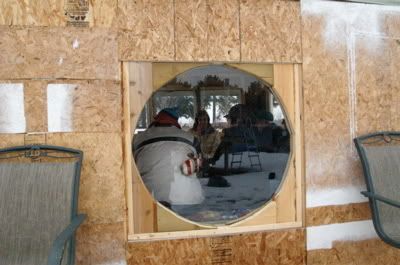 The West wall (sorry no pictures)
Last weekend, after finishing wall #3, we had enough time to put 1/3rd of the final wall up, with two of the old windows stacked on top of each other.
This morning, just a couple hours before my family was to arrive for our bonfire breakfast, we made the opposite end of the final wall. We had one last old window from my great-grandfather's farmhouse, one oval window scavenged from Rick's work, and one smoked glass window from a table I was tossing out.
We were putting the final nails in the plywood when our company arrived.
We had a great time in our little outdoor retreat.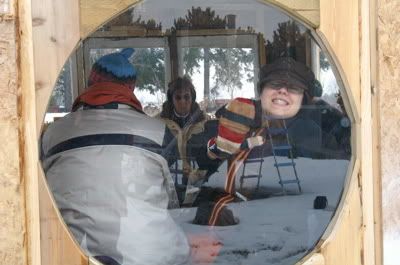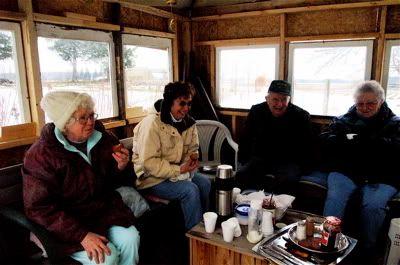 And here is a picture of our chefs. Oh wait – where are they??? Hmph. We found them sitting inside by the new fireplace!
(in the background are the remnants of tarps and other fixins we'd used at our last bonfire breakfast, trying to keep everyone warm. We left it up in case we didn't get the gazebo done in time. Now, I guess we can clean it all up. The gazebo was a success.)
-- ~ Debbie, Canada (https://www.facebook.com/DebbiePribele, Young Living Wellness )
---