July 2010
This month, in our July issue of our LumberJock eMag, I had the privilege of interviewing Scott Bryan. Here is the full interview.
How did you find Lumberjocks and what keeps you coming back?
I became aware of Lumberjocks about 3 years ago as I was browsing the web sites of Matt Vanderlist and Marc Spagnolo. Both were promoting LJs at the time and I thought that the site sounded interesting. This prompted me to take a look at the site and I was floored by the stunning projects that were being posted. Also I really enjoyed seeing the positive interaction between the site members, since up to this time I had worked in relative seclusion with regards to my woodworking experiences.
I guess I am somewhat old school in that I really have never spent a lot of time with on-line social networking sites. For instance, I have a Facebook account but rarely look at it and I do not Twitter. But the thing that thing that attracted me to LJs when I first looked at it is the same thing that keeps me coming back today- the interaction and sharing of woodworking projects and topics. Like most of us, who are members of this group, when I get the opportunity to discuss woodworking topics I find it hard to quit. Being able to share woodworking knowledge and ideas is the central concept behind LJs and this is the principal reason for my involvement in the site.
Tell us a bit of your woodworking history- what your first project was, why you became a woodworker etc
I really have only been woodworking for about 15 years so I would classify myself as somewhat of a novice. I am sure that my personal woodworking journey started in a fashion similar to a lot of site members in that I got into woodworking largely through my DIY efforts. I eagerly watched episodes of This Old House and, later, New Yankee Workshop which gave me the confidence to attempt these type of projects. These shows fueled my desire to tackle home improvement projects on my own. This led to a trade off of projects for tools, with the approval of my wife, of course. Once I started down the DIY path this opened up other avenues which eventually led to an avid interest in working with wood.
I suppose that I have always had an interest in woodworking but early on it remained latent due to (1) lack of exposure and (2) lack of both tools and knowledge. My father was a third generation carpenter who tried to teach me his craft when I was living with him. But, at the time, I really did not have a lot of interest in what he was trying to teach me so I really did not pursue either carpentry or woodworking when I was younger. And, like most young people, thought I knew a great deal more that I actually did. Now, I can see that in another life, I would have found that pursuing a carpentry career would have been rewarding for me on a personal basis.
My first project was a simple walnut shelf that I made while taking an 8 week woodworking course through a local adult education program. I signed up for the course since I had no formal woodworking training and only had a router and table saw in my shop. The course gave me access to the power tools that I lacked. The interaction with both the other students and the instructor only added to my woodworking interest.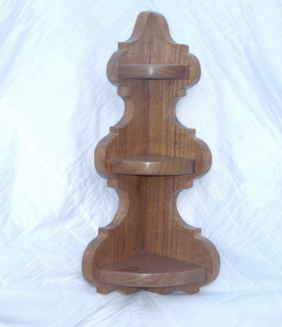 I am always interested in "inspiration"- What inspires your work and your style of work?
This is a question that is very difficult for me to give an answer. I would classify my style as Craftsman/Mission/Arts and Crafts since I really do not differentiate between them. I like the simple lines that projects of this style have and the relative straight forward build that they exhibit. I really wish I could give a more definitive answer but I just guess I am simply drawn to this style of woodworking simply because I enjoy its appearance.
What is your favorite tool and why?
This is an easy question to answer. It has to be my table saw. It is, without a doubt, the heart of my shop. Everything I do, whether it be working with wood or a home improvement project, will bring my table saw into play. It is my go to tool and, since I particularly enjoy building cabinets, it is, in my opinion, a necessity to have.
What is your favourite project that you've created?
My personal favorite would be hard to pick. It is rather like asking which of your children do you like the best. But if I had to choose I would say that I have two favorite projects. One of the projects that I have posted is titled Cherry Master Bedroom Remodel.
This is a project that I started largely for the challenge. I was "commissioned" by my wife to give the master bedroom a new look. After installing hardwood flooring the next step in the bedroom remodel was to put in crown molding. And then it evolved into adding wainscoting to the room. My wife chose brazillian cherry for the flooring and cherry for the rest of the room, which suited me just fine since cherry is my favorite wood with which to work. This was a large project for me- it took 10 sheets of cherry ply and about 300 bf of cherry to complete- but all of the crown, base and other molding were made in my shop so it did give me the freedom to spend a lot of time in the shop.
My second favorite project is the oak vanity that my younger son "commissioned" with the caveat that he be allowed to help in the build. This was a project that I particularly enjoyed in that (1) I got to spend some quality time with him in the shop and (2) I especially enjoyed the teaching aspect of the project entailed since he had virtually no woodworking experience before tackling this project. In actuality he ended up doing nearly all of the work on the project and, more importantly, once completed it received the seal of approval from my daughter-in-law as well.
What is the most challenging part of woodworking for you?
Again this is pretty easy to answer. The largest challenge I face is with using hand tools. I have always been a power tool user and, sadly, have neglected development of my hand skills. I have several saws and planes that inherited from my father and would love to have the skills to use them properly. Developing these skills, and the ability to hand cut dovetails, remain personal goals of mine.
What is the most rewarding part of woodworking for you?
I find that teaching and sharing the skills that I have learned are the most rewarding aspects of this hobby for me.
What is the best piece of wisdom you can pass on to woodworkers?
Don't be afraid to stretch yourself when planning a project. Too often we look for projects in our "comfort zone" because that is what we are familiar with. In order to grow and develop, our skills need to be pushed and stretched. Sure there will be "mistakes". But I am a firm believer that we learn far more from our miscues than we do our successes.
Anything else you would like to say?
This is always a dangerous question to ask of me since, as I indicated in the first question, once I get to talking about woodworking it is difficult to stop so I always have something else that I can say. But the one thing that I think is missing in most of our woodworking endeavors is the lack of real time interaction between woodworkers. Too often, we as woodworkers, tend to work in isolation. I think this is largely due to the relative scarcity of others who have a passion for working with wood and the press of our daily lives that limits the time available to interact with others who share this obsession for wood. To me this leads to "in-breeding". I think that some form of education is necessary to circumvent this condition.
One of the obvious benefits of being a member of this group is the ability to share and interact with one another. I would also suggest that periodically taking a woodworking course, attending a woodworking show or being a member of a local woodworking group would benefit any of us- from the seasoned pros to those of us who are relatively inexperienced.
And, of course, I would like offer my thanks for being selected for this interview. It is a distinct honor and privilege to be selected for this inclusion in the Emag.
Thanks to Scott for taking the time to do this interview – and for all the wisdom and support shared here at Lj.com
-- ~ Debbie, Canada (https://www.facebook.com/DebbiePribele, Young Living Wellness )
---