Jan 29/10
This weekend is the Hamilton Wood Show. Rick and I had originally planned to attend yesterday but he wanted to get the branches picked up from the Grand Ol' Lady, our maple tree, that "we" cut down this week so we decided to go this morning instead.
So this morning, we packed up and headed out in time to get to the show close to when it opened. However—as we were driving down the highway the one tire was feeling a wee bit funny. I'd have to take it into the shop on Monday to have it checked. Then, we decided to take a detour for a "Tim Horton's" run. As we started onto the off-ramp, "uh oh", that tire was no longer feeling a wee bit funny. Something was definitely wrong.
We pulled into a carpool parking lot and Rick got out and had me drive towards him so he could check it out. He saw a wobble. I stopped, he looked underneath and saw nothing but knew that it was pretty serious. Then, just as he was about to get up he saw "it" – a huge bubble on one spot of the tire. Fortunately I had stopped at the right place so it was clearly visible, once you noticed it that is. We were definitely not traveling far on that tire.
As it happened, where we had pulled off the highway was not too far from my dealership so we limped our way there and crossed our fingers that a mechanic was on duty when we got there.
The service manager said to us, "Do you have an appointment?"
I said, "No"
He said, "uh oh".
I said, "But we do have an emergency."
He looked at me and looked at the truck.
I said, "It's ready to blow. ... the tire that is."
He went and looked.
He said, "uh oh".
He called the mechanic and said, "I need you stay put."
Two hours later after they tracked down a tire that had the same tread, we were all fixed up and had counted our blessings a number of times that we hadn't had an accident. (While we were waiting we saw an amazing documentary about a British Airway flight where the plane's 4 engines (yes all of them) quit while on the flight. What a story! We hopped that the truck wouldn't be fixed until after the show was over.)
So..the tired was fixed and onwards we went to the wood show!
There wasn't too much new at the show. Paul, the editor of the Canadian Woodworking magazine said that he was having a very good day. Last year he had said that the wood shows were slowly dwindling away in size and attendance. So this show is hopefully a sign that it might pick up again.
I spoke with Terry, from Steel City, and he said that there are some people retiring and some switching of positions within the company. He will be in charge of warranties and such, (I think). Hopefully we'll still be seeing him at the shows.
I also spent time checking out the exhibits – extraordinary work, as usual. I took a couple of pictures. It's interesting that the photos I took are of items that have been carved from natural pieces of wood .. you'll see what I mean when you see the pictures.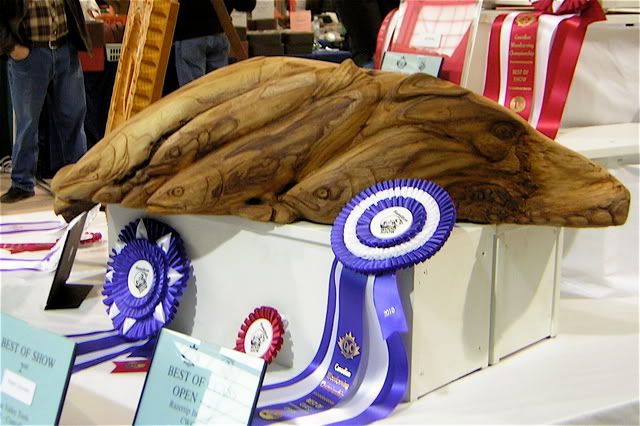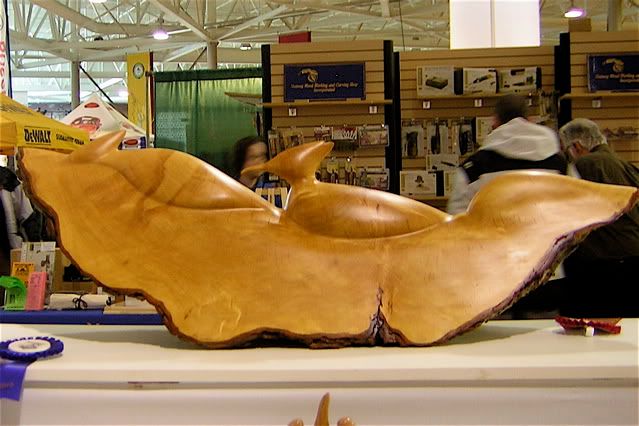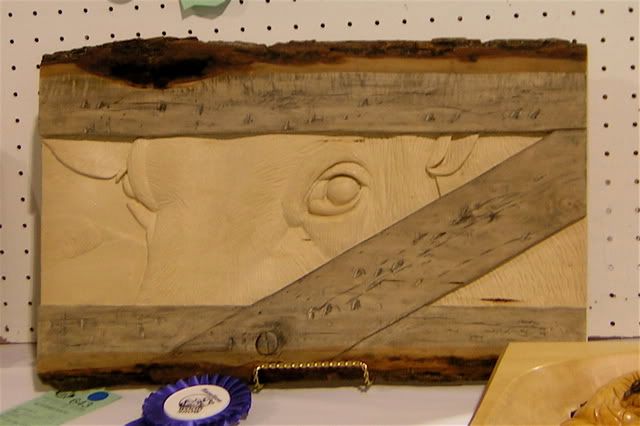 A tour of the exhibits (it was fun watching them slice up a log with a chainsaw milling system) we stopped at the bandsaw blade booth and ordered a couple of new blades for our machine. (It's a unique length so he has to make them up and send them to us.)
—————————————————————————————————————————
(note: that's the end of the woodworking blog)
Next, it was off to our favourite part of the Hamilton Show—the war plane museum!!
Here is a Lancaster. It has been here every time we've gone to the show. I am always amazed at the size of it. (You can see a plane sitting under its wing in the one photo). Rick's Dad flew a Lancaster when he was in the war. He went down three times. After the war, he and his buddies used to take a plane out for a spin and "dive bomb" the house to say hello. That didn't last long. Something about the police :)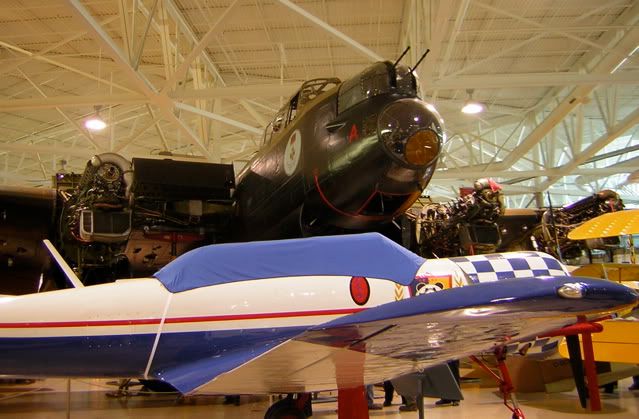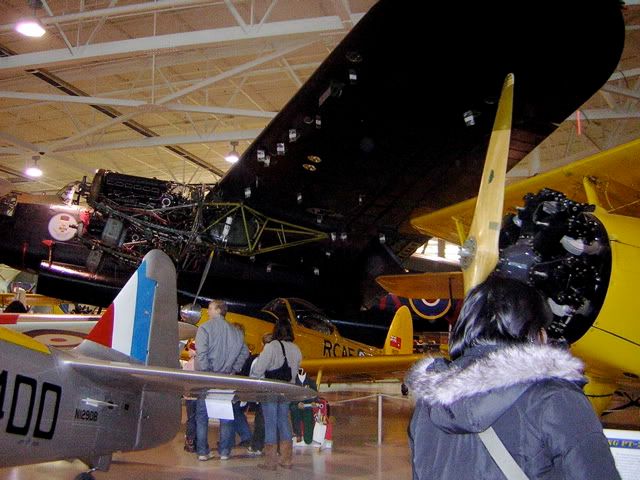 And here is a shot of an engine—see the penny? Cool. I thought maybe the penny was the year the plane was built but it's a 2008 penny. Maybe it was the year the engine was rebuilt.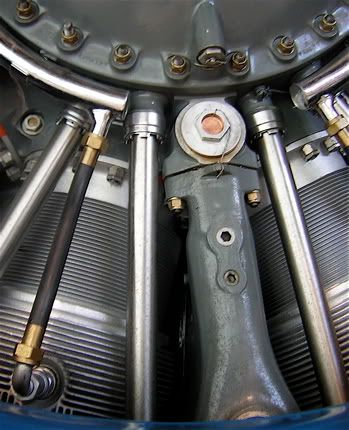 and then.. back home we went. And oh what a smooth ride it was—no bumpetty bump tire!!
-- ~ Debbie, Canada (https://www.facebook.com/DebbiePribele, Young Living Wellness )
---