So… I saw an ad on craigslist for a band saw for sale. I really have to stop looking at this stuff!!! I picked it up for $100. It was running but otherwise looked pretty dirty and in need of a thorough cleanup. The paint was oxidized and there were a few minor rust spots. The table top was very rusty and appeared to have some sort of oil mixed with the rust. It also had a light misting or some sort of white paint over the whole saw. I figured it was overspray. Anyway, I thought it would be a fun project, and I didn't yet have a band saw.
Here's what I got: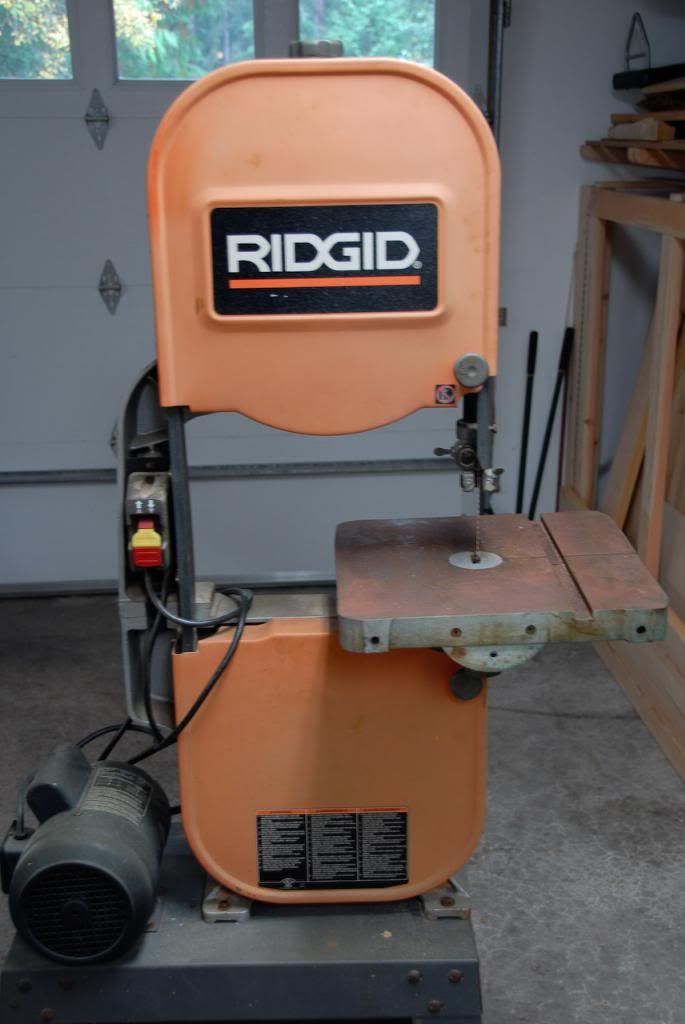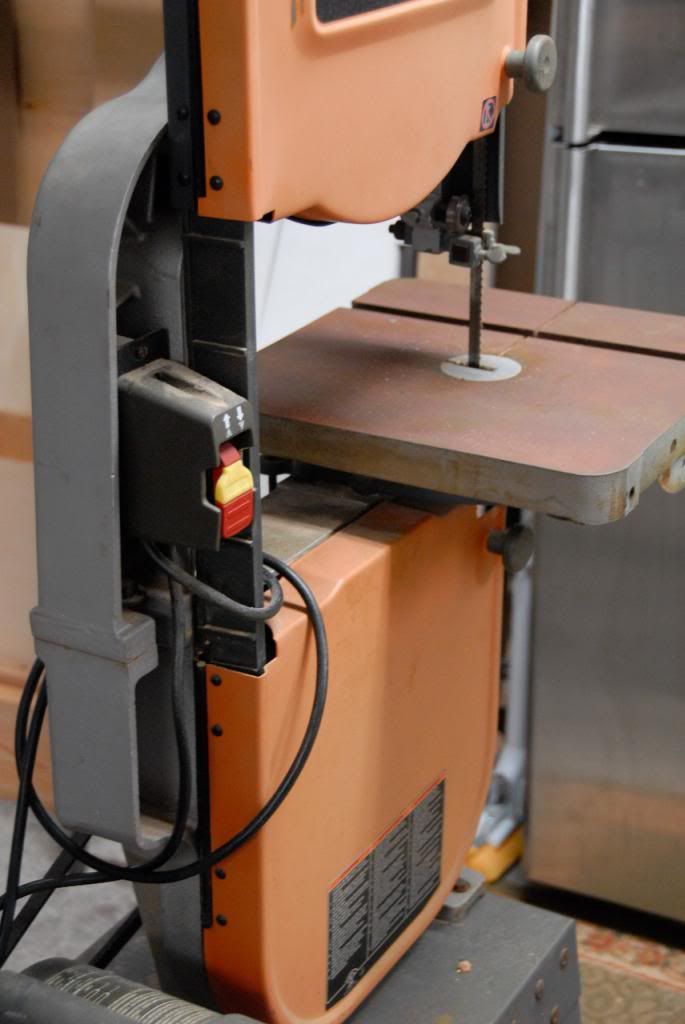 I did some research online and found that the main complaint about this saw (Ridgid BS140002) is vibration due to the base/stand not being stiff enough. Kind of ironic since it's called ridgid. I originally planned to give it a thorough cleaning and make new top for the stand. I tried some car polish on the oxidized paint but it was no good. Sanding with 400 grit removed most the oxidation and overspray but went through the paint in some places. I figured it was time to repaint. Since I was not particularly fond of the orange color to begin with, I decided that I'd paint it to match my grizzly table saw and jointer.
I completely disassembled the saw and stand. Every nut, bolt, and part. I put all the little bits into ziplock bags to keep track of everything. I then spent a lot of time at the grinder with a fine wire wheel to remove any rust. I masked all of the safety stickers with blue painters tape but the big ridgid sticker on the front of the top door was cracking and looked terrible, so off it came.
I painted all of the parts with Rustoleum Hammered Finish paint. That makes it easy to hide any imperfections. I used "Hunter Green" for the stand, "Ivory" for the frame, "Silver" for the accent part and trunions, and "Dark Bronze" for the motor body.
I cut a piece of ¾" MDF to fit inside or underneath the top of the stand. The edges were beveled at 5 degrees to match the angle of the sides. I then traced and copied all of the bolt holes and drilled them out using a forstner bit in the drill press. I realized that this new ¾" insert was going to get in the way of the bolts that attach the legs, so I marked their positions and drilled some relief pockets around the edge with a large forstner bit. Here's what that looks like:
I cut another piece of ¾" MDF (this one with 90 deg sides) to make a new top. I copied all of the bolt holes and drilled them into the top, as I had for the reinforcing piece underneath. I cut a third piece of MDF, beveled he edges to 5 deg, to make a shelf that could attach to the leg braces. I drilled some small holes in the leg braces so that I can screw through into the underside of the shelf.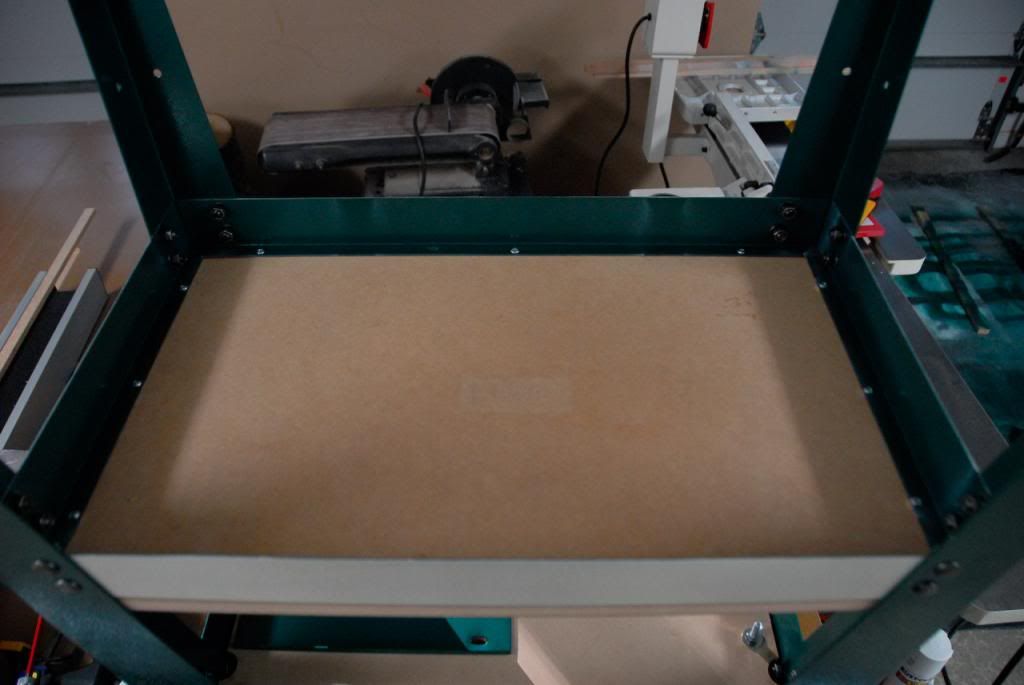 I added the shelf to stiffen the legs but also as I thought it would be useful to have a shelf there. I put a single coat of tung oil on the MDF of the top and shelf to add a little durability to the surface.
Here's the completed stand: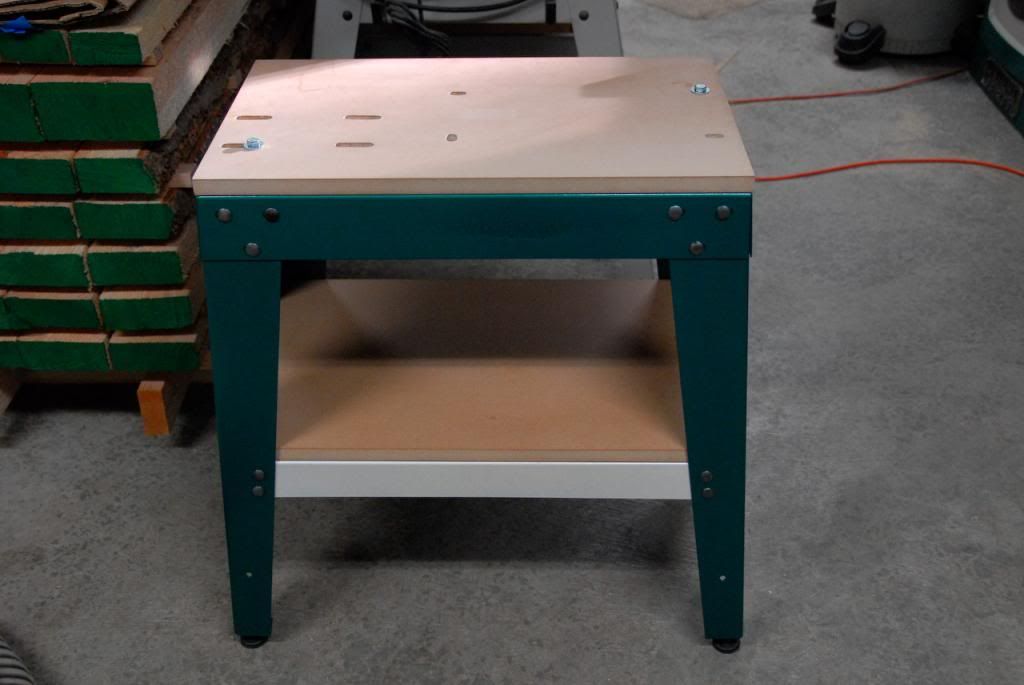 Once I had everything repainted, and that took a few days as I'm kind of slow and methodical, I started to re-assemble everything. I took my time, but I think it came out looking great. Here's some pics: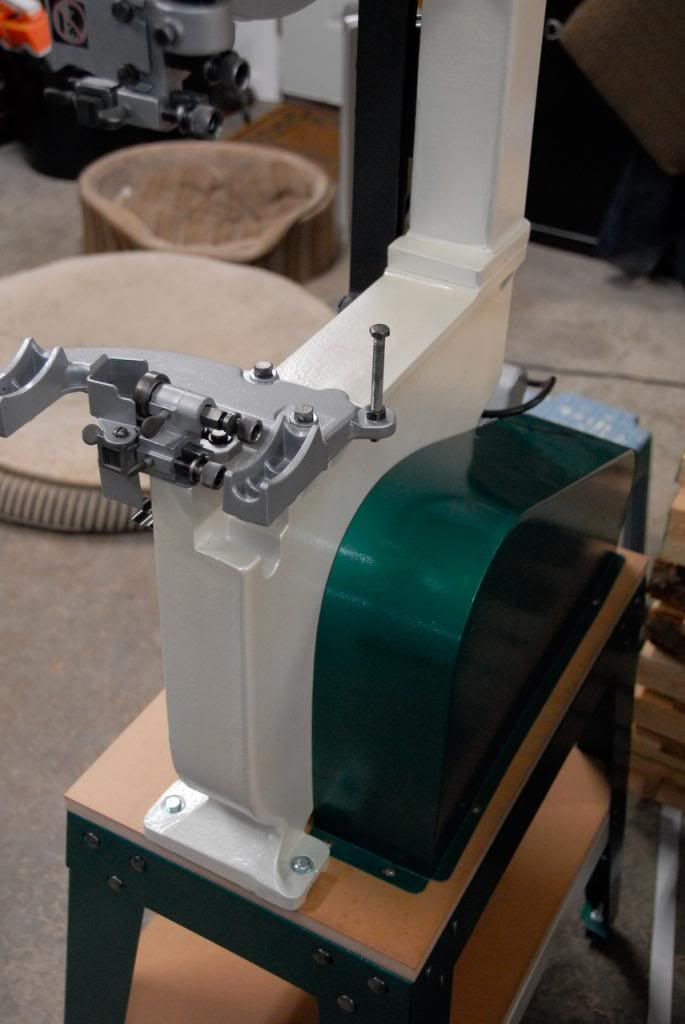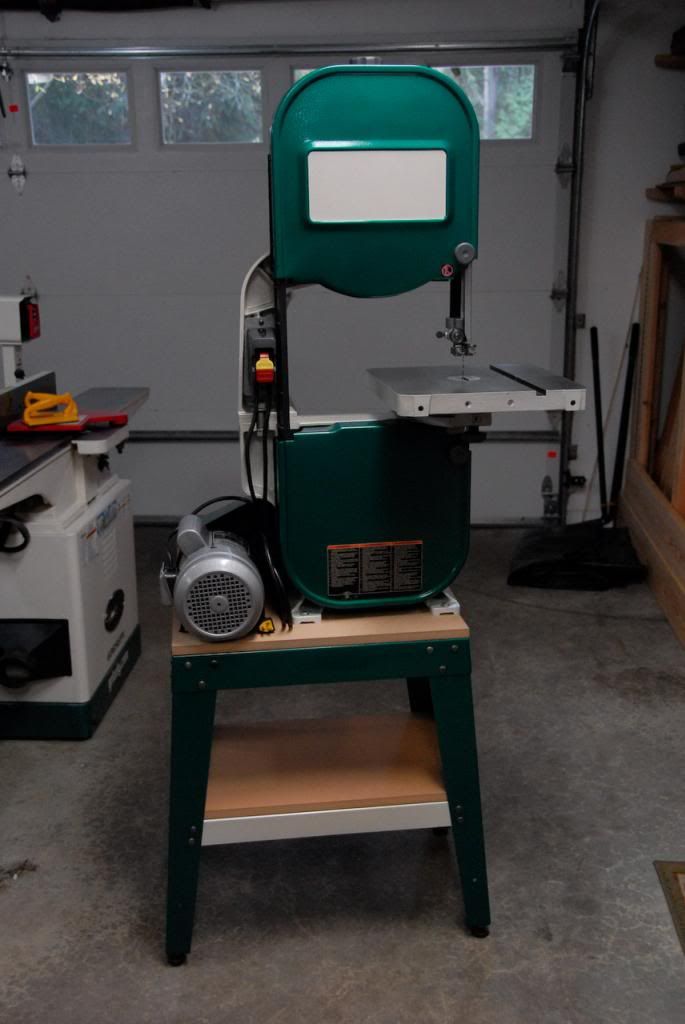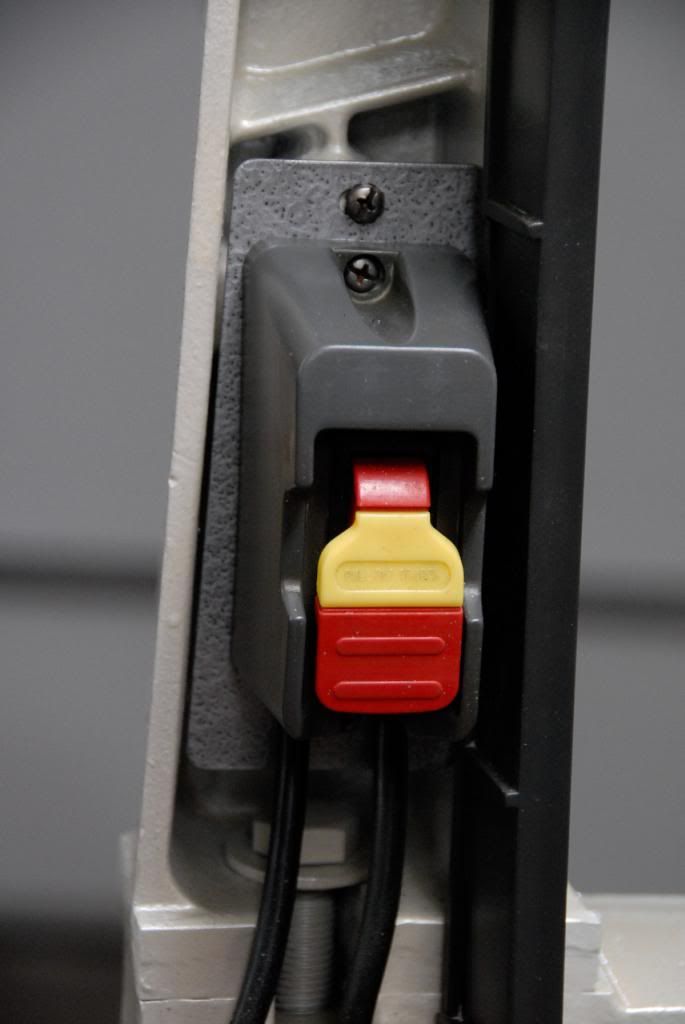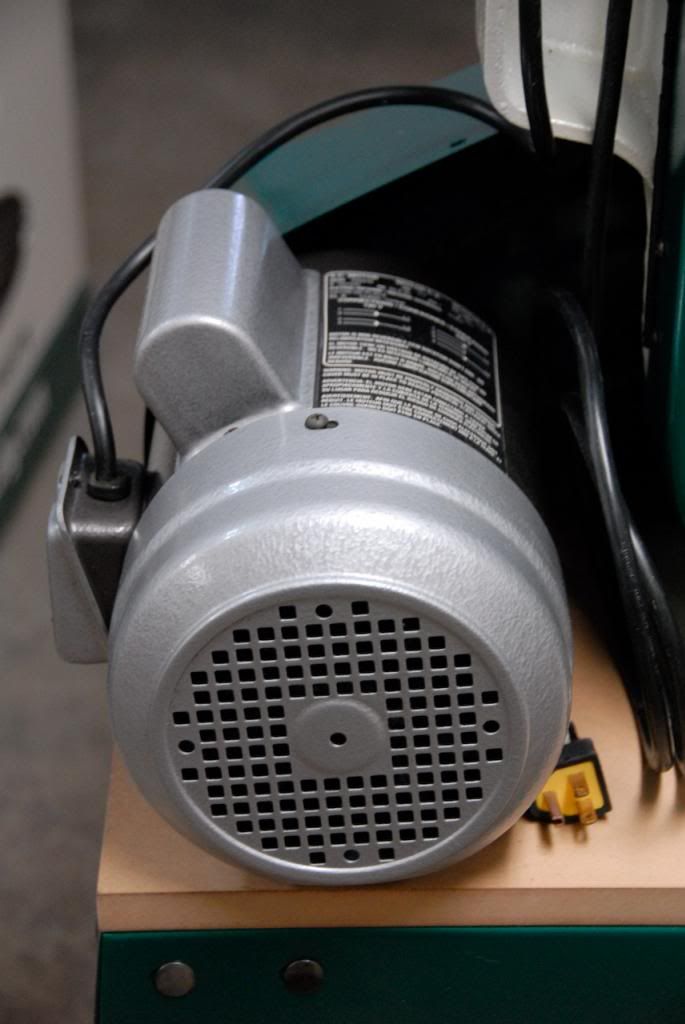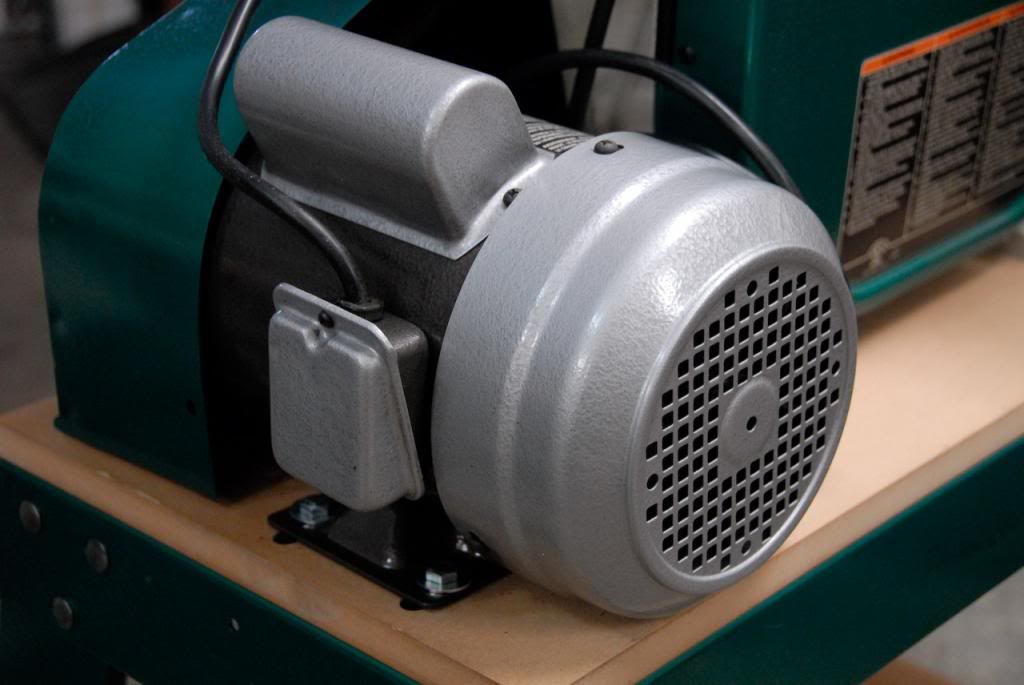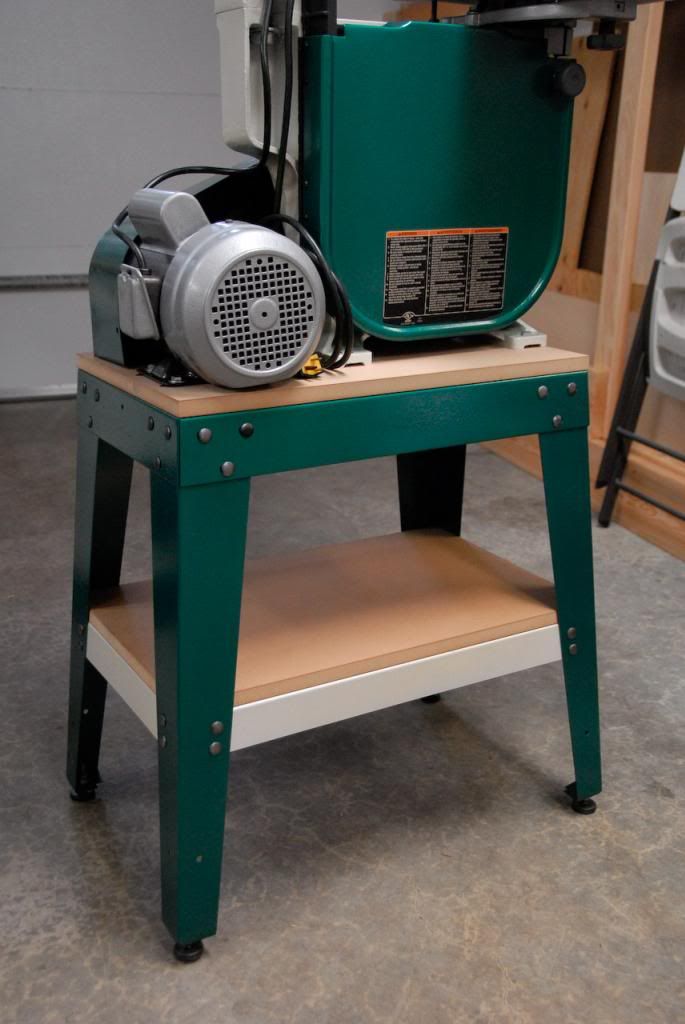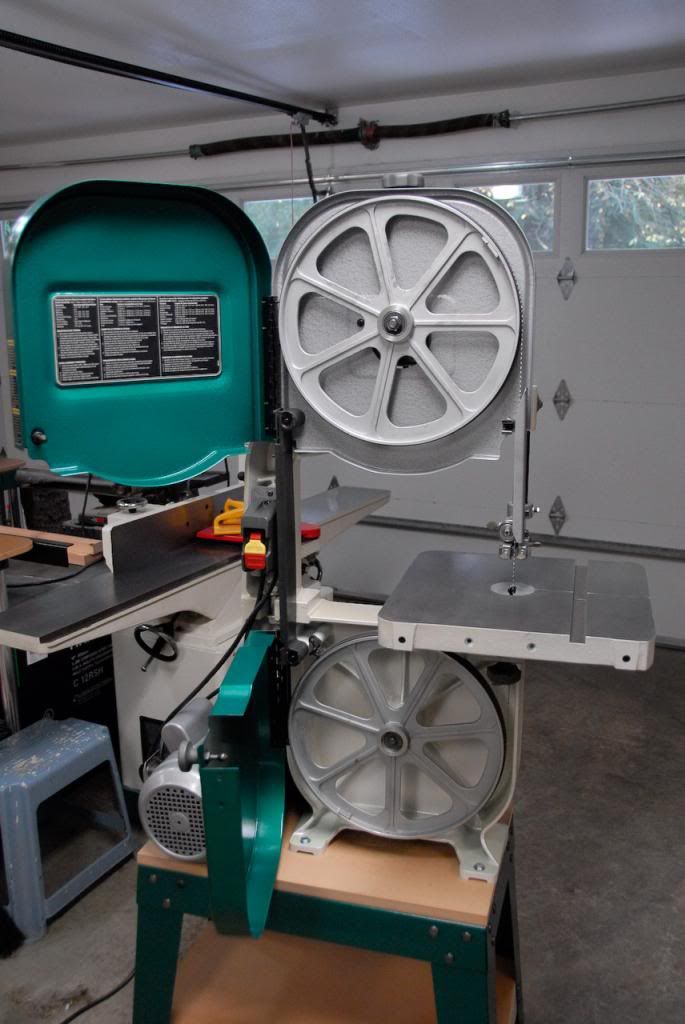 One thing that I noticed about the saw when I first bought it, was that it shook/vibrated quite badly. I checked the wheels and found that they were way out of balance. I sanded the tires until they had a crown. I then balanced the wheels using some adhesive weights that the nice guys at discount tire gave me. You can see the weights here:
I sanded down the table top to get rid of all the rust. Once cleaned up, I put a coat of paste wax on it to inhibit future rust.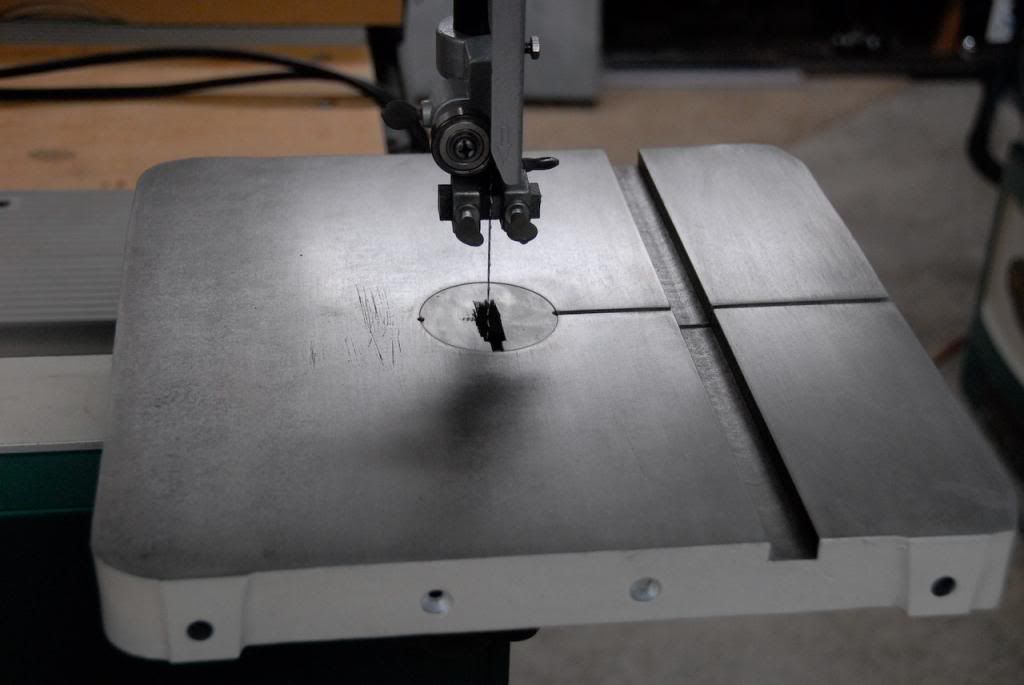 I installed a new Carter AccuRight blade and some "Cool Blocks". I still need to get a new table top/zero clearance insert.
A few more pics: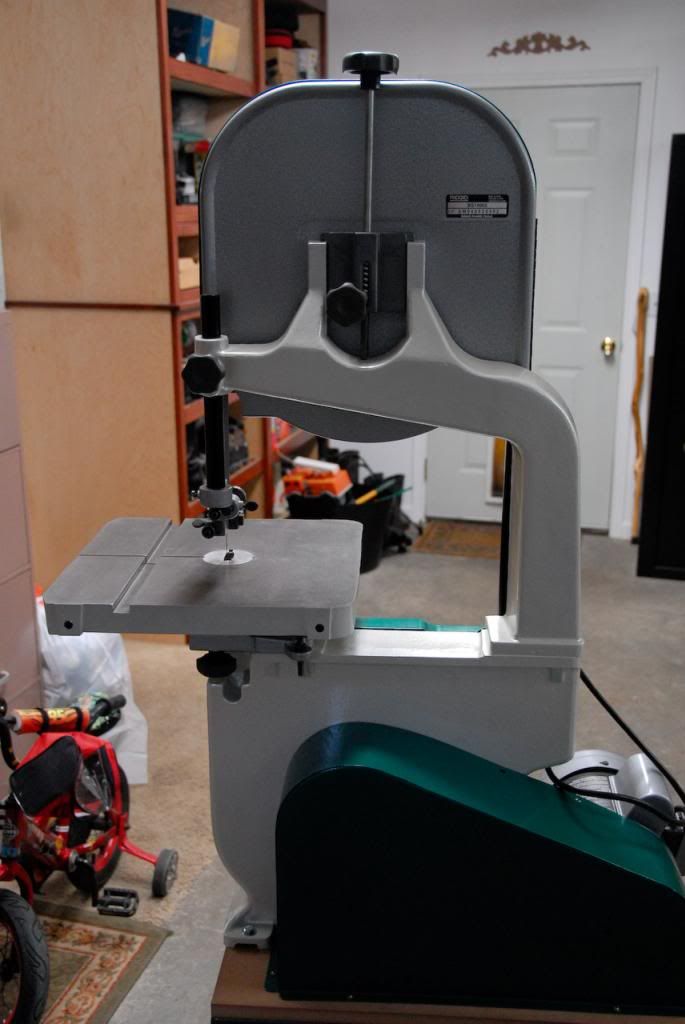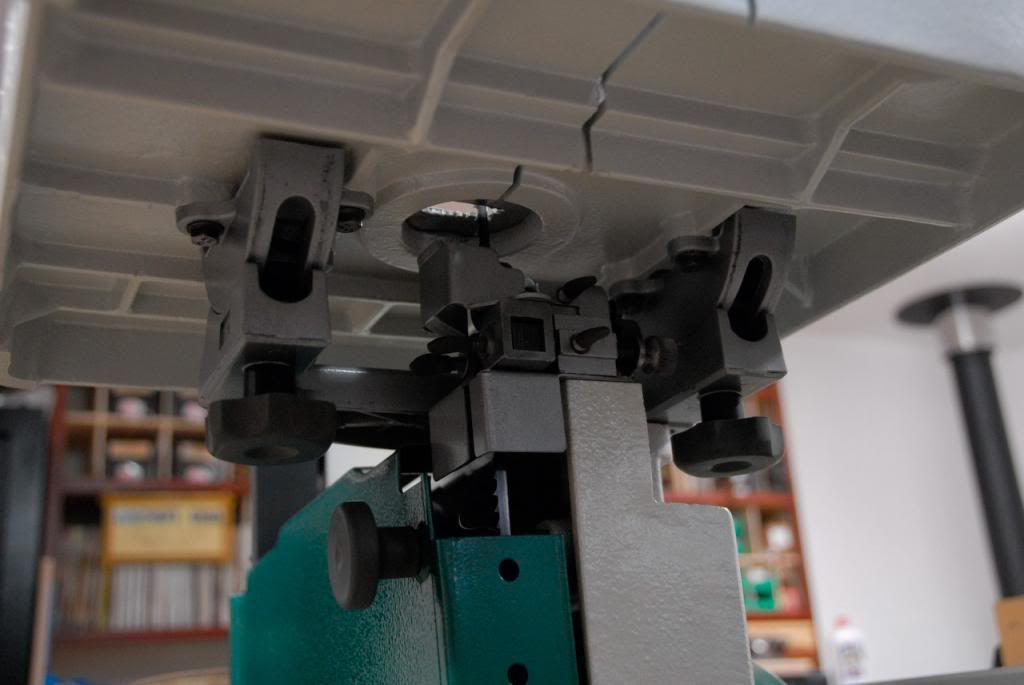 All, said it was a fun project and I think I got a pretty useful tool for a great price. What do you think?
---