Well hello again! This is part 3 in my jointer plane restoration. When we last spoke, I had done the electrolysis process on the body and frog, as well as the smaller parts such as the cap lever, iron, and chip breaker.
I also need to mention that the frog that came with the plane was broken off so as not to include the top part or the lateral adjusting lever. Ebay came through with a new one. If I may plug one of my favorite sellers, NHPlaneParts is the man. Granted I am in MA, so the shipping is not far, but I have never waited more than a day, and his selection is amazing. If you feel the need for plane parts, be sure to check them out.
After being zapped, the parts came out of their baths looking much better. The body and frog still had a layer of grime on them however. I have included a picture of the frog so that you can see what I mean.
While I think it wouldn't have been a problem to paint over the grime, I didn't think I'd get as good adhesion with it there. A trip to the wire wheel on the bench grinder solved the problem on the frog, but I couldn't get the awkward shape of the plane body totally clean with the wire wheel. Another issue also reared its ugly head with the body… pitting. Especially around the mouth. Not good. Minor, but near the mouth is not acceptable. Again, I couldn't bear to get a picture of it. ;)
I tried for about 20 minutes to use float glass, 60 grit W/D sandpaper, and the scary sharp method to flatten the bottom. In the end, it was going to be too much work for me to do that. I know that there may be other ways to remove pitting from plane soles, but in the end I took the easiest route. There's a machine shop in town (several actually, but I know of one in particular), so I took the plane body there. The gent determined that "maybe 6 thousandths" would have to come off. I also asked if he could beadblast the body to get the grime off. He was happy to do both of those items for the sum of $50.
Two days later I picked up the plane. The guy said he had had to take off 17 thou from the bottom, which sounded more like what I had thought. Looked beautiful. There's still a few spots its not perfect in, but they are in non critical areas, and aren't deep enough to accumulate anything in them. The beadblasting also cleared up my grime issue completely. That metal hasn't been that clean since the Stanley factory in 1902 or whenever.
Here are some pictures back from the machinists:
Much better.
Next step was reapplying the japanning. There are more official products out there, but I have always had good luck with automotive engine paint. It can take a beating, and is relatively easy to reapply if you ever need to. Plus, can't beat the price.
Here's what I use: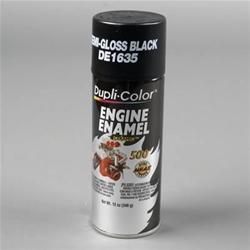 Semi-gloss black pretty well replicates the look we're going for here. There's other companies I'm sure.
When applying, there are parts of the plane you want japanning on, and others no. To remedy this, I use painter's tape. I apply the tape, then trim to exact size with a box cutting knife with a dedicated blade (actually, it's a dedicated knife). Here are pics:
Taping and, more importantly, trimming the tape for a plane body and frog takes maybe 15 minutes if you're careful. The frog is trickier than the body for sure. Once that's done just follow the instructions on the spray. Mine says to apply multiple coats within an hour, so I did 5. Had to wait several days for a low-humidity day (these have been in short supply this summer). First 4 coats were light, last one medium. Hold the frog by the lateral adjuster (which should be taped over as best you can front and back) to turn it to get front and back. Let the paint dry and remove the tape. My favorite part.
After assembly put it all together and joint some wood. First victim for me was 8/4 purpleheart, and it munched through it no problem.
I'll put up one more episode in this thread with some before and after pics. Hope you all have enjoyed it. As always, please comment with any questions, criticisms, or whatnots.
Until next time,
Bailey
-- Bailey F - Eastern Mass.
---