Well shut the front door! My Rikon 10-325 is put together and making sawdust!
After a unpleasant experience buying and returning a Craftex, I was leery about my new Rikon.
It arrived two days ago and I've been putting it together a bit at a time. This evening I finally finished it.
From reading LJ's comments about this saw, I expected the instructions to be crappy and I wasn't disappointed. The black and white pictures are not clear, with arrows pointing to who knows what. I got frustrated a few times and just walked away. I know that Ikea is a bad word on this site, but those folks know how to write instructions!
I ran into an issue with my shopfox mobile stand. To be able to open the door on the base of the saw, the saw needed to be higher, or the wheel configuration on the shopfox changed. I didn't want to raise the saw any higher than it was and the wheel configuration was what I wanted. So after some humming, hawing and muttering, I decided on this: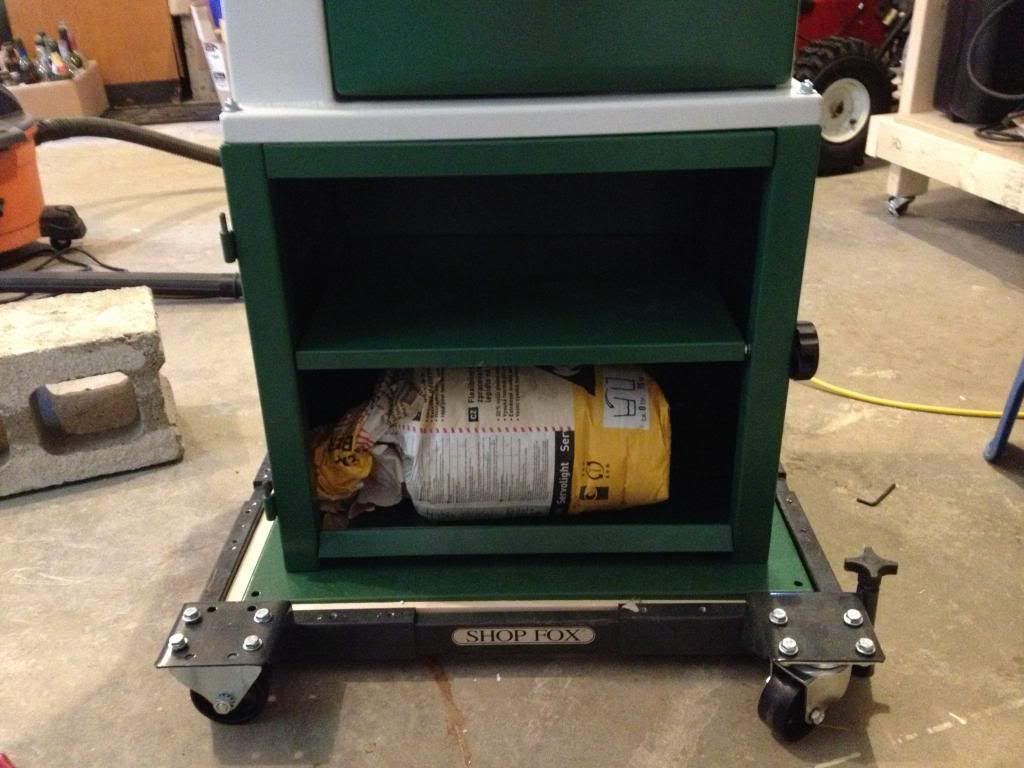 I decided to put a bag of concrete in the base, reattach the door and not use the base for storage at all. This way the saw is as low as possible and the concrete lowers the centre of gravity somewhat.
Once I had the saw together, I started adjusting the table, fence etc. Keeping in mind that I only used a bandsaw perhaps twice before in grade school (we were the first class of girls allowed to take some shop classes) I didn't find it that bad.
I tried my first cut with the 5/8 blade that came with the saw and ended up with a rippled cut. I lowered the tension, readjusted the upper roller guides and voila!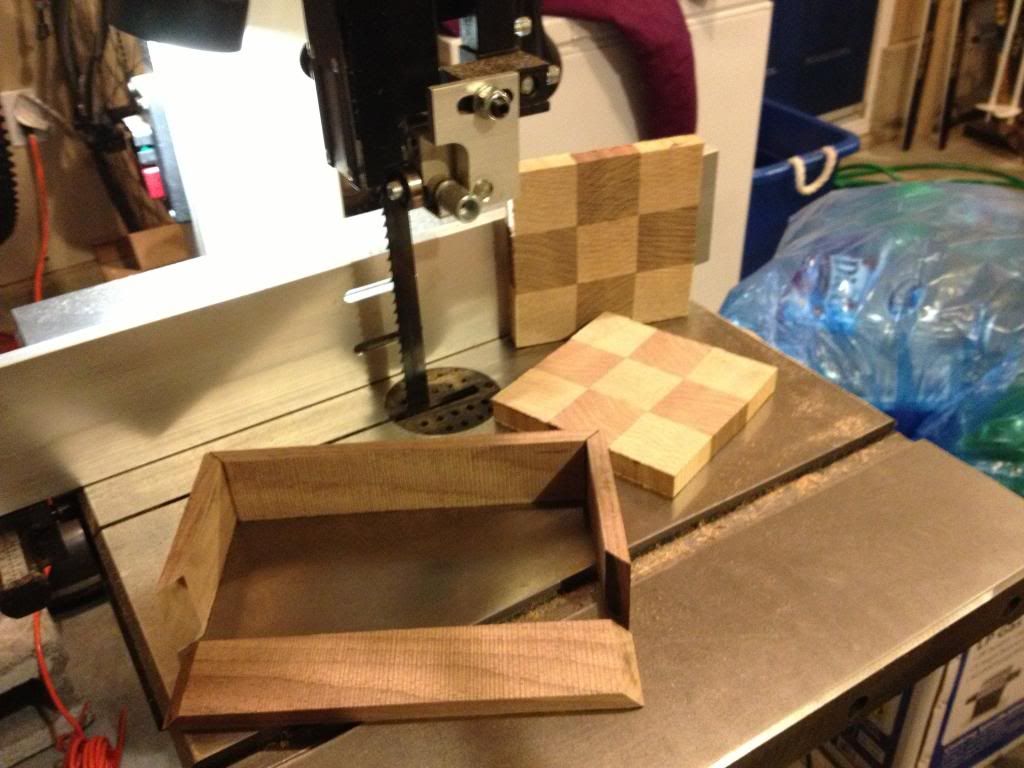 I grabbed a block I had glued up in a quilt pattern awhile ago and took some 3/4" slices off it.
Then I took down a piece of walnut (I think) and resawed it to 5/8" for a trial box. You can see the results, nothing is glued together yet.
The dust collection port doesn't have the grill over it as some of you had shown, but there is a piece of metal half blocking it. The sawdust doesn't seem to be even going in that direction anyway. I'll worry about that tomorrow.
And the ever maligned lamp is in fact completely useless.
The fence was easy enough to adjust and square up, but it does remind me of the fence on my Bosch table saw – once it's set it's fine, but it doesn't slide smoothly into place.
For the price I paid, I'm happy with my purchase already. (and for the record, it's prettier than the craftex)
So thanks to all of you who posted about this saw and those who answered my questions along the way.
It's Friday, I've used my new bandsaw – time to raise a glass and toast the newest addition to my shop.
-- No, I don't want to buy the pink hammer.
---