Hello, hope you will sit with me for a moment as I work my way through projects to put my shop in order, but first a quick introduction. My name is Eric I live just north east of Kansas City, MO and I am not a professional wood worker or even what you may call a hardcore hobbyist (I leave those titles to the people who have earned them) in fact if I had to come up with a label I would say I am more of tinker as I will work with most any material if it suits my needs. Now as for my "shop" well it leaves a little to be desired, you see my house has the 2 car (with a shoe horn and some Vaseline) garage built under the main level of the house in ground (read low ceilings and little natural light). The previous owner filled in one of the garage doors so I use that side as my work/maker space and try to store everything else around it (married with 3 kids so lots of storing), on the up side being in ground on two sides with the house on a third the place stays relatively comfortable in the summer, long sleeves and heat my be needed on the really cold stretches in winter.
So now you have a picture of my shop space low ceilings, poor lighting, bare concrete floor, boxes of Christmas decorations and every other season we decorate for, bicycles, chest freezer, lawn mower, yard tools etc.., and the list goes on before you even get to the stuff you need to fit into it to call it a shop. So this is where we are going to start and we are going to operate on a tight budget (can't spend more money on material to store stuff then we spend on what is being stored).
First order of business build a small lumber storage rack that can handle up to 12' lumber max (rarely use anything this long but hey why not), smaller cut offs, random sized reclaimed pieces and sheet goods because the wife wants it out of the middle of the parking area. :) So where to put it, well there is about 2 feet of space between the wall and the garage door that isn't well utilized so there we go unfortunately the wall is all concrete and less then perfectly flat. So I started looking for ideas and came across a couple here at LumberJocks and a design I thought I could modify on Marc's youtube channel (Woodworking with The Wood Whisperer) here is another example April Wilkerson.
Time to take measurements and get a good back of the napkin sketch done. (I will post this later for reference)
Well I have just under 8' (94") from the floor to the bottom of the sheet rock ceiling to work with so based on my doodle I want to have at least 2 shelves for stick lumber, vertical space for short cuts and a mobile sheet goods rack. So lets figure maximum height for the sheet goods cart with full sheets on it and that will dictate our space for shelves. So sheet goods = 48" plus 1.5" for the base of the cart plus 2" for clearance under the cart and lets leave 2" above the sheet goods just so we aren't beating up the edges so 53.5" is our magic number for the cart with product on it so take that away from our 94" and we have 40.5" (hmm need a taller garage).
Well with that we can get started so we will cut our vertical shelf supports 40" long leaving them 1/2" shy of the ceiling I have some scrap 2×4's (rough looking but free from a shipment for work) laying around so we will utilize those laid on the flat so that we can Tapcon trough them to the wall with 3-1/2" Tapcon screws (also applied construction adhesive to the back of each support don't want it falling on any kids or me). now with those up lets build our self arms (I really should of taken pics of this part but oh well if someone needs me to I can take a couple close ups of these). So basically we are going to make our arms like April and Marc but with our two bys laid flat and using 1/2 ply sides (just rough ply I had on hand), realizing this may reduce the capacity some I built a single mock up and put roughly 200lbs on it with no deflection so I am pretty confident in the design – did further testing later. Now with my limited space I only wanted the end of the self 18" off the wall so accounting for the thickness of the verticals I cut the 2×4s to 16.5" then laid out the gussets to match.
And now we have this: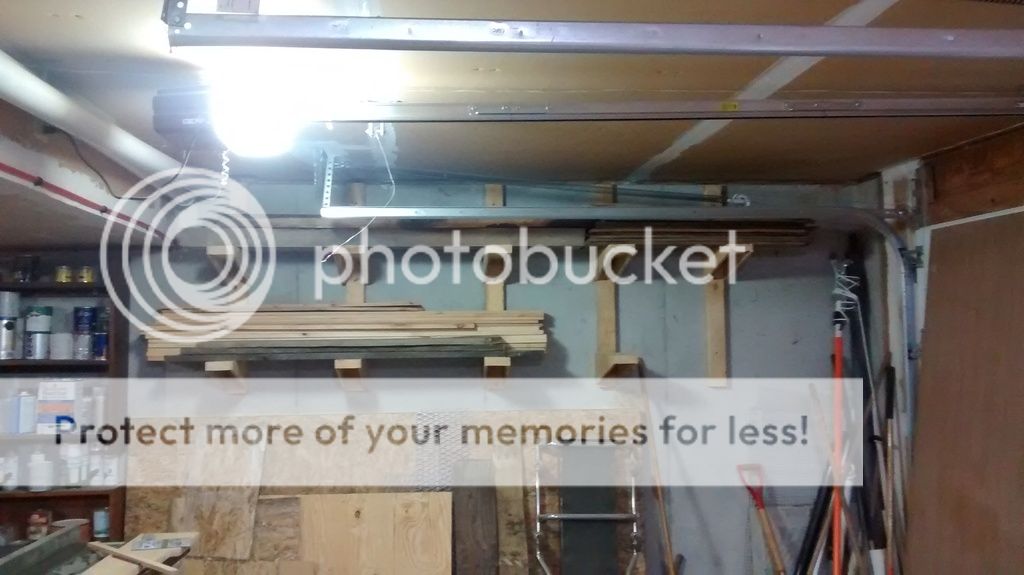 Still got a ways to go.
---