Well, I was out playing on the entertainment cabinet today, doing pretty well at actually getting something done for a change, and then I started looking at the Ebony tops.
Kind of boring I think. So, I was thinking, how could I complicate this. I've already rebuilt the top 3 times, due to these brilliant ideas. LOL
I may never actually finish. Anyway, I was thinking some sort of design in them would give it a little extra kick, or maybe a different veneer.
I laid out a few different types of veneers, thinking changing from Ebony might be the answer, but I was afraid introducing another wood might be too much.
So I decided maybe some simple marquetry would kick it up a notch, to quote some guy that cooks a lot. A compass design came to mind, so I got out some plexiglass and made a small template. One problem with a new template is the fact it's clear, so if you lay it down, without making a mental note of it, finding it again can be a b*h. Ask me how I know. Ask me how many times I know. LOL
Then, with some Curly Maple and some Curly Anigre, I cut some 1" wide strips and joined them together. Using this new template, I cut some pieces to shape and laid them out on the Ebony tops.
I think they look pretty good. If I decide to use them, it means redoing the tops one more time.
Let me know what you all think of this idea. Keep in mind, these pieces are loosely laid out on the top, so don't be too critical of the joints, or even being perfectly centered.
Thanks;
Lee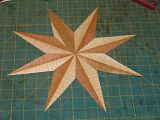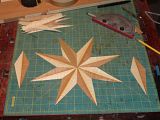 -- by Lee A. Jesberger http://www.prowoodworkingtips.com http://www.ezee-feed.com
---