Here's a bathroom vanity we made for a client a number of years ago. I never got back there to get a shot when the wall was finished.
It's made using Curly Maple Veneer over bendy board, and Rosewood.
The curves were formed in a vacuum bag over a form, and an air bladder.
The finish is conversion varnish.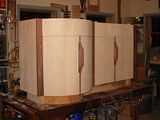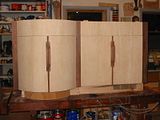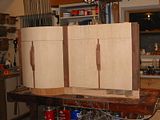 Thanks;
Lee
-- by Lee A. Jesberger http://www.prowoodworkingtips.com http://www.ezee-feed.com
---