Hi everyone;
Since a lot of LJ's have been following the progress of my ezee-feed project, I wanted to share part of my day today. I hope no-one is put off by my posting this or thinks I'm bragging as I'm really in no position to brag, but it was a very special day for me. (I don't have a lot of those since embarking on this project).
I've had a number of orders waiting for the first batch of Ezee-Feed units to come out of the factory, since I stopped making them. I know some people must have started wondering if they were even a real product!
The factory has missed a number of estimated shipping dates, and each time they did, I got put in a bad spot, as I would pass on the information to my customers. Each time I had to send emails out saying there was a delay made me feel like a liar.
I was requested to go to a pre shipment inspection this morning. The questions being asked by factory people over the phone had me wondering if they even looked at the drawings. I was even asked to bring sample installation kits with me so they could have samples of the hardware we used. High anxiety time for sure!
It was such a relief and what a great sight I was treated to when taken to the area they were working on my project.
I have been waiting to see this for what seems like an eternity, and sometimes doubted I would ever see it.
I was greeted with assembly lines full of ezee-feed units! What a feeling it was to see.
Thanks for letting me share this with you.
Lee
click photo to enlarge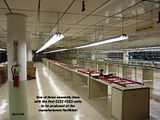 -- by Lee A. Jesberger http://www.prowoodworkingtips.com http://www.ezee-feed.com
---