I thought I would include a few more photos, showing the construction details.
I'm not sure why I always end up with the photos in reverse order, but maybe you should start from the bottom!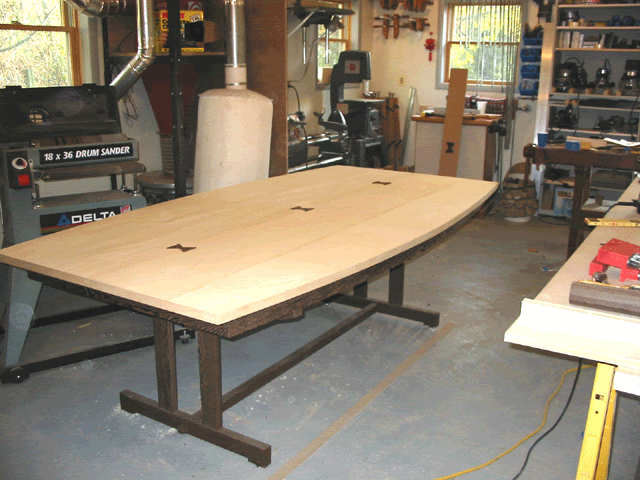 Completed top, waiting for the edge shaping and butterflies.


My stepson, Evan, inspecting our work.


Lee and Evan installing 1/8" thick, Wenge edge banding.


The underside, fitted and stained. The holes allow attaching the top to the frame.


Evan measuring for the stainless inserts.


Lee, still installing the saus hinges.


Lee, installing the saus hinges.
Both slabs veneered.
Bruce "laying up" the ash veneer.
One side out of the vacuum bag.


One side in the vacuum bag.
Bruce working on the frame.
Note the full sized drawing on the M.D.F. sheet, complete with the joinery drawn in. This allows us to make the parts, and test them against the drawing.
Once this was done, we added the felt, sanded and finished the table with conversion varnish.
Hope you enjoyed this.
Lee
-- by Lee A. Jesberger http://www.prowoodworkingtips.com http://www.ezee-feed.com
---