How could I pass up the opportunity to make a blog with a title like that?
Here is the finished project, a cheese slicer: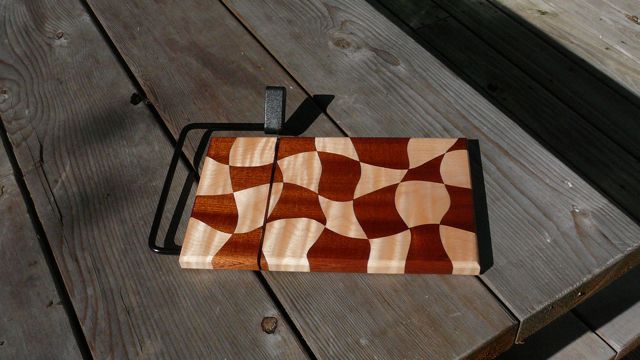 Thanks to SPalm for the original idea, blog, and parts source for making these cheese slicers. I offer this blog up because I used some slightly different methods in creating mine. Thanks to degoose for his "drunken" cutting board design that was the inspiration for my design. I think mine goes beyond merely drunken to wasted. Thanks to poroskywood for offering beautiful curly maple at a reasonable price. And thanks to all LJs for making my woodworking journey less solitary and so much more fun.
To paraphrase Hillary… it takes a village of LJs to cut the cheese.
——-
Start with a board, plain or any design you choose, measuring approximately 5.75" x 9.75" x .75".
Step 1—about 1/2" from the edge, drill a 1/4" hole 3" deep. It is important to get it straight (I found that out the hard way!) A drill press would work best, but mine is only a benchtop model and not big enough. I improvised by using my lathe as a horizontal drill press. I would recommend building a jig to get the right height and hold your workpiece flat and parallel instead of a wobbly stack of wood like I used. "Do as I say, not as I do!" LOL

——-
Now over to the CSMS. Adjust it so it will only cut about 1/4" into your wood.

And make a slice into your board 2.75" from the end where you drilled the hole. Depending on your blade, you may need to make a couple of passes to accommodate the slicing wire.

——-
Next, take it to the band saw and make a 3/4" through cut that lines up with the slice you just made. Again, depending on your blade, you may need to make 2 or 3 cuts to make it wide enough for the slicing wire to easily fit. Do this on the same side you drilled the hole. This is where you will attach the handle.

——-
Sand off the sharp edges or shape to suit you. I routed all edges with a round over bit on my router table.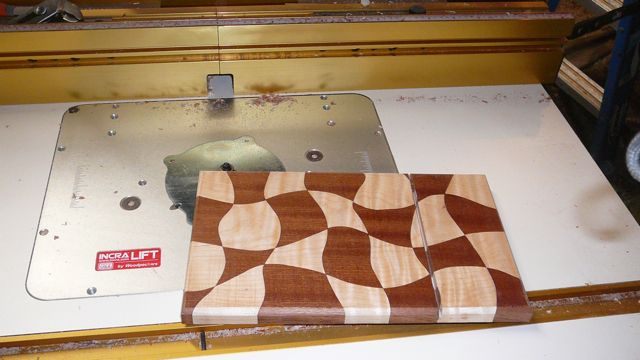 ———
Treat the board with your favorite food safe finish. I used plain mineral oil, but I think salad bowl finish might be a better choice for durability and less maintenance.

——-
Assemble the handle and wire, add some feet if you want, and you're ready to cut the cheese!

———
I enjoy good cheese and I eat it often, and I really, really like this slicer. It is simple, attractive, and does a better job than anything else I have used. These would make great gifts! I made this the day before I left for my beach vacation and liked it so much I took it with me and used it every day for my afternoon snacks.
*Parts can be found here at cheeseslicing.com
---