Sorry about the delay in posting this tutorial of the series. I ran into some technical difficulties… which is another way of saying I sometimes have the attention span of a gnat and messed things up the first time around.
Speaking of messing things up, I've injured my knee and have to stay off my feet for a few days. I am only on day two and already going crazy. All in all, it looks a good time for going on with this toot toot tootorial series. —————————————————————————————————————————————————-
ROUTER WHISTLES
This is actually a very simple whistle to make… a couple of passes on your router table, a couple of cuts on your table saw, some sanding and gluing, and that is all there is to it. These things are so easy, we're going to make two at a time!
Please use safe shop practices and have fun!
————
Start with a 3/4" board about 5" or 6" long by at least 4" wide.
The fancy-schmancy new Incra stuff is not required. I've made dozens of these whistle on a cheap bench top router table I purchased over 30 years ago.

————
Set up a 1/4" straight bit in your router table, raise it up to route a 1/16" groove.
You could use a larger bit, but I wouldn't go much deeper than 1/16".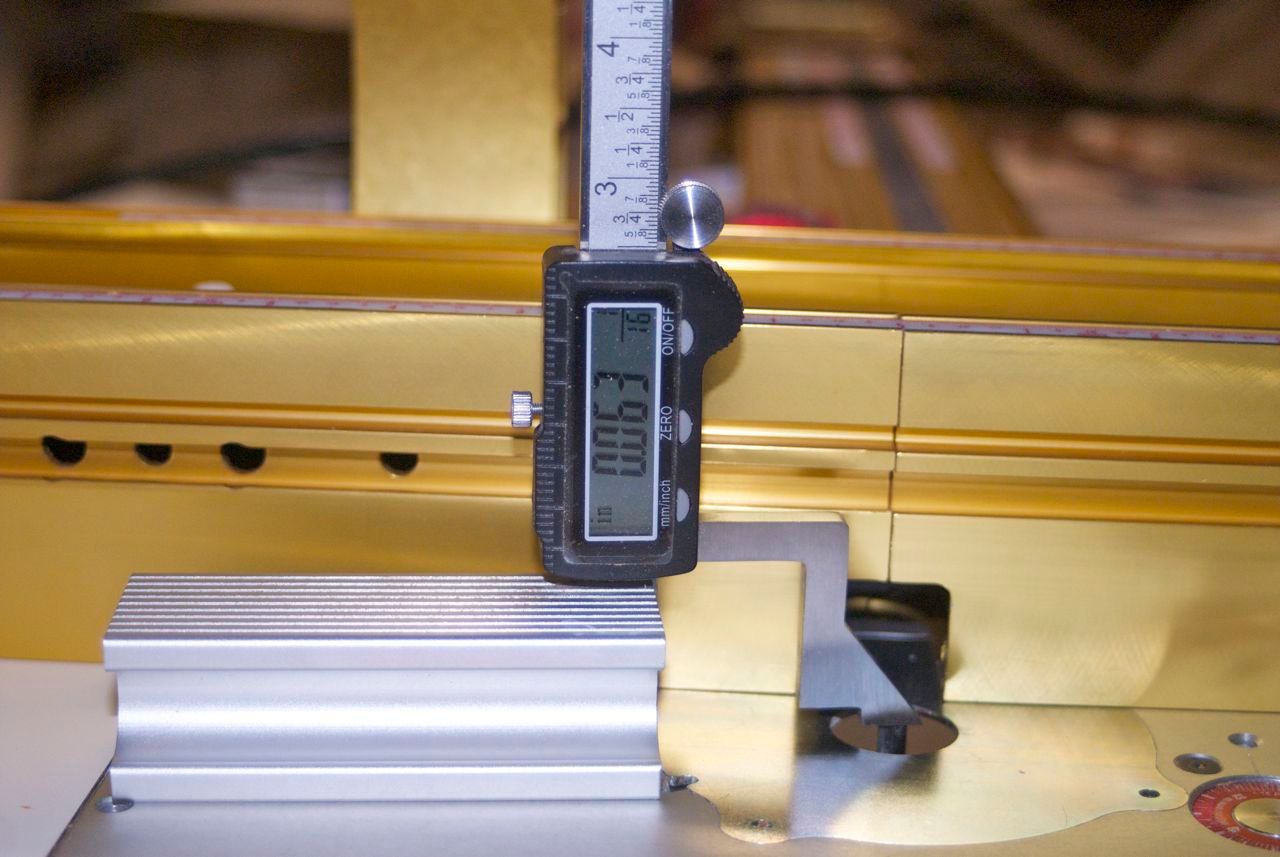 .........
Stand your board on edge, and center your bit.

————
Set up a stop on the left so your groove will end about 1/2" from the end of your board.
Route with the grain.

———-
It should look like this after your first pass: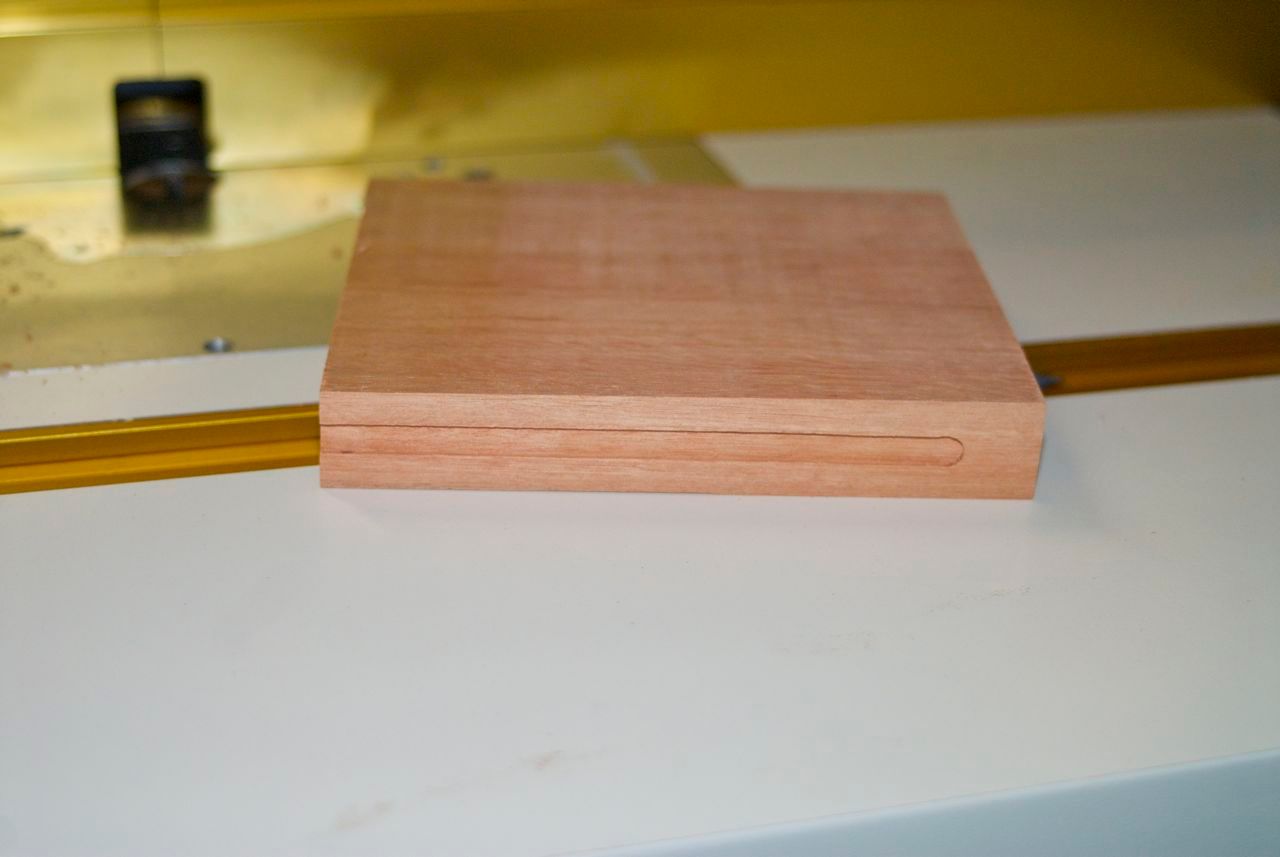 ~ Flip the board over and make a pass on the other side to make two whistles at once.
——-
Raise your bit to cut 1/4" deep this time.
Don't move your fence; you'll be cutting in the same groove.

———
Now set up a stop on the right of your bit so that your next pass will start "in" about an inch from the end.
Start with your piece of wood butted up to the right hand stop, ease it down on to the spinning bit, and route all the way across until you come to your left hand stop.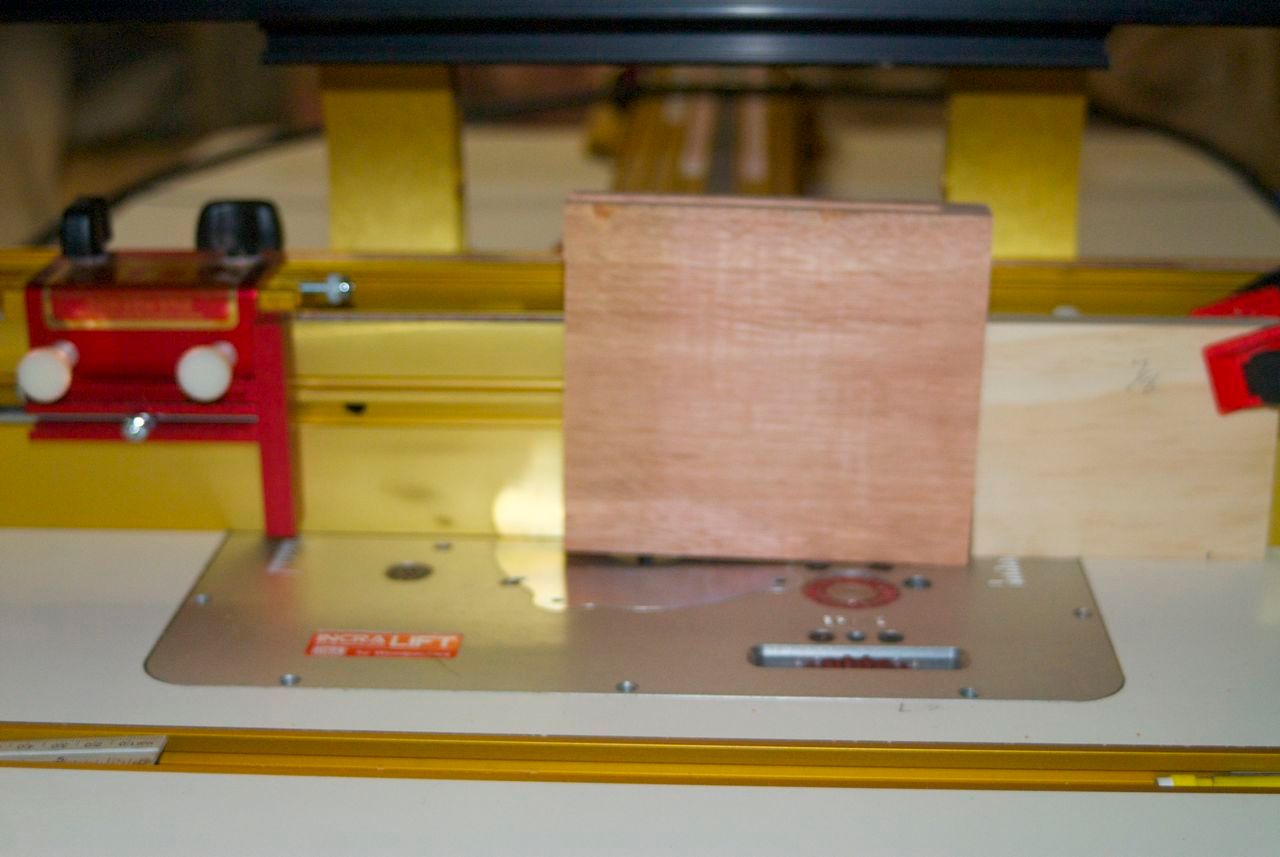 ———
It should come out looking like this:
(note that you have still have about an inch of your 1/16" groove remaining)
~Don't forget to flip your board over and make the same groove for your second whistle!
———-
Cut your whistle blanks off of each side – make them about 3/4" thick (or whatever the width of your original board) so they will be square.

———
Next, cut two 1/8" strips off the edge of your remaining block of wood. Be careful! These strips will become the tops of the whistles. You can also cut the strips from a contrasting wood or a lamination (examples at the end of this tutorial).

————
Cut a 1" piece off the end of each of your 1/8" strips so you end up with two 1/8" thick strips (1 long and 1 short) for each whistle.


————-
Sand one end of the remaining longer piece of your strip to about a 30º or slightly less angle. Don't go too steep or it won't work.
Oops, I didn't get a photo of that, but you can see it in the final photos below if you need to.
————
Glue and clamp the 1" piece on the end of your whistle with the shallow groove. This will be the mouthpiece. It is more important that it line up exactly where the groove changes depth than on the end of the whistle – you can always trim. Leave a 1/4" space and glue the angled end of your longer piece of 1/8" stock. You may want to trim the end to length first. I usually just get it with the chop saw after the glue dries. Make sure you use enough glue to get a solid seal the length of the whistle, but not so much that the squeeze out will go into your grooves.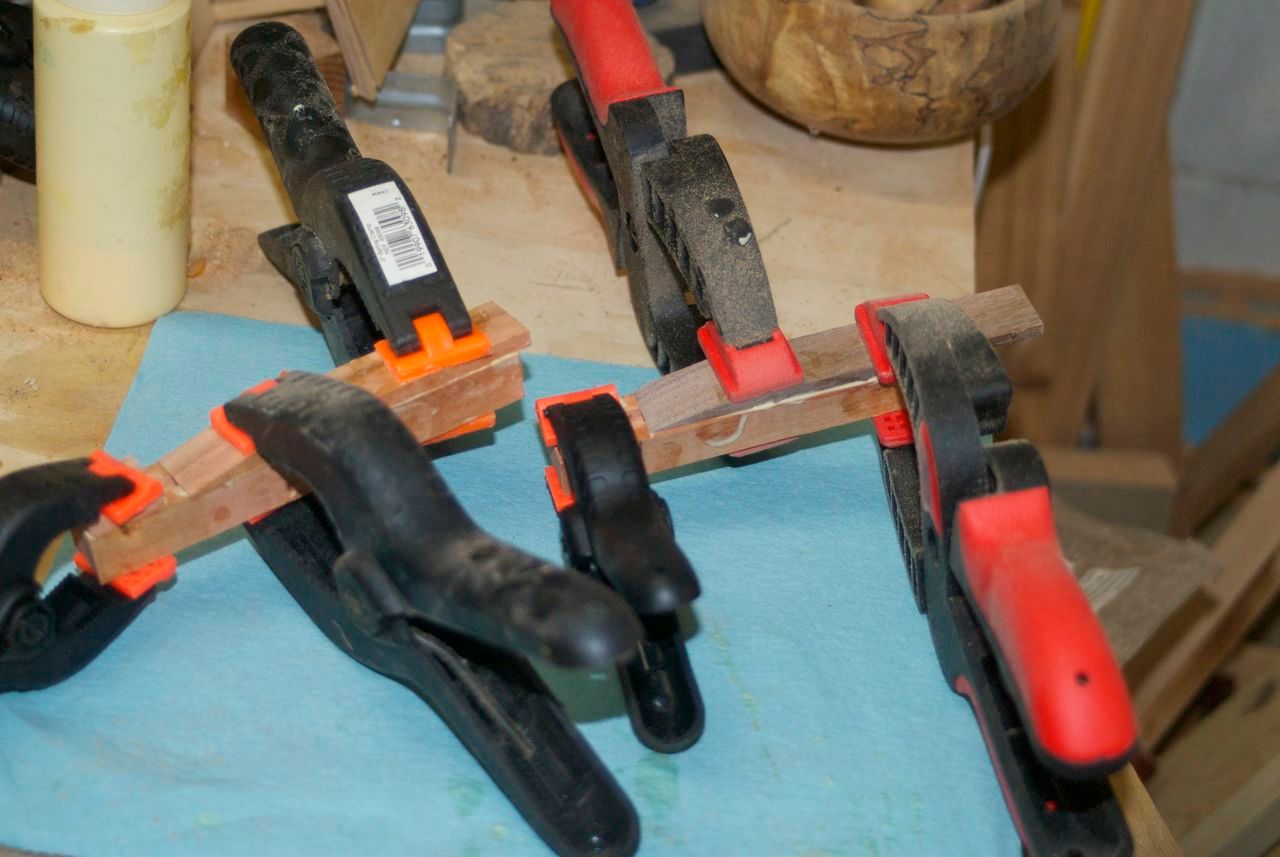 ———-
While your glue is drying is a good time to reward yourself with a piece of that lemon pie you made earlier.
Oops, you didn't make a pie? That's okay, I ate two pieces! ;)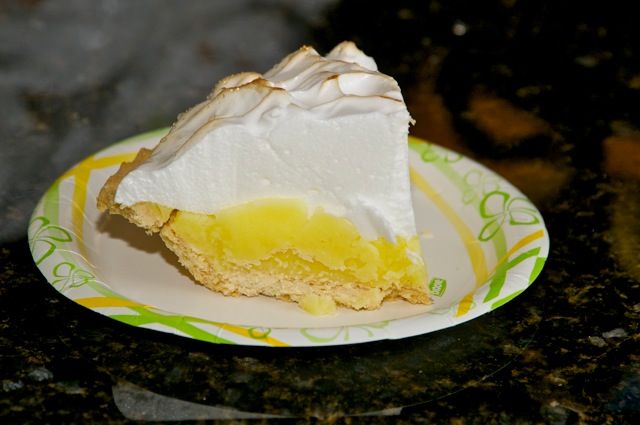 ———————-
Trim off the any extra lengths of your 1/8" strip, use some sand paper to shape the mouth piece and round off the edges. And there you go… it is a whistle!
———-
Some variations to try:
Make two or more grooves, of different lengths, side by side to make a double train whistle sound.
(example: bottom whistle in the photo is an example of this)
Use laminations or inlays.
Use plain pine and let kids decorate them with paints or markers
Try different sizes
Use contrasting woods
Use your imagination!!
Here is one last variation that I tried—a four holer: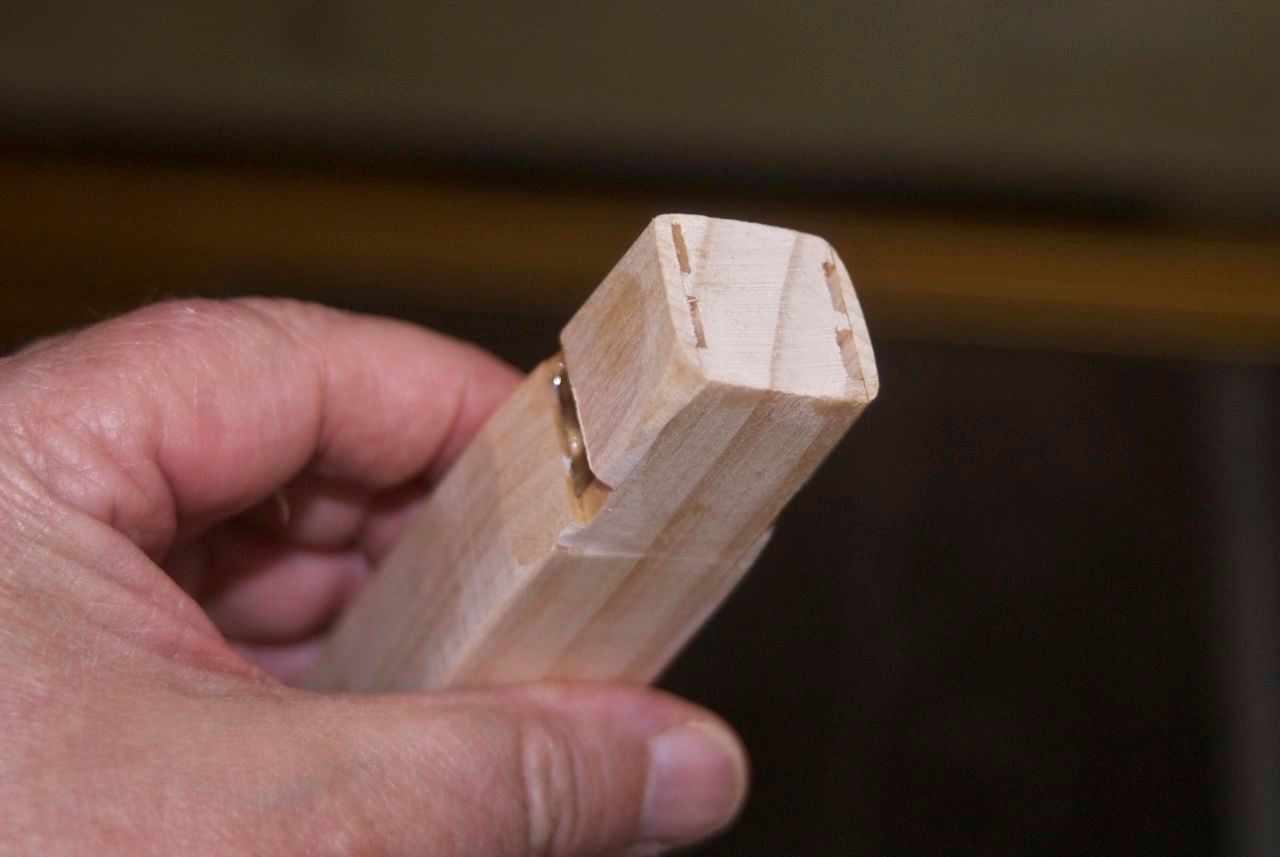 Have fun and please share with the kids in your life! I look forward to seeing your creations.
As I requested with my last whistle tutorial, I hope you will consider donating some whistles to kids who could use something positive in their lives. Check out your local charities, shelters, paramedics, social workers… any place where there are kids in need. Thanks!
Questions and comments welcome, of course.
Next tutorial up will be a Penny Whistle!
---