I frequently I need to cut multiple dowels to a uniform length. Some projects require only a few, while others – like the small race cars I make – require hundreds. In the past, I usually drilled an appropriately sized hole through a block of scrap wood, clamped it to my miter gauge, and rigged a stop block on my table saw fence to gauge the cuts. Although this worked reasonably well, ends were often splintered, and I never seemed to be able to find the block the next time I needed it.
This jig for my band saw was easily made from scraps. It's a little rough – but effective. The base is 1/2" MDF, and the 3/4" x 1-1/2" x 8" long block with the holes, and the miter slot runner are oak. The two photos below show the jig top and bottom. While unlikely that I'll ever need some of the holes, while I was about it, I drilled holes from 1/16" to 3/4" by 1/16" increments. When the jig is pushed down the miter slot, the blade moves through the previously cut center of the block, neatly slicing any inserted dowels. To prevent cutting further and further into the block, I inserted a short length of 1/2" dowel in the top as a stop.
In use, I clamp a stop block thick enough for ejecting the cut dowel to the fence directly beside the blade at the desired dowel length (a pair of stacked ¾" stop blocks works great). A dowel is inserted through an appropriately sized hole until it hits the stop. Then the jig is pushed until the dowel has been cut, and is then pulled back and the cut dowel pushed out of the hole by remaining dowel. I discovered that ejecting the cut off dowel behind the stop block took more time and care. The evenly cut dowels are of uniform length, and the thin blade lets me cut more dowels from each rod.
I've found dowel cutting on the band saw to be both quicker and safer than on a table saw.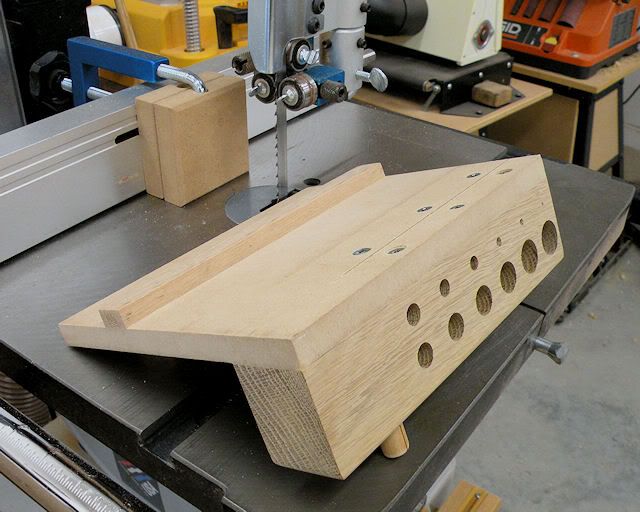 -- Dave O.
---