This adjustable bandsaw sled works on the same principle as a taper sled for a table saw. I initially designed it for quick and accurate repetitive cuts on the toy racer shown below, but it works great for any kind of angled cuts on the bandsaw. I believe it will also work well for shorter tapered legs, although I haven't tried it for that yet.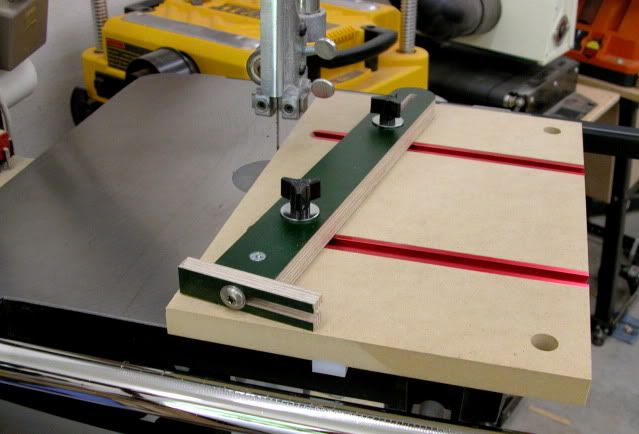 The body of the sled is 3/4" MDF, and the fence and stop are made from scraps of Phenolic-faced plywood. The anchor bolt for the adjustable stop fastens into a barrel bolt in the fence. Tracks are standard Tee tracks, and the miter slot runner is high molecular weight polyethylene. I use the two holes in the body of the sled to hang it on the base of my bandsaw.
The woodworking clubs I belong to encourage members to make and contribute toys for disadvantaged children each Christmas. Combined, each year the two clubs usually give between 500 and 1,000 toys of all descriptions year to various agencies for distribution. My contribution is usually a number of racers I designed several years ago. The two-color body shown resulted from using pre-glued, scrap cutoffs from a water ski company. I drill a shallow hole on each side in which I glue numbers printed from my computer and cut out with a 1" scrap-booking paper punch. The slight depression helps keep busy little fingers from peeling off the numbers. Often, when I make one for a relative or some other child I know, I use small photos of the recipient instead of numbers, to personalize the racer. The design is a quick build, and the kids seem to really enjoy them.
-- Dave O.
---