Well, we are basically finished. There are a couple spots that we still need to put some more Poly on, but the crib is basically finished. Enjoy.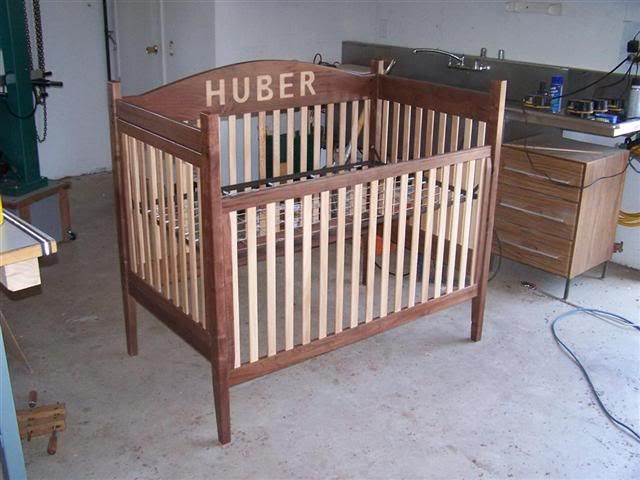 Well, that pretty much doesn't for the crib. I had a lot of fun (and frustration) on this project and am looking forward to the next. There was a lot of lessons learned in this one that is for sure. This was, after all, my first piece of furniture since I was 11 years old. And much more challenging than that one was.
I definitely learned that a good plan is only good if you stick with it. Once you start changing things, you ought to stop and make a new plan. It is too easy to forget to account for all the changes later in the game.
My wife and I also learned from a lot of finishing mistakes. Next time I am not going to spend so much time sanding up front. I think I'll wait until we are ready to put it together. We spent a lot of time sanding things that just had to be sanded again later.
If you look closely, you can find some flaws, but my wife is happy with it. And as you know, that is really the only vote that counts.
This project also provided me with the opportunity to try new things: Inlay, mortise and tenon joints, detailed design in Sketchup, and best of all a chance to justify the tool purchases. Ha Ha
Thank you to all that provided encouragement and advice along the way.
What's next???? Work on the shop some more and get it to where I don't have to trip over cords and hoses as much.
-- Kevin, Wichita, Kansas
---