Latest design for South wall
This is my design for a cabinet to hold all of my bolts, screws, and nails.

Progress Pic of it. Bolt bins are in place.
This is my design for a cabinet to hold all of my wood finishes and glues and my wifes paint. (unsupported end screwed to studs)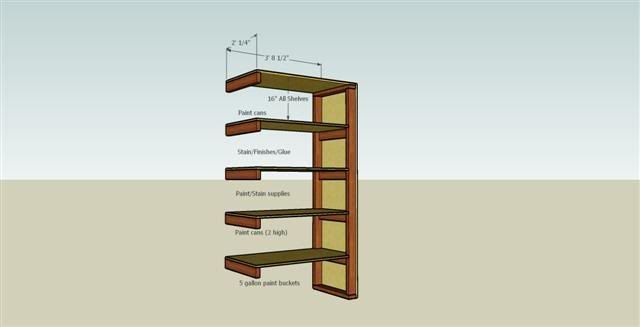 Progress pics, sorry for all the junk in the way. I had to throw everything out of the middle of the floor in order to fit the triler in overnight.
Workbench is in the background (not for fine woodworking)

Dust collector and air compressor closet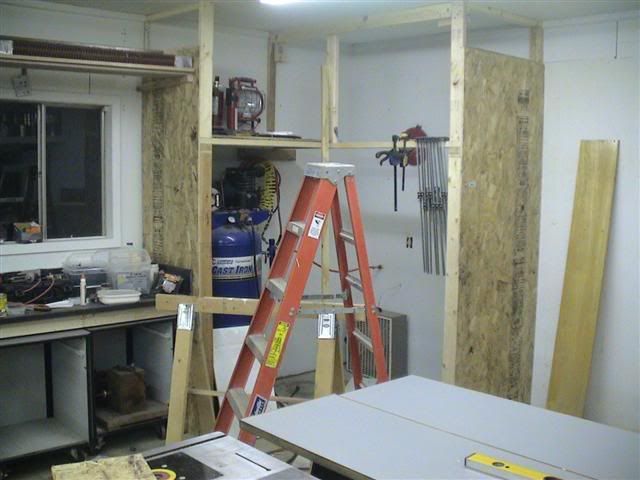 Wood rack. Hopefully I can get some "cheap" metal from work this week. If so, I'm going to change my design to be pipe and angle iron all welded together. The rack will be 25' long on the West wall, 17' long on the North wall, and I have convinced my wife that I should put additional wood storage in our attached garage. Not sure on the length yet.
Finally, I have had a couple questions about my design and the large are I left for a stainless steel sink. Here it is along with the heater above it. Cabinets store soap, paper towels, trash bags, and misc cleaning supplies. Water heater underneath. Sorry I didn't move the planer out of the way first, it is kinda surrounded at the moment.
-- Kevin, Wichita, Kansas
---