Hello, this is my first post on LJ's! Here is the current project I am working on – a TV stand / entertainment center… whatever you want to call it : ) I'm a little further along than these photos, which were taken a couple weeks ago. This is basically it though, minus an adjustable shelf for the opening in the middle and some handles for the doors, both of which are made now.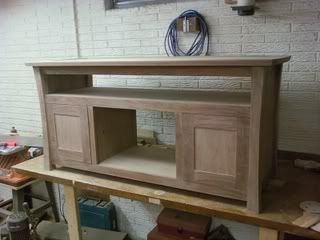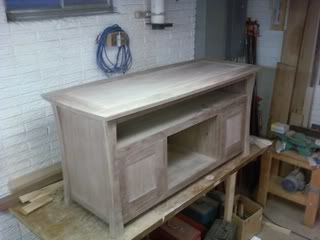 I am looking for ideas on what type of finish to use on this project as finishing is one area that I need a lot more education and experience. I was thinking of just using a clear finish such as an oil/varnish mix or shellac, but my problem is that the plywood carcass & panels in this piece is noticeably lighter in color than the hardwood frame. If I started with a stain, would that even out things out, or would everything still be relative – that is darker, but same amount of difference between the hardwood & plywood?
Also, I'd rather not make this piece too much darker since it is already walnut. If I did stain, I'd want to go for a sort of espresso look, I guess. Any suggestions?
BTW, sorry for the lousy cell phone pics. I'll use a better camera in the future : )
---