OK Bob and I got together today to have a training class on Raised Panel construction.
See Bob blog on Mortise and Tenon - Help Needed
#1 We forgot to take pictures through the process.
#2 He forgot half of his wood at home.
#3 We couldn't find enough pieces to make 1 full door so we looked through my Popular stash and found a 12" piece that would give him the required 9" piece.
#4 We cut my popular to get it to the correct size. Then we found a way to get it out of his wood. So much for pre-planning.
#5 We cut the longer pieces into 4 3/4 width size (4 pieces) 80" long
#6 We cut 2 3/4" width pieces (4 pieces) 80" long
#7 We cut pieces 12" long at 4 1/2" (8 pieces), 8" (2 pieces) and 9" (2 pieces)
#8 We face jointed the 4 1/2" wide pieces
#9 We thickness planed the stiles and rails pieces to .999 thick. He wanted 1" but we missed it by a 1 thousands
#10 We then did the edge jointing to get one straight edge. Bob running the machinery.

#11 Cutting the raised panel pieces to length.

#12 Cutting the 12" long pieces to 11 3/8"

#13 Cutting the Router profile on the 11 3/8" wide pieces. Some had profile on one edge and some had it on both edges. We had a "T" to tell us which surface to be up and a "V" to point the edge that got cut a profile. One stack had both sides and the other stack has only one edge.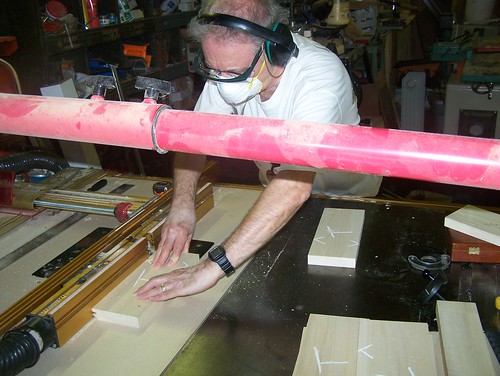 #14 Cutting the profile on the raised panel.

#15 we were so tired and it was 7:00 so we had been at it since 10:00 AM with a lunch break.
So Bob loaded all the pieces in his truck and headed home.
So he'll get to cut 3 – 8" pieces and 3 – 9" pieces for the stiles.
He'll get to cut 5 – 22 1/8" pieces for raised panels and 4 – 9" pieces for raised panels
and plane the same and put the router bit profile on his wood and touch up some of the wood we cut and didn't cut the raised panel profile deep enough.
A good time was had by all. Had the door open all day and no Air Conditioning (Bummer)
-- I've been blessed with a father who liked to tinker in wood, and a wife who lets me tinker in wood. Appomattox Virginia [email protected] †
---