Today at the Mason – Dixon Woodworking Toy workshop I was making the plastic windows for our Train bank. We usually make 105 or so of each item. and 1000 – 1200 total that are distributed at Christmas time.
Here is the toy bank.

The plastic window is inserted in a whole drilled into the sides of the bank and is held with screws. The window is the only way to take the money out of the bank.
First we cut the Plexiglas circle with the center bit removed from the hole saw. a piece of wood is used to hold the plastic to the table and provide the side support for the hole saw.

Then we take the plastic circle to the circle sanding jig.

It is swiveled off a dowel at the bottom of the swing arm. A nail is used to keep the swing arm from going too far and making the circle too small for the hole.
We take the circle mount off and using double face tape we attach the plastic, centering it on the circle portion of the jig.

We put the plastic circle and the wooden mount back on the jig.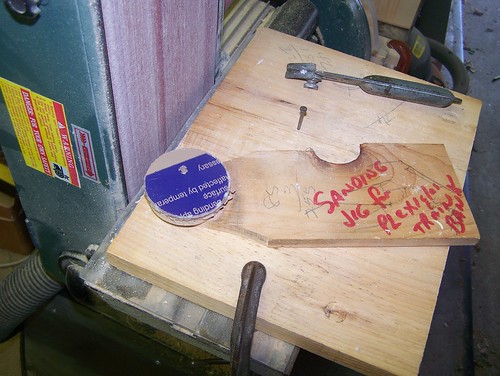 We then swing the arm and the plastic disk toward the sanding belt. Turning the disk as we go. Probably 2 to 3 revolutions per disk.

We try it in the hole of a bank and if it is tight we remount it and spin it a couple of times more.
It makes a great fit, and comes out easy for children trying to remove their money.
The knife is used to pry the plastic off the double face tape.
One year we found that the banks were not being select by the charities to pass out to their children and we asked why. They said, "If the children don't have any money why give them a bank!" So we now include some seed coins for them to receive in their new banks.
-- I've been blessed with a father who liked to tinker in wood, and a wife who lets me tinker in wood. Appomattox Virginia [email protected] †
---