My bandsaw is an 18" Taiwan version. Grizzly had a similar version a few years ago.
The saw works great. My first problem is dust collection. It's a sweep it up off the floor. Have to find something to do for that.
The next problem is when you lay your hand on the right side of the table, it tends to go off of 90 degrees. You can tighten it as much as you want but it still moves.
I took the table top off.

On the right is a bolt that you move up and down to set the table level, but, it doesn't hold the table.
So I marked around the bolt head to show where to drill.

I drilled a hole and countersunk it.

I reversed the bolt and put on the jam nut and another jam nut and a connector nut. That is used to connect two rods together. My bolt was 3/8×16 threads

I then ran a stove bolt through the table top into the connector nut.

Leveled the table all up.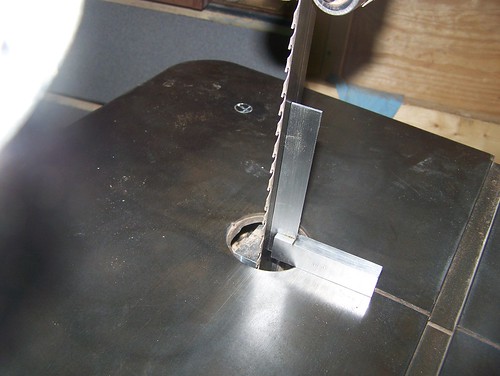 Nice and tight and it doesn't move.
Next item of business is mill the slot to 3/4" its now 18MM. and no sliders fit in that slot. I also going to have him mill the hole for the blade guide to about 1" bigger all around
-- I've been blessed with a father who liked to tinker in wood, and a wife who lets me tinker in wood. Appomattox Virginia [email protected] †
---