Placing the apron on the veneered chess surface.
First you sand the edge of the chess surface to make all edges smooth.

Then you select the veneer that you want for the aprons. I selected Bees Wing Eucalyptus from Dons' and Tony Wards and other's country Australia.

I cut the sheets with enough length to allow for a full overlap on the outside edge.
I am taping them to the surface with the back side up. I place the apron veneer all the way around

I turn it over and tape all of the seams

Turn it back with the back up, because you want to see the corners of the chess surface.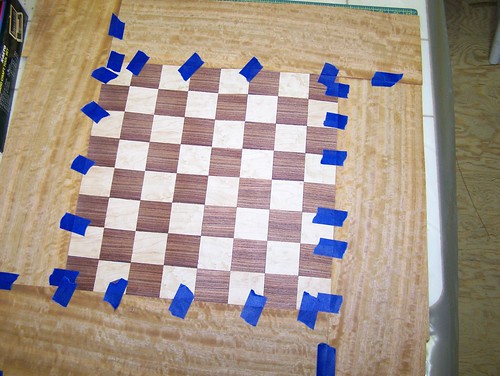 Then you place your ruler or straight edge so that it intersects the corners.
Then tape down your ruler. It probably will require more tape than I used.
This is now probably the time for the trusty Xacto knife.
Cut the angles for the corner and separate the pieces.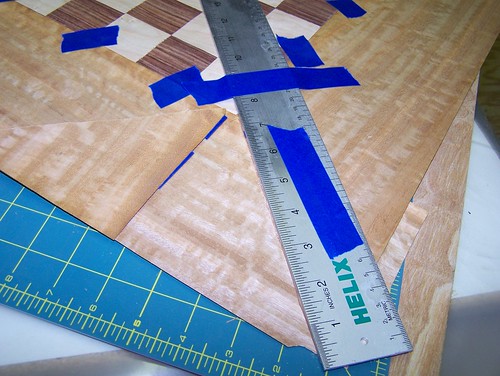 You might find that the edges don't fit too close, so use the sanding block to smooth the edges.
You now have the apron cut around the chess board.
Turn it back over and tape all of the seams.
Turn it back over and remove the tape from the back
Ops! A boo-boo A piece missing from the seam area so pick up one of the scrap pieces so make a patch.
Well Golly Be. It wasn't a missing piece of wood; it was an extra piece of tape.
You might notice the larger than expected gap at the corner seam. Try to pull it together with the tape, or this will become your practice for mixing sanding dust with super glue to patch fill the seams.

You will note that the surface is approx 25" square, but there are splits on the edges. What I do is I glue it to the substrate as it is. And then I cut it square on the table saw. I might use 26" square substrate so that all edges of the veneer are protected. I'd draw a line around the substrate to match where the borders of the chess top should line up.
But that's another post. On another day.
-- I've been blessed with a father who liked to tinker in wood, and a wife who lets me tinker in wood. Appomattox Virginia [email protected] †
---