I'm not sure how many Lumberjocks are familiar with Pacific Yew(taxus breufolia i think)
I first heard of it a few years ago. here on the west coast of Canada it grows. hidden away and rare beyond measure, few if any typical wood suppliers carry it. And what is available is often small and gnarly.
Being on the local wood kick. I decided it was a wood for me. Hard and a Rare orange colour, I did not think it could have any drawbacks.
Then I tried to find some. Yew, as a wood is as much myth as hard softwood,, everyone here has seen it, some have used it for this or that, some have even cut it down. but no-one knows where to get any.
I searched lumberyards, speciality suppliers, portable mill operators and sawmills. often without much success, Their had to be some usable Yew.
Finally, in a odd conversation with a old retired fisherman, I explained my dilemma. And he solved my problem.
" what happens with yew is most of it is lost drying, to get any, you have to girdle the tree years before you cut it down."
This guy was knowledgeable about Yew, and he said he could get me some. great. I asked how much, and the price came to be about 9 dollars a board foot after milling. So it was arranged.
I bought two planks, both quartersawn and over 18" wide. I was so happy.
Then I got the first sign of trouble. " I have no idea what you'll use it for though"
"oh, what do you use it for?" I asked
" I soak it in oil for a few weeks and make shaft seals for my boat, all it's good for"
I was horrified someone would use such a rare and beautiful wood thusly. and was glad these boards were safe in my hands, to be turned into whatever furniture I dreamed up.
So precious did I think these boards, that I saved them , and brought them to school with me.
I would make some part of my first "Trained professional" woodworking project.
When I brought the boards into the school, everyone was excited, Loved the colour, and no-one had ever seen Yew so Big or so nice. Then came a warning from the instructor
" You know this stuff is real trouble to work"
So drunk on my love of Yew, I was determined to use it, and there was no talking me out of it.
Finally it was decided I could use it for a secondary wood. Great, So I designed a project with 8 dovetailed drawers, lots of secondary wood. and started.
Then I got the little voice in the back of my head that I try to keep quiet with drugs "Boy , I hope they are all wrong"
So I started milling, the stock went over the jointer OK, some tearout but nothing I couldn't work around. But the tearout seemed random, nothing to do with grain direction or defects.
Then , the planer, well Yew doesn't compress, period. so the infeed roller pressure(only set 5 thou more than the cutter) caused splits and cracks beyond reason.
Ok, I thought, I can work around that. tuned up the bandsaw, and cut all my stock to nearly perfect thickness, and then jointed that face as well.
Then I tried hand planing it. Well , I have heard of unfriendly woods before, That's why they sell all those fancy handplanes. But I had never seen anything like this. I tried multiple planes, Low angel, back bevels, high angle. Finally the 55 degree bed angle seemed to work(weird because 50 degrees was the worse).
Great, I could plane it, all that was left was to saw and chisel it.
well sawing Yew ,hmm, how do I put this…..is a crapshoot.
with a normal dovetail saw, It seemed about 50/50 that the grain would catch and tear a chunk out of the backside of the cut(not a small chunk either). Japanese saws were no better, just making the tearout on the front side instead.
So I had to go down in Tpi, all the way down to 50tpi. that seemed to control that.
Chiseling was an issue too. I never measured the angle I finally went down too, but it is very low, and to keep from inadvertently catching an edge, I honed the cutting edge in an arc, like you would a plane iron.
So, all that done, and numerous practice joints, and as if I wasn't challenged enough I used the curliest wood I have for drawer fronts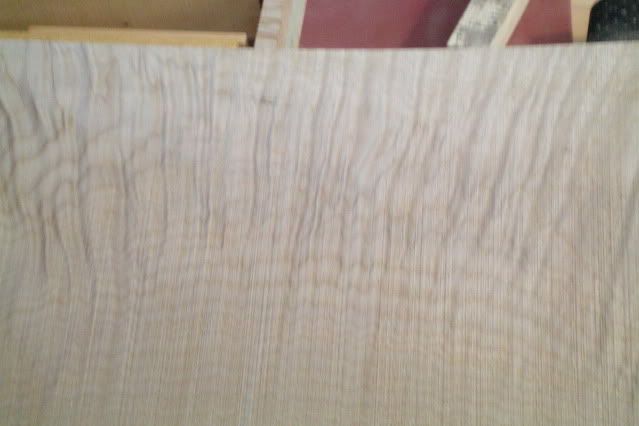 All I had left to do was hundreds of tiny dovetails.
This is where I started to think, Most of those people who warned me knew a thing or two.
But I didn't want to say that out loud.
So, I cut dovetails, but did I mention that Yew has no compression. turns out, that little fact means that if your sawing is little off, or your tails don't quite fit, there is no fixing. paring away that little bit is nigh but impossible. I tried filing with a tiny ignition file, forget it. cut the joint off and start again. no second chances.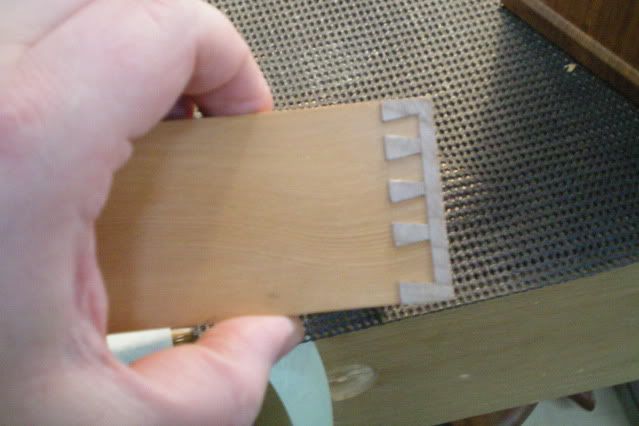 Then, I had the trouble of the Angle and spacing I choose being just about, well, wrong. I needed a shallower angle if I was to have any hope of ever doing this. So I started Again, which meant a whole new set of drawerfronts as well, because I had already cut those Halfblind pins.
So, after all that. I made some drawers.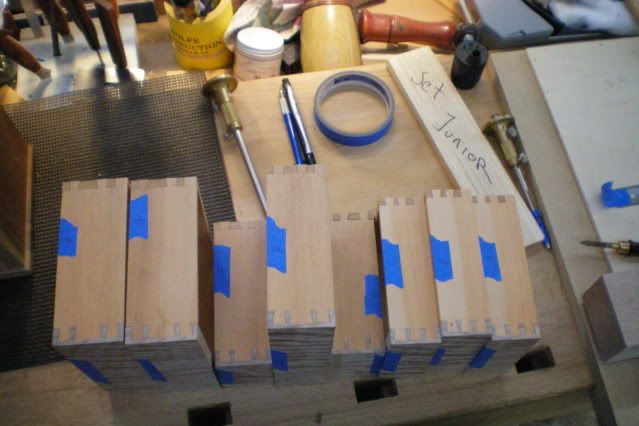 All that was left to do was route the groove for the bottoms. A tiny 1/8 upcut bit couldn't possibly do any harm at this point. right??
well that was where I stopped today , because one of these drawersides split all to hell. and I had to leave to resist the urge to turn my project into mulch with a hatchet. I will finish it, just not today.
Truth be told, I think the challenge this wood presents has made me a better craftsman, you learn nothing doing something easy. But I will NEVER,use Yew again.
-- Junior -Quality is never an accident-it is the reward for the effort involved.
---