To begin, this is not my idea but I have adopted it as a very useful way to clean Dremel burs and similar type rotory bits.
I began by turning a piece of 1"X1" plastic material (just somthing I had) wood also works fine.

As the pictures show. I then drilled a 1/2" hole leaving about 1/2" from the end …. do not drill completely threw it.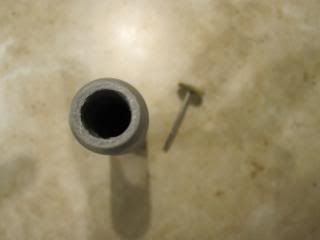 Then I bought a Dremel brass brush and put a slight crimp at the end of the shaft about 1" from the brush.


I then drilled a hole that is slightly bigger than the bit shaft into the oppisite end of the plastic handle.


Push the brush bit into the plastic/wood handle. Run the tool on high speed and place brush against the bit. Instana cleaning.


I suggest always using eye protection and dust masks…..Happy cleaning LJ's ;-)
-- Can't never could do anything, to try is to advance.
---