It was a thursday morning just another day carving at our local carving chapter meeting. In walks a nice elderly gent that had a box of Thompson sub maching gun stocks that never made it to use. They were stored for years, he knew of the carvers and decided to donate them to the club as test projects for us less talented carvers like myself. I inspire to become a great carver someday Dennis Z. in my opinion is truely a great carver.
So I decided to take two of them although I was urged to take more but was greatful for the two and wanted other carvers to also try their hand at carving. They sat on the shelf for another year until I saw some posted here and was inspired to go ahead and give it a try. I looked on the net for ideas and researched different patterns. I decided to try my hand at a little drawing. I mixed and matched patterns and came up with this design in free hand, for me I am not an artist but I try my best.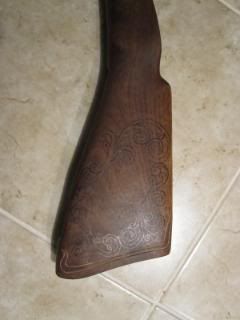 The stock feels quite brittle as I carve it but with a careful touch the wood does not splinter.


Not really knowing what I am doing and not sure of the direction I should take. I decided to make a few cuts in the tail of it and see how it cuts with gouges.
To my suprise its not to bad but it is hard wood. Walnut I believe.


I saw a basket weave pattern and decided to try that. I drew the pattern to fit the stock in pencil then traced it with a small sharpie to see it better on the dark wood.


I began to slowly cut and gouge out the squares in the basket weave first, making stop cuts and digging with home made tools.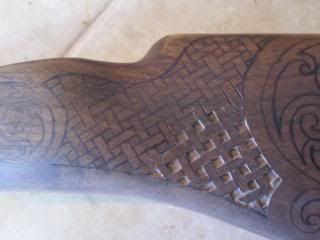 After about 5 hours and a sore butt from sitting to long this is what I came up with.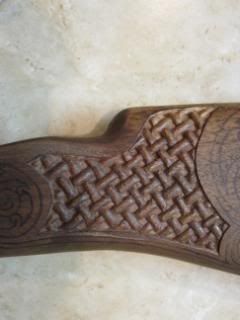 Next step is to get going on the scroll work.
Thanks for taking the time to view my Adventure, This has been lots of fun and is not quite as difficult as I thought it would be. Step two may challenge my lack of skills even further so stay tuned.
Jim
-- Can't never could do anything, to try is to advance.
---