At a past X-Mas party I had a request for a cutting board… after I had made a simple cheese/bread board for a white elephant gift. BTW it was a big hit.
So I decided to get with it and try to get the cutting board finished before x-mas, well thats a joke for sure. I cut some of the black walnut up and some hard maple got it all glued up then realized " Hey! you dont have a way to sand and finish a board that large"....Ugh.
It ended up being 14 1/2" X 22 1/2" HHHHHmmmmmm what to do….thinking thinking. ;) Got it!
Well I logged onto LJ's to find the answer. And did I ever get some ideas…lol. I started digging through old junk boxes stuffed with old things guys like me just cannot part with. I came up with some bearings from an old pump and a 1/2" all thread about 36" long.
I then found some finderwashers that fit the inside of the black 2" abs pipe and redrilled them to fit the all thread. I used an old evaperative cooler motor that turned 1725 rpm @ 1/2 hp… i think a 3/4 hp would be better.
So then I began to look for material to build the box for this to be housed into….thats when it took a turn for the worst. Yes I know PINK!
How could I do this to my shop? Add a pink tool to it….thinking thinking UGH! PINK…......
I repurposed a desk from my wife's work to make the sander
So Pink it is for now anyway. I just needed it to work and work it does. I am so very happy my junk built 30" V-drum sander worked very nicely.
So I guess its safe to say even if it is PINK it maybe just what you need!
Thanks for taking the time to look over the Pink V-Drum thing-a-ma-jig.
Oh By the way thats the cutting board that was sanded by this.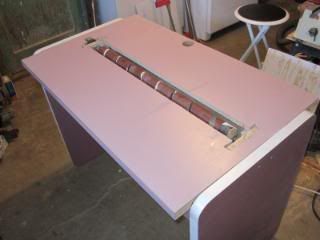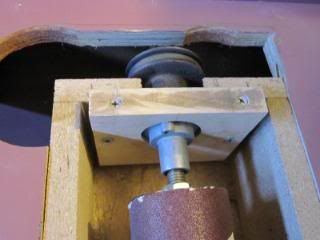 -- Can't never could do anything, to try is to advance.
---