Well – in between working at my regular job and going out of town for a few days, I have finished building and installing the 20 drawers for my workbench.
I used 3/4 birch plywood for the fronts. I was going to make the drawer handles – but I was too anxious to move on to the next step.
I put a chamfered edge all around the fronts – I like the look of the plywood stripes, and it helps to hide the fact that some edges don't line up perfectly (it's a garage guys – not a dining room…)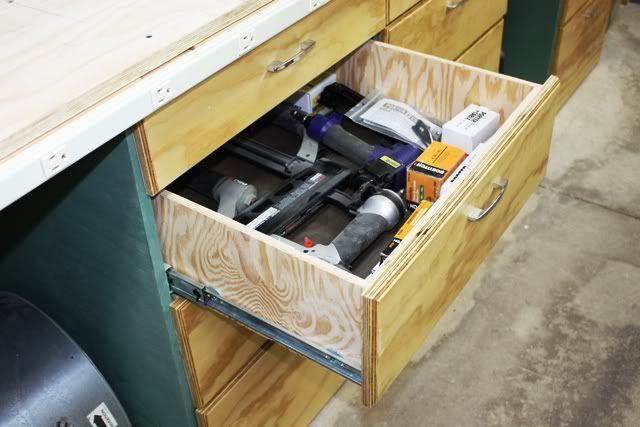 The drawers are already almost filled – and I still have more "stuff" to store. So I was going to go on and build the hutch that will sit on the right side of the bench, but changed my mind. Even though the dust collection works great, the dust from making and finishing the drawers was everywhere. And living at 9,000 feet – the air is thin enough without the dust.
So I'm going to begin making my air filter system first. I'll document that later. It's a good plan – a 5 micron prefilter with a washable 1 micron secondary filter. Sounds like fun!
Thanks for watching!
-- James - I don't like jogging - the ice pops out of my glass...
---