Well, I've been wanting a workshop for 20 years. I finally was able to begin creating one a few weeks ago. There has been ups and downs, joys and sorrows, silly and stupid mistakes made, and patience learned and experienced gained. (I still have 10 fingers….just less hair)
Most of you have been doing this for a long time. Think back to your early days – and some of the goofs you made. Although I've been reading blogs, magazines, and other "how to's" for years, to me there is simply no way to know – except to do it.
I'll relate some of my blunders without embarrasment, hoping that some of these simple (and obvious to you) mistakes could help out other new people. Don't get me wrong – I had some incredible epiphany moments, and even some things I'm very proud of. And the payoff? I'm getting better at this, and think I may even get good at it over time.
(this may get a little long – don't be afraid…)
Background: I live in the mountains in Colorado. I'm almost an hour one way to the nearest Home Depot. So lists have become important to me. If I forget a box of screws after a 3 hour round trip shopping trip – that's what I am – screwed. So I must become a far better planner.
My shop-to-be is small – just over 19×13 feet. But it's amazing that things can still get lost. How is that possible? Sheesh. Especially the paper notes with the dimensions of what I need to cut. So I got a big dry erase board I can see from everywhere and do my cut lists on there. It's hard to lose a 4 foot dry erase board.
So how to build a shop – without a shop to build it? After setting up my new saws, and trusting their accuracy, I needed to build bench space and storage space. Consider the logistics of building a cabinet bench without the help of a bench… Well for me there was a lot of setup, cut something, glue something and setup again for something else. Back and forth, again and again. Also – while ripping a board, if I suddenly realized that I forgot to cut a groove in a board while the dadoset was in the saw, – well you get it – I spent a lot of time changing blades and retesting cuts until I had the steps down pat. So plan it – it helps to have jotted down a step by step list when you're not working from a set of plans.
I had decided to build a cabinet bench about 16 feet long with 20 drawers in it. It's based on Norm Abrahms Workshop hutch. Here's a pic of current progress:
The cabinet partition construction went well. The hard part is that the garage floor slopes down 2 inches from left to right. I decided to account for that by building the top 3 sets of drawers alike, and make each bottom drawer progressively taller.
So I built a jig that would locate all 4 drawer guides correctly at once. Great idea. Here's a tip – when you go to the store to buy a framing square – get one that doesn't measure 12ths on one side and 16ths on the other. Or at least be aware that that is what you did. I built a jig that hung crooked guides. Lost half an afternoon on that one…
So then I rough cut 80 pieces of drawer fronts and sides for 20 drawers. Ripped them all to their proper heights. Time to square up the ends – hmmm – no crosscut sled. Stop everything and build one. Hmmm – no hardwood around for the runners. Well, just build one that will last accurately long enough to complete this project, and build a "real" one later. Had scrap to build one big enough to crosscut a little over 12 inches. Was cutting perfect 90's on my first try. Yea! I later discovered that the lower drawer heights would exceed 13 inches. So yeah – I built another one.
Better than the first one, but still just temporary to get me by. Cut perfect 90's too – but I later discover some of the drawer sides weren't 90 degrees. Some off by a lot. I finally figured out that a small accumulation of sawdust in the sled was throwing off the alignment of the piece against the back fence. Sheesh again. You all knew to brush out the sled every now and then, right? Well now I do too. Also – along the same lines – brush out the miter slots before putting the sled on the tablesaw. Too painful to tell you that story – use your imagination…
Now the fun part – cutting finger joints. (I know I know – there are other kinds of joinery I could have used that may have been less painful – but I've always wanted to do this). I make the jig, and make some test passes. Joint too tight – make a small adjustment. Wow – perfect finger joints. So the plan is: make all 5 top drawers. Then the second ones down, etc. Started cutting fingers for the sides. (hmmm – cutting fingers? think I'll call them box joints from now on…...) Oops – forgot to cut the groove for the drawer bottoms. Re-blade the saw – cut the grooves – back to box joints.
By the 3rd one of the top drawers – I realized things were not lining up when the drawer sides were dry fit to the fronts and backs. It appears that when I needed to make the second cut that requires the spacer stick, that after removing the stick I was allowing the piece to move a little – throwing off the cut. So from then on – I'd clamp the first cut to the jig, then remove the spacer. Things went better after that.
Glue up time. I now know why you all have so many clamps. I had enough to glue up 2 drawers at a time – well almost. Occassionally, a drawer front or side was warped a little, and required an extra clamp or 2 to square it up. Clamps are on my list for the next trip to Home Depot…
It takes a while to glue up these box joints. The top row of drawers only had 4 fingers at each end – the 3rd row of drawers had 9. Even though I spread the yellow glue as fast as I could, the joints were beginning to set before I could get clamps on them. Any suggestions for which glue had a longer set up time? Could I have watered it down? I really learned the importance of dry-fitting, and having everything ready and within reach before a drop of glue hit wood.
Anyway – because of my initial problems, most of the top row of 5 drawers required a little adjusting before they would install and operate properly. By the time I was installing the 3rd set of 5 drawers, they all went in and operated smoothly right away. I'm beginning the bottom row this afternoon, and though I've learned a thing or two along the way, I'll still be checking accuracy on every step.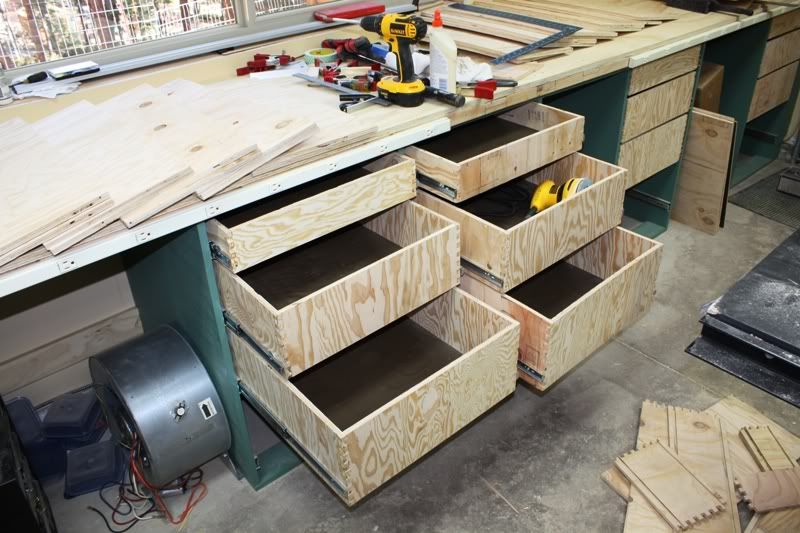 (can't wait to put the drawer fronts and handles on…)
I've got to admit – there is a real thrill you get after glue up and clamping when you check the diagonals and they are exact. It makes all the other steps that you worked so hard to make precise so worthwhile.
Like I said – you all knew this stuff already. I admired all of your experience before – but I now realize what you all had to cope with to get that experience.
Thanks to all who read this. And by the way – THIS IS FUN! Even with all these challenges – I'm having the time of my life! Never forget how lucky we all are to be able to do this!
-- James - I don't like jogging - the ice pops out of my glass...
---