At times I tend to just wander around Home Depot. I always think that the solution to the problem at hand has been solved somewhere before so I just wander the store and try to see as many different things as I can looking for ideas. Every once in a while I find something interesting. It's a good way to kill some time even if the employees start to look at me funny.
While I was in the grout area I noticed some red rubber grout floats.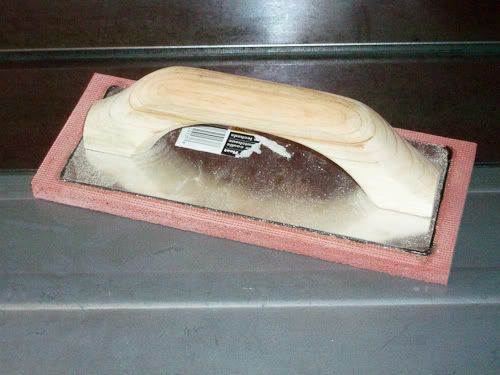 I figured it looked just like a little orange push block I had just purchased from a woodworking store and I needed another one so I plunked down $3 and picked one up. This thing is great! It grabs onto wood like crazy and gives me a level of control I didn't have before. With 2 of these I can handle sheet goods on my table saw with much more control than I had with my hands or with all the other push blocks/sticks I have tried so far. I've used it at the table saw and the jointer and my only complaint is that it is kind of wide. When I am ripping boards it somtimes won't fit between the fence and the blade guard so I have to switch to a different type of push stick.
The little orange one I have has a smaller footprint and isn't as grippy and it has slipped several times wihle I was using it. I assume the rubber on the grout float will fill with sawdust some day and lose its grip but I can just wash it or get a new one for $3 and if I ever need to throw one away I can keep the handle and use it for something else.
-- Good Judgement Comes From Experience. Experience Comes From Bad Judgement.
---