Hi Everyone,
This is my first blog entry. I've never done this before so be patient with me as I learn the ropes. :-)
I'm writing this to compliment the project posting I am going to be putting up for a music stand I made for Broadway Barks. It's an animal rescue charity that was started about 15 years ago by Bernadette Peters and Mary Tyler Moore. A woodworking friend of mine volunteers for the charity and encouraged me to make something for the auction. The idea was to make something really nice that could be signed by several Broadway performers to hopefully raise more money for the charity. I decided it should be a music stand to keep with the Broadway theme and give plenty of space for signatures.
The music stand was signed by a Bernadette Peters, Mary Tyler Moore and few dozen other well- known Broadway performers such as Angela Landsbury and Rita Moreno. It was placed in a special auction and it raised $1000. I was thrilled with the result. I really had fun making the stand and was happy to do my part to raise that so much money for a such a great cause. I even got a personalized autographed photo from Bernadette Peters! Overall it was a lot of work but it was totally worth it.
The design: Initially I didn't really know what I wanted to do. I wanted it to be somehow be related to the charity and not just some music stand with some signatures on it. After checking out the Broadway Barks website I found a logo they use at the event and in promotional pages on the website. The logo is a dog and a cat sitting on some stage lighting. I decided to duplicate the logo and use it as an inlay on the stand. Sorry the image below is small and blurry. It's the best I could get but I think you can see the resemblance.

The wood: I used a wonderful piece of 4/4 African Mahogany that I got from The Woodworkers Club in Rockville, MD. They always have a great supply of woods to choose from. It was a short board but when I glued it up it was just big enough to make the music tray. I was really lucky with how the grain patterns came together.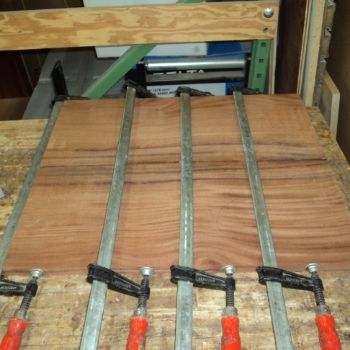 There was no commercially available inlay banding with ebony and yellowheart circles which meant I had to make it. That was probably the most nerve wracking part of the entire build. The ebony is 3/8" wide with 1/4" yellowheart "stage lights". I drilled 132 holes in the 1/16" ebony using an indexing jig I made. The ebony was quite brittle but I used a new brad point bit and drilled the holes VERY slowly. It took me more than 8 hours to build the jig and drill the holes. I had two little cracked spots between the lights that I was able to fill with ebony saw dust and epoxy.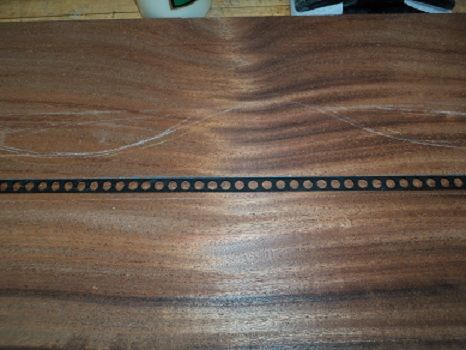 I was able to install the inlay without any trouble and was even able to make sure the lights continued around the two 90 degree turns without a change in the "stage light" spacing. After the ebony was glued in place I made lots tapered plugs in a piece of yellow heart and glued them in place.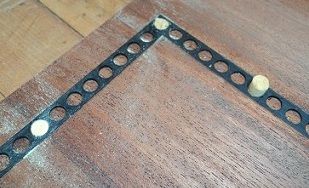 The placement to the stage lights were planned so they framed an open piece of sheet music when it was on the stand.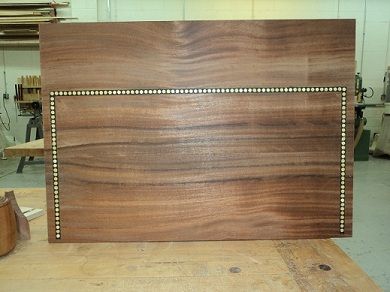 The Dog and Cat: After doing the stage light cutting out the dog and cat were a piece of cake. I used spray adhesive to attach a photo copy of the logo onto some ebony. I cut them out very carefully on my scroll saw and then used a fine point pen to draw the outline in the music stand. I then used micro sized carving tools to make the cavities for the animals and then epoxied them in place. I know the dog's tail looks a little weird but if you look closely you will see that it's the same on the logo.
After it was cut to shape and the music tray was glued in place it was sanded it really starting to take shape!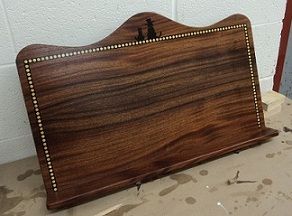 Hoped you enjoyed part 1. More to come in a day or two. Next I will tackle the main post and feet…
-- Linda - It's only a mistake if you do it twice!
---