Short Intro –
For more info see my profile and workshop
I'm almost 50 and I've never really learned how to make anything. I'm beginning for change that.
I have just a few tools and no workshop. I need to bootstrap my way into one.
I will be using Sketchup for most of my planning and design.
The Plan for the rest of 2015
Buy the best sliding double bevel saw I can afford.
Overview of the saw and workstand:
Youtube playlist: https://goo.gl/kAAyGz
Design the breeding coops.
I'll be doing this from sketches we generated tonight and Sketchup.
Bulld 4 sawhorses.
Use 2 as the stand for the next step:
Make a basic temporary plywood work surface using 2 sawhorses as legs
At this point I will have to divert from boot strapping the workshop in order to create a number of breeding coops for our chickens.
Build a prototype coop.
Try it out and see what isn't right with the design
Build second prototype – incorporating changes
Build coops 3 – 10
From there things get a little muddled. I need to put a floor in the largish outbuilding that we are recovering. It was converted into a coop by the previous owner, but I need it to store garden tools and other miscellanea.
I guess that is enough to be getting on with.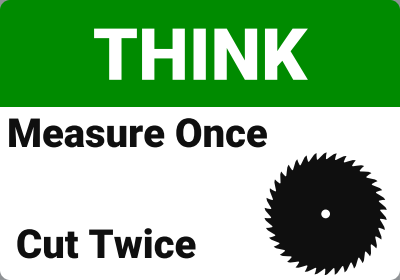 -- Show us a man who never makes a mistake and we will show a man who never makes anything. The capacity for occasional blundering is inseparable from the capacity to bring things to pass.
---