This is my first blog post here at LumberJocks.
First I'd like to thank each of you for the warm welcome I have already received.
My name is Herb Cumbie and I live in Panama City, Florida. I'm 61 years old. I've worked with wood off and on since I was six years old. When I was a young boy I began helping my Dad in our workshop. We made a lot of cedar "hope" chests over the years. We also made some other furniture items and quite a few sets of kitchen cabinets. When I was 13 we built our first house and we build one each summer for the next five years. My parents died in an auto accident when I was 18. In the years since then I have made a few things but got out of woodworking for quite a while. About four years ago I began to work towards getting back into woodworking.
Over all these years I have worked with just about every kind of tool and never had any injury more serious than a blister. Until March 8, 2010…
I was using my Ryobi tablesaw to rip stickers for airdrying some lumber I had just had milled from some logs I had collected over the last couple of years. Of course I had removed and discarded the blade guard shortly after purchasing the saw in 1996. Since the wood I was ripping was roughcut lumber I was wearing kid leather work gloves. I was using a pushstick. I had been ripping stickers for almost two hours. I ripped one and used my left hand to pull the remaining portion of the board back to start the next one. My hand got to close to the blade which caught the glove on my little finger and pulled the remaining fingers down into the blade…
Well, I managed to get to the local emergency room in just 15 minutes and got excellent care. The surgeon who did the repairs did an excellent job. I have feeling and movement of all four injured fingers. As the photo below shows, the damage to my index finger was so severe that the doctor had to remove the first joint. I'm going to physical rehab for the hand twice a week and the movement and control of the worst injured fingers is improving gradually.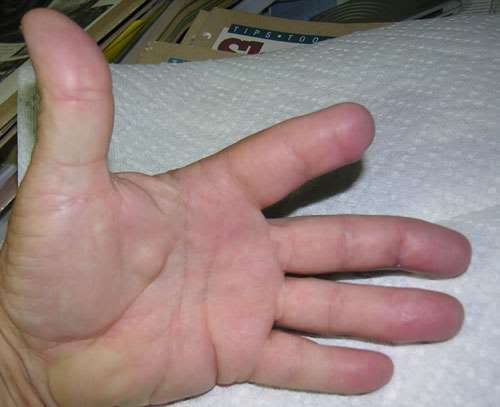 So as I begin this blog and return to my woodworking endevours my first and strongest message to each and every one of you is to be careful. I have a constant reminder that although I have a lifetime of experience I am still capable of doing something STUPID…
Thanks for checking out my blog.
Herb
-- Herb, Florida - Here's why I close most messages with "Be Careful!" http://lumberjocks.com/HerbC/blog/17090
---