Carving the curved letter section begins with the stop cut. I use a out cannel gouge that is close to the radius that has been layed out. If you don't have an gouge close, you can work you centers down with a parting tool, or you can use the corner of your bench chisel to work carefully around the curve. when using your bench chisel, be aware of how deep your actualy cutting, just like before you can always clean up alittle deeper.
I will try and work the curves in 1/4 sections (90 degrees) turning the piece as needed to keep cutting downhill where possible. Now you won't always be able to cut with the grain, but keeping your chisels SHARP and not trying to pop you chips up will help when working up hill.


Once I have my stops in I will begin carving. I use a bench chisel for the inside radius and a incannel gouge for the outside section.


I like the incannel gouge on the outside sections because it allows me hold the chisel at a much more comfortable angle and I feel like I can better anticipate where the I am cutting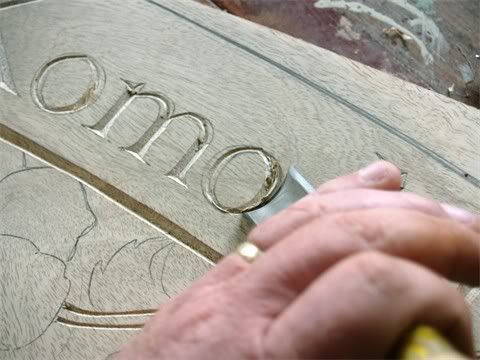 Once I have the 95% of the curved letter section removed I will clean up the bottom with what's left of my little carving knife. I have broken this thing many times but to be honest the shape it is now really seems to work for clean up


So I finished the lettering, which looks fine and then ran down stairs and removed some of the dead spaces on the bandsaw where possible and the rest with the coping saw and have begun the stop cuts that will outling the various curves in the flowers and leaves.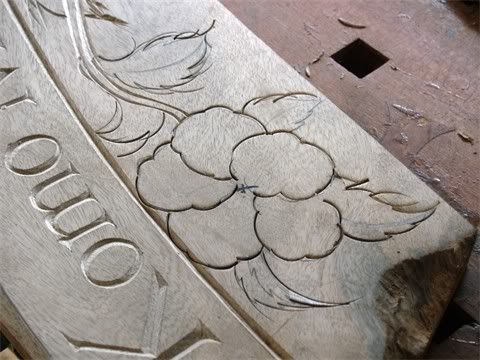 I also took a forstner bit and drilled a hole at the center of the flower.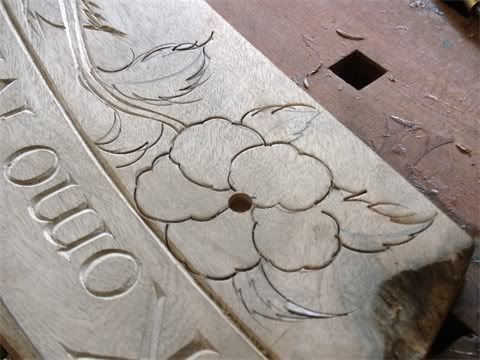 I started the flower working aggressively towards the center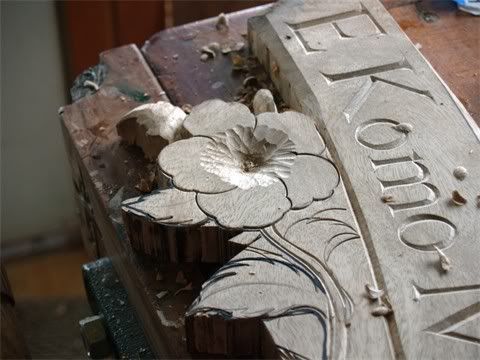 I will continue this until the rough shape is there, I will also try an remove any areas around the flower at this time so that I don't damage the flower later


keep working down, defining the petals more as you work deeper


carve alittle more, I'm using the 1/4 " gouge now to texture the petals


once I'm content with the flower, I'll start working on the leaves and stem

and here's where I am so far working on the leaves, cut the one leaf all the way off ( I some how roughed it in upside down and it would have been too deep to carve now, so I sawed it off. Don't tell anybody)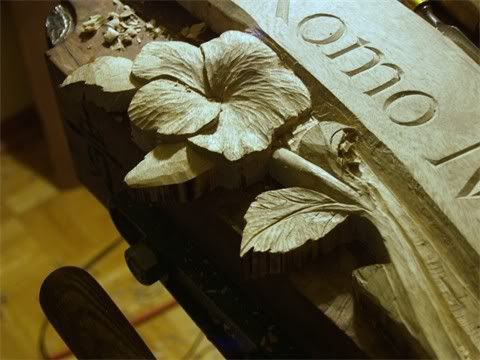 -- If knowledge is not shared, it is forgotten.
---