Much of the signage and carving I do is completed with a basic set of chisels and gouges and skills that most could duplicate with a little time. It isn't necessary to be an accomplished artist, but you do have know what you like. As far as lettering, there are many different fonts available right on your computer. Taking advantage of this resource saves a great deal of time. The most common font used for carving I believe is Palatino, fairly straight line segments and a serif design that is easy to modify for carving. I will type the phrase or name I wish to carve and then resize this to the dimension I wish to carve. To do this you just click on the number to the right of the font style and enter the size you want. For example a font size of 350 will be roughly 2-1/2" tall. If you keep the rulers displayed you can adjust the font size and quickly see the changes. If this will be your first time, keep your font's a little bigger, say 2-1/2" minimum and try them all upper case. ( uppercase letters typically have more straight lines ) You can use a slightly larger font for the capital or the first letter to emphasize these, say 350 for the field lettering and 425 for the first letter.

The example I am using is E Komo Mia, this is Hawaiian for welcome. Now one area where I have yet to complete on the computer is the lettering spacing. I will cut the letters apart and then tape them together to get a tighter more attractive overall appearance. This may be curving the phrase or realigning the capital letters to better "fit" the sign I want to complete. I will also try and identify those areas that may be difficult to carve and work my layout around these or to use them to accent the overall design.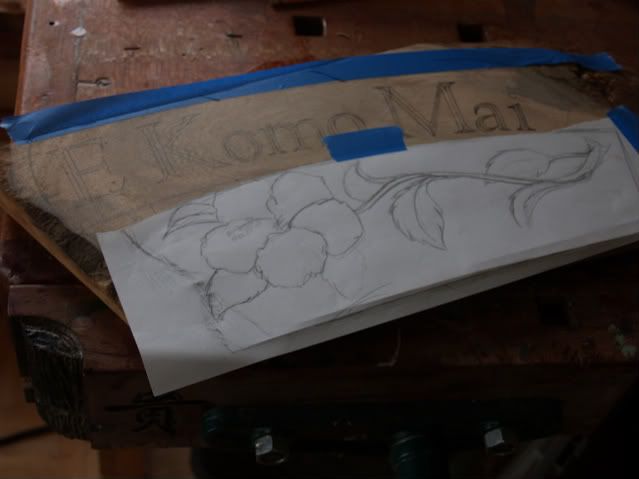 I do draw a little so I just sketch a rough shape and lines into the open area, after I see the area I'm dealing with I will decide what would compliment the message. In this case I chose a stylized Hibiscus, which has been the state flower here in Hawaii since the 1920's I believe. If you're not comfortable with your drawing ability, there are many wonderful sketch books at the local book or art store. Borders, flowers virtually anything that you can think of, that can be easily traced onto your layout and then transferred to your work. So this is what I came up with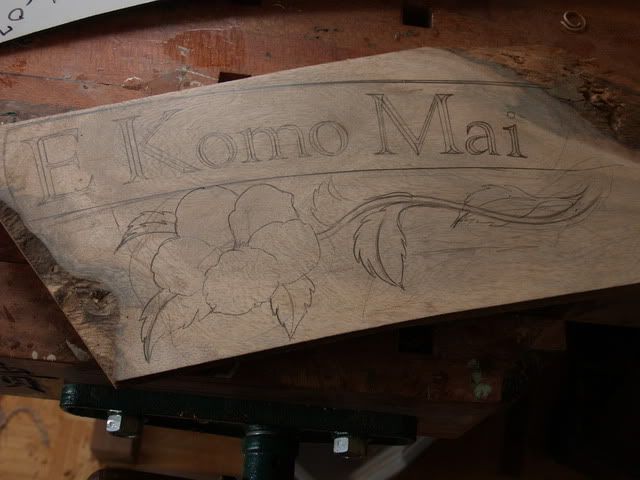 The tools I use most are the ¼, ½ chisels, a ¾ parting tool and a small apx. ¼ parting tool I ground out of a old round file. I like the old file simple because the steel is very hard and it is easy for me to re-temper the cutting edge over our gas stove. I also use a ¼ and ½ outcannel and a ½ incannel gouge


Now my secret tools are my Hock plane blades. I use these a lot just because I don't have chisels that are that wide. If my letter will take a 1 ½ stop cut I will use these. You can place a piece of tape that will serve as a depth guide if you want on you chisel to keep you from cutting the stop cuts to deep. You can always clean up the bottom alittle deeper, but it really is a distraction if I get them to deep.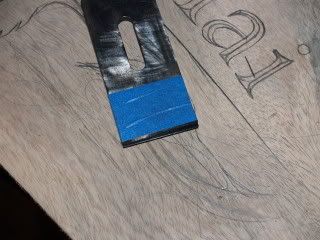 After I have completed the layout and drawn in my stop cuts I begin with the stops, using the tape to judge my depth and after a couple cuts I will have an idea of how many hits it takes for the depth I need for the various letter/line segment widths.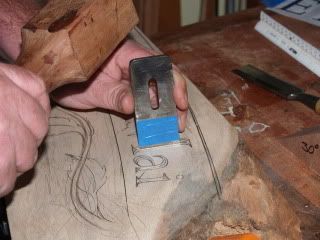 For example, I strike the blade 4 times for the 1/4 wide line segments and two times for the narrower lines, I am shooting for a finished depth of about 3/16 on the wide segments and just under an 1/8 on the narrow. These aren't exact of course but just remember, as your letter becomes narrower it gets shallower as well.
After I have completed the stop cuts I will use the parting tool to create a small relief for the serifs. I do this because it gives the wood somewhere to chip when I begin cleaning up the serifs and I also helps reduce the chance of splits when carving against the grain or in figured wood.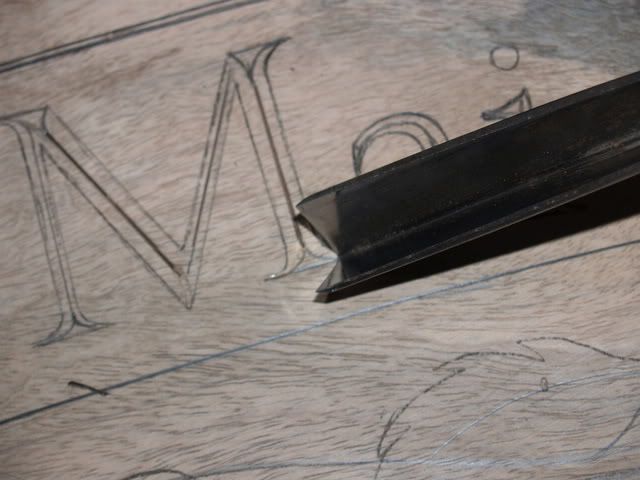 Next I will begin carving out the body of the letters, try to keep a 30 degree angle. you can make a simple guide block if you like but you will quickly be able to keep your angle consistent.

if you have trouble maintaining the angle you will see small ridges in the side of your letters, this isn't the end of the world and you can clean them up later. But keep working towards as few cuts as possible, the fewer cuts you make the smoother the sides of your letters will be.
I will make my first cut aggressively cutting almost to the bottom of the letter. This will allow the chip to pop out.

Typically I work across the carving from right to left, cutting all of one side, then flipping the carving and cutting the other. this just helps to maintain a consistent angle. After I have the letters roughed out I will then take the chisel and clean the remaining wood out of the angle.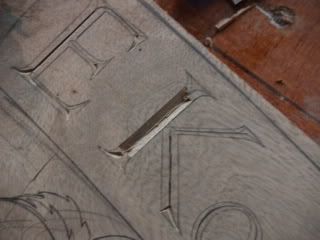 So the body or the straight segements is three steps, your stop cut, your 30 degree right and left cut's and finish cuts with light hand pressure. Keep you angle consistent and the cuts will look very smooth, if they don't, then stop right now a go back and sharpen your chisels.
For the serifs I use a slice cut on each side, cutting just to the shallow relief made with the parting tool.
after I have both sides removed I wil then use another slice to remove remaining chip. Work your way down to the right depth and pay attention to the grain in the final chip.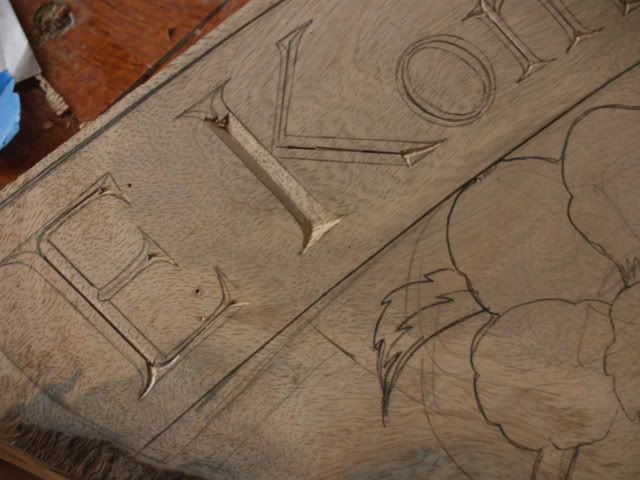 well this is all I have time for right now, it actually took me longer to type this than it does to carve, but I will keep at it. You know I don't think hooked on phonics is all it's cracked up to be.
-- If knowledge is not shared, it is forgotten.
---