Well after a long absense from the shop, every now and then life gets in the way of what we really want to do, I got back in the shop and for about the 3rd or 4th time modified the design of the side cabinets.
Originally I had planned on 3 drawers, one pull out writing desk type drawer, one open shelf and 2 upper shelves behind a door made from a very old leaded glass door.
I did decide to make the drawers out of pre-finished and pre-cut plywood blanks and after purchasing the material I started making up drawer parts.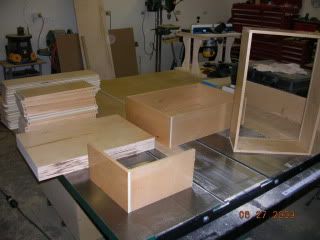 Once all the parts were cut to size and as you can see I did make some test drawers, I chose a interlocking rabbit and daddo to join the sides. It was about this time that I discovered that I had enough material and room in the cabinet to put in 5 drawers along with the slide out writing tray so the design made an update.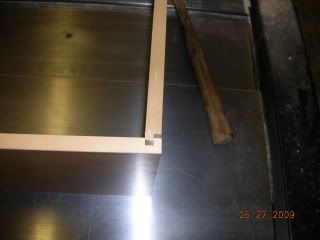 After cutting all of the blanks and making the setups and cutting all of the rabbits and daddos I began to assemble the drawers.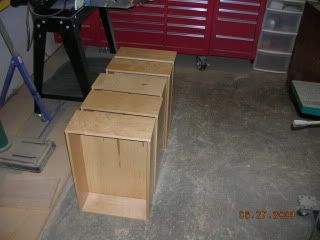 After getting all of the drawers assembled I calculated the location of the drawers and made some spacers to align my slides to and started installing.
Here is the cabinet with the drawers and sliding tray in place.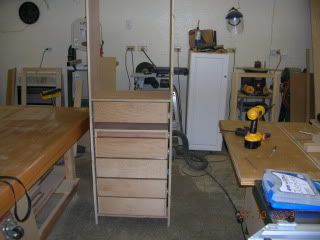 There is still more to do on the writing tray. I intend to make some keepers to hold another piece of 3/4 material that will have a 1/4 glass top and will be able to slide out towards the side once the drawer is fully extended.
I also put the upper face frame in place with clamps and when the false drawer fronts are on they will be flush with the face frame of the upper part of the cabinet.
-- Gene Miller - it only took me 3 days 9 hours and 28 minutes to get that top flat!
---