It has been a few days since I have been able to work on the cabinets. I did some shopping for drawer material and in the process found some wood that will look like mahogany when stained and did not cost an arm and a leg. I am going to use it for the upper face frame as well as the false fronts for the drawers.
Since I am an ex-truck driver and live in a rural area I have a friend that farms and about this time of year I help out hauling his grain to the elevator so that has started and I hauled 3 days last week before the rain put a halt to things but it looks like we will be back in business sometime today.
In the mean time I got had put an order in for some new rails for my Grizzly table saw and those arrived this week also.
So for the last couple of days I have been modifying the shop a little. I installed the new 7' rails and legs and then wanted to upgrade my out feed table and add a table in the open space of the new rails.
My old out feed table was a single sheet of melamine covered particle board and had developed a bow. I took it off and installed some mounting cleats around the outside of the cabinet to replace the small angle brackets that I originally used with some 2×2 mounting cleats. I mounted the plywood from the under side and then cut a sheet of 3/4 MDF to install on top of the plywood that can be replaced when ever I need to. I used three pieces and placed them to correspond with the location of the miter slots on the table saw and then put a 45 degree on the edges. I also made a frame for to attach to the new extension rails and put in a 3/4 MDF top on the right side of the saw.
I put on 2 coats of Arm-R-Seal and let it dry and then a heavy coat of Johnson's past wax to keep glue from sticking and to give me a nice slick surface.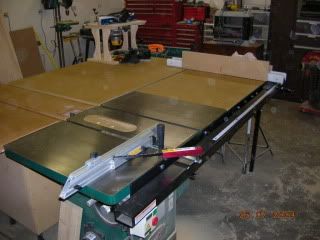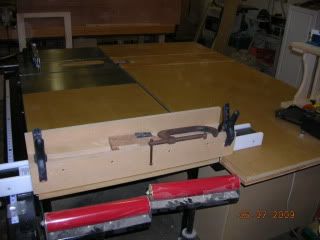 -- Gene Miller - it only took me 3 days 9 hours and 28 minutes to get that top flat!
---