Today I took both doors out of the clamps and ran them through the drum sander to get them smooth and flat. I am very pleased with the way these doors turned out. Once they were sanded smooth it was pretty difficult to even see where I had added the new rails and stiles to increase the length and width.
Here are the doors after the sanding and laying side by side.
After that I put the cabinet top and bottom shelf in and temporarily screwed them in place. I then made a mock up of a face frame out of MDF to see how the door will look on the cabinet.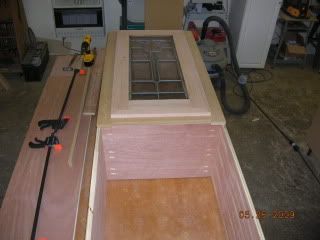 I had orginally thought of running a face frame all the way around the cabinet but by doing so it was going to present some issues with drawers as well as an open shelf that I wanted to have below the upper part of the cabinet.
After looking at the mock up I decided that I would only put the face frame on the upper portion of the cabinet that will have the door. There will then be an open shelf of about 10" in height below that section followed by a slide out tray type drawer and then 3 full width drawers that will be about 6" deep below the tray.
Here is a picture of the cabinet with the face frame in position and with the dividers that will make the upper shelf and the space for the slide out tray.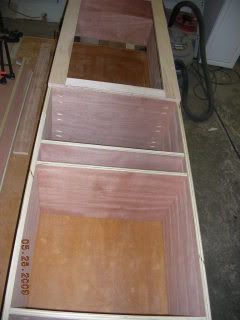 Once the false fronts are on the tray drawer and the lower drawers it should make the face frame less likely to stand out like it does in these pictures.
I felt that I just would lose too much drawer width as well as have issues with mounting the drawer slides by running the face frame all the way down. I am not sure if this is accepted practice but I am going to give it a shot and see how it goes.
-- Gene Miller - it only took me 3 days 9 hours and 28 minutes to get that top flat!
---