It has been a while since I have been in the shop. Once the rain stopped I need to spend several days catching up with all the outside work that needed to be done.
Today I was able to get in the shop and mill up some stock to build my picture frame trim that will go around both of the leaded glass doors to make them 3 inches larger and not loose and proportions. By doing this I will have one door for each side cabinet and will be able to use a normal face frame and maximize the interior space of the upper part of each cabinet.
I cut all of the stock to rough size leaving about .010 proud on the thickness so that once they are assembled I can run them through the drum sander and make sure I have both doors flat and the new frame pieces are perfectly smooth.
Each door had a lip on one edge that was used when both doors were in the same cabinet so I set the table saw up and trimmed the lip off of each door then I turned each door around and trimmed the other edge to remove the mortise that was for the old hinges. After that I put my cross cut sled on the saw and lightly trimmed each end to make sure they were square with the sides and to get booth doors exactly the same length.
Once the doors were trimmed down and the same size I got out my Osborne EB3 miter guage and cute 45's on each end of all my rail and style pieces. I then measured and marked the other end of the styles to cut the 45's on each of those. Once all those were cut I marked the rails and cut each one proud and slowly trimmed to fit.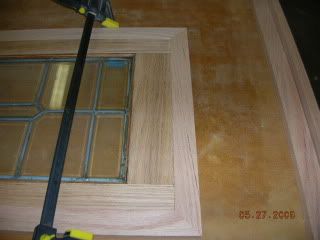 After I was satisfied with the fit I marked each one and cut 2 "#0" biscuit slots on each face of the door and on each rail and style to match.
After doing another dry assembly I then applied glue and assembled the frame on the door. I used a band clamp to hold the frame in position and then applied moderate side and end clamp pressure to hold until the glue sets up.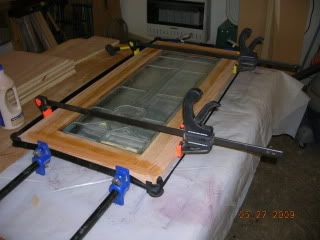 Tomorrow I am going to cover the glass on each side with cardboard and set up the drum sander
and run each door through until flat and smooth. After a little touch up with the ROS I should have them ready to stain and will then be able to move on to assembling the cabinets.
-- Gene Miller - it only took me 3 days 9 hours and 28 minutes to get that top flat!
---