Today was a good day. I managed to get the side cabinets for the murphy bed fiinished and all I need to do now is but some edge banding on the adjustable shelves sand and prep for finishing.
I know that at the moment it looks like a hodge podge of material but the face frame and drawer fronts are made of Obeechee and upon the suggestion of a man at the lumber supply place I was told that this wood would stain up and look like Mahogany.
I did stain a test piece and it looked like it was going to be ok.
I used some oak on the murphy bed and after applying my stain it blended pretty good with the Mahogany Panels so I am feeling pretty good about how the stained glass doors will look when I get them finished.
I have the cabinets setting on the wrong side of each other in the shop as the doors are going to open up from the center not the outside.
I also liked the way the slide out trays finished up and after I get the glass tops on them they will not tilt like they do now when pulled out.
After going through a couple of design changes I am happy that I went with the extra drawer instead of the open shelf above the sliding tray. Open shelves have a habit of getting full of clutter and with a drawer at least you can put it out of sight.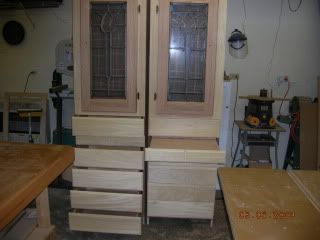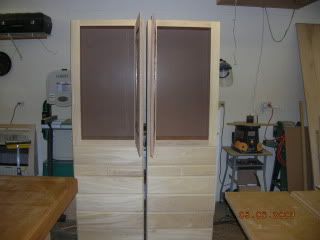 I am hoping I can get the finish prep done in the next couple of days and get them stained by next week.
I am getting close to running out of time as my friend that I haul grain for is getting close to having rice ready to harvest and once that starts I will be tied up with rice, then soybeans until October.
I also need the weather to help out some. When I sprayed the Murphy bed the humidity was extremely high and I had some problems with getting the finish I wanted and so far we have had one of the wettest Julys on record and humidity has been very high. So we shall see how things go in the next couple of weeks.
-- Gene Miller - it only took me 3 days 9 hours and 28 minutes to get that top flat!
---